Engineering on a Global Scale
Apr 19 2018 | By Jessie Adams | Photo: Tim Bowden
In 2011, students at Columbia Engineering learned of stark challenges facing the villages of Ait Bayoud in rural Morocco: settlements on the north bank of the Tagawowt River were cut off from the more developed south for several weeks of the rainy season, for one, while many remote villagers had to walk hours each day to collect water from the nearest potable spring.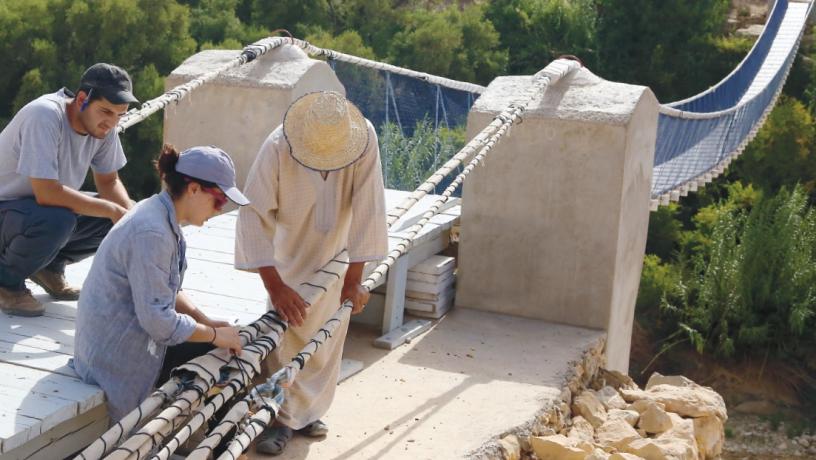 Today, a 210-foot simple suspension footbridge—the world's longest made of high-density polymers—connects the riverbanks year-round, helping families of subsistence farmers reach schools and clinics. And, after several years of biannual trips measuring and building in Morocco for weeks at a time, Columbia student volunteers are about to finish the first pipeline of an ambitious water distribution system that stores, filters, and delivers water from a new well via thousands of meters of piping.
"With clean water readily available in the villages, women and children will have more time for other activities that may benefit the community as a whole," said Ally Israel '20SEAS, a civil engineering student who coleads the Columbia student chapter of Engineers Without Borders-USA's (EWB) work in Morocco. "Children will have the chance to return to school on a regular basis for the education to open up greater opportunities in their futures, and women will have time to pursue their expressed interest in economic endeavors."
Twenty-first-century engineering, like other facets of a Columbia education, carries a global impact. Whether designing remedies for developing nations' immediate needs, planting seeds for more prosperous and equitable futures, or conducting fundamental research for tomorrow's innovations, Columbia students and faculty are busy improving lives around the world.
After launching ongoing initiatives in Ghana and Uganda, EWB began its Morocco project in 2011 on a tip from an alum. It's evolved into a grant-winning partnership with local leaders and the U.S. Peace Corps to design and construct the bridge alongside community members. Student teams have continued to monitor and maintain the structure since its completion in 2013 and will help install a new and improved pretensioned upper rope this summer, in addition to training workers to take care of their bridge. Students have also transferred ownership to the community's bridge association, part of a larger vision for empowering underserved populations over the long term.
All of our projects have a five-year commitment to the community; we never just build something and leave for good. We'll continue to work with the villagers to make sure they are able to maintain the system, technically and financially, on their own.
It's a common thread across EWB's programs and the broader interdisciplinary approach of Columbia engineers: adapting advances in the lab to create sustainable solutions for human needs, including affordable alternatives for people living in poverty.
Inspired by the work of Vijay Modi, professor of mechanical engineering and director of the Millennium Villages Project's infrastructure program, EWB's Uganda project is setting up a pay-as-you-go model for rural electrification, with hopes to begin providing the community of Orungo with power over the summer.
A group of six Columbia Engineering students joined forces with Emerging Leaders in Technology and Engineering, Inc. (ELiTE), a Harlem-based nonprofit headed by Chelsey Roebuck BS'10, and traveled to Ghana last summer to help local university students teach a Python-based computer science curriculum for promising high school students. Others have studied abroad or embarked on internships around the world, like computer science student Nivita Arora '19SEAS, who worked with an NGO called Mumbai Mobile Creches that builds day care centers for the children of migrant laborers and helps connect them with basic services.
Also operating on a global scale are Columbia entrepreneurships, like student startups Neopenda and Luso Labs, launched to monitor neonatal vitals and better detect cervical cancer, respectively, in low-resource settings. After winning $10,000 in the Engineering School's venture competition, Neopenda has devised low-power wearables to wirelessly transmit babies' health data to central monitors, while Luso Labs has put to use $15,000 in prize money from the University-wide Columbia Venture Competition creating a custom camera system with a lesion detection algorithm for analyzing diagnostic images. In 2016 and 2017, they became the first two companies to receive Cisco's $100,000 Innovation Challenge Prize.
Recent design challenges geared at confronting Ebola and improving life in polluted cities like Rio de Janeiro have spurred other internationally oriented startups like Kinnos Inc., which has brought to market a nonstaining bleach additive helping hazmat workers decontaminate Ebola-infected surfaces, and Palmos, which is developing low-power wireless sensors for early landslide detection.
Through each of the globe-trotting Columbia engineers' diverse projects and interests, there is one point on which students are unanimous: that everyone can make a contribution. The important thing, they say, is to get involved—whether building bridges, providing medical care, or teaching kids in China to play baseball, as Matt Karo '18SEAS, who is studying chemical and biomedical engineering, did last summer.
Fellow chemical and biomedical engineering student Paulina Babiak '19SEAS led an EWB team that helped supply potable water to thousands of Ghanaian villagers.
"No person is too small to make a meaningful impact on someone else's life," Babiak said.