Chelsey Roebuck, Education Changemaker
Jun 21 2017 | By Elaine Rooney
For Chelsey Roebuck BS'10, it was a 2009 trip with Columbia Engineering to Ghana that planted the seed for ELiTE, his nonprofit education startup that has provided learning opportunities and mentorship for thousands of students across the globe. There, Roebuck and cofounder Clayton Dahlman BS'11 utilized grant funding to organize and operate a community-based education program called Piece It Together, the function of which was to provide hands-on learning experiences in STEM for secondary schools in underresourced neighborhoods. Through the success of Piece It Together, Roebuck and Dahlman were inspired to launch ELiTE in Ghana in 2011 and had expanded to three more countries by 2013.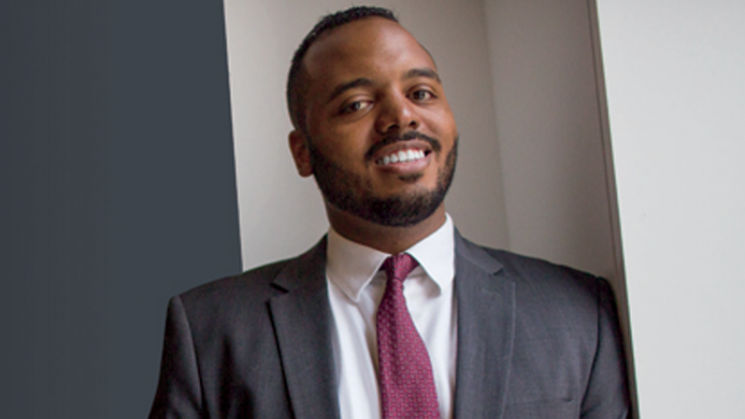 The mission of ELiTE—an acronym for Emerging Leaders in Technology and Engineering, Inc.—is also to provide skills in STEM that will empower middle and high school students in underresourced areas. ELiTE operates by using the classroom as well as out-of-school programming to provide practical lessons in STEM that Roebuck hopes will help students to achieve their goals—whatever they may be.
"My dream is to enable all students, regardless of who they are or where they come from, to have the opportunity to pursue their passions," he says. And for Roebuck and ELiTE, it is crucial to their mission that they understand the communities being supported. "A typical day at the office is almost always spent out of the office."
This year Roebuck's efforts with ELiTE were recognized, as he was named to the prestigious Forbes 30 Under 30 list, in its education category, a well-deserved honor to reward a most noble mission. Fittingly, when Roebuck received the news he was in a classroom in West Harlem, overseeing what he describes as one of ELiTE's more challenging computer science classes. He is quick to credit his whole team for the success, and with an unsurprising lack of complacency, sees the recognition as inspiration for further improvement.
"Being named to the Forbes 30 Under 30 list has been an incredible honor for me, personally, and serves as validation for all of the hard work that our entire team has put in over the past few years. However, it also serves as motivation to keep pushing forward and raising the expectations for what is possible for me and for the organization."
Roebuck credits his time at SEAS with providing him with tools crucial to ELiTE's accomplishment: his work ethic, confidence, and the benefit of a network of what he refers to as "some of the smartest people on the planet." Additionally, the rigor of his coursework instilled sufficient training in intellectual stamina. "Being an entrepreneur is hard," he says. "But for me, completing my degree in mechanical engineering was harder."
It is the culmination of these hard-earned lessons that Roebuck plans to continue to pay forward. "With the populations we serve," he notes, "our primary goal is to instill the same traits and qualities that Columbia helped me to develop—grit, a strong work ethic, the confidence and humility necessary to accomplish their dreams, and a powerful network of peers and mentors invested in their continued success."