A Whole New Ballgame
Eric Poirier believes fintech will remake the financial services industry.
Nov 09 2017 | By Marilyn Harris
"I love that fintech is now fashionable," said Eric Poirier (BS'04), CEO of Addepar, who is beyond bullish on the potential of fintech innovations to serve clients better. Addepar is an investment management technology company that offers an integrated financial software platform to wealth managers, family offices, and large banks. Of the estimated $120 trillion in capital that dominates and drives global financial markets, ultrahigh-net-worth individuals hold $80 trillion and pensions, sovereign wealth funds, and foundations account for another $40 trillion, and, Poirier pointed out: "There currently is no tech-enabled way to make sense of their assets. Our vision and our mission are altruistic: to give advisers the best data to make the best decisions and provide clients with the most holistic objectives."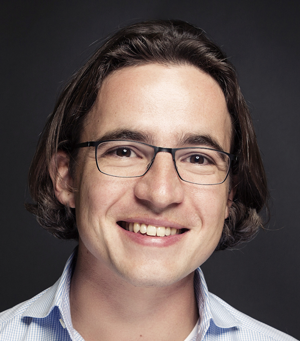 As CEO of Addepar, SEAS alum Eric Poirier hopes to create an industry-standard operating system for finance. (Courtesy of Eric Poirier)
Before joining Addepar in 2013, Poirier spent seven years with Palantir Technologies as a director, where he created tools that enabled organizations to reconcile large, disparate data sets. Earlier in his career, he worked in Lehman Brothers Inc.'s Fixed Income Analytics group, modeling, simulating, and visualizing data across a broad range of debt and credit instruments. The impetus behind Addepar, he said, was the 2008 financial crisis, which forced the largest asset owners to make split-second decisions without full information.
Many fintech innovations are focused on applications like consumer lending credit, payment, and cryptocurrencies, whereas Poirier's interest is in creating a common language, data model, and platform—in essence, an industry-standard operating system for finance. "Financial services have been underserved by technology for the past few decades," he said, "with the technology mostly a cost center, residing in walled gardens at banks. But the biggest clients have assets in different banks, and there hasn't been a standard way to integrate the data for clients or even identify assets across the different banks. No one bank can accomplish what we're doing; it requires a third party."
Addepar's ambitious goal is only possible because of advances like the cloud, automated encryption, and open-source web frameworks, Poirier said. With the increasing sophistication of machine learning and other AI tools, Poirier anticipates that the rich data set that would emerge from a universal financial language will yield especially valuable insights when machine learning and other AI tools are eventually incorporated. "We can make financial markets less risky and help clients make rational, data-driven decisions," he said. "Right now, we're in the first inning."