Introducing Design-Thinking, Where the User Comes First
May 16 2017 | By Jesse Adams | Photos by Timothy Lee Photographers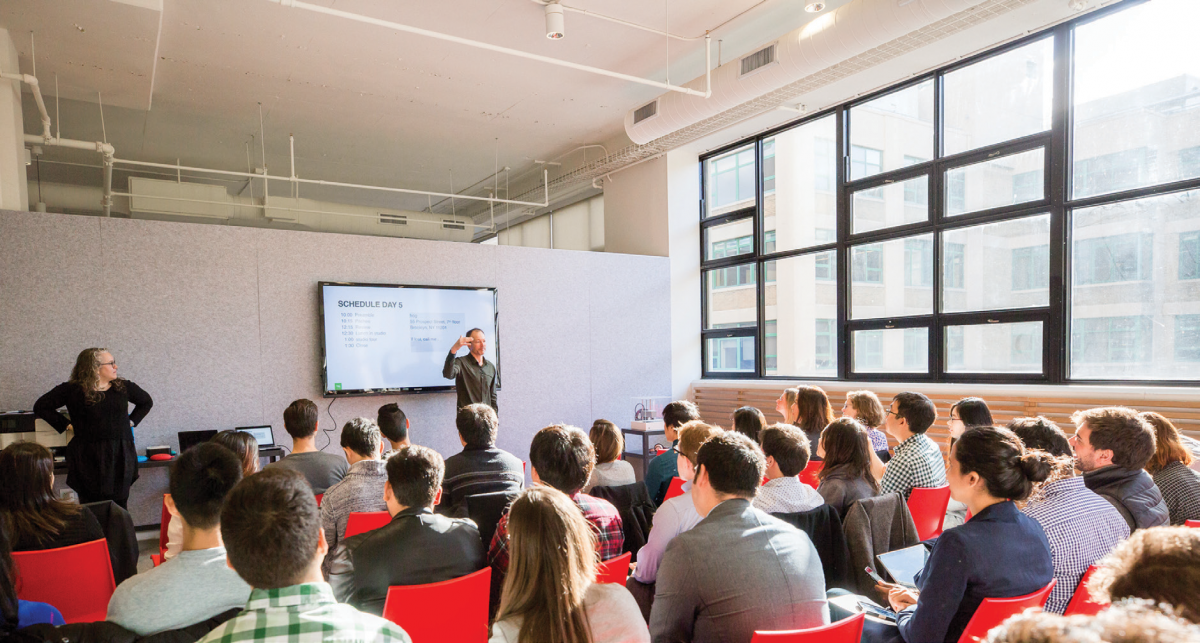 Harry West, CEO of the design firm frog, teaches a Columbia class about human-centered design concepts.
With technology extending ever deeper into our lives, engineers and designers face an evolving challenge: integrating advances into seamless, human-centered products that feel instantly indispensable. Future transformative innovations—the next iPhone or Uber—will likely emerge as much from the design studio as from the research lab. Enter a groundbreaking new course at Columbia Engineering, taught in collaboration with the global design and strategy firm frog. The course gives students from across the University a rare opportunity to work with industry leaders on developing potentially billiondollar ideas.
"Our course is about leading industries through transformations, not just in product design and service delivery but also associated cultural and social change," said Harry West, frog's CEO and a former professor of mechanical engineering at MIT, who leads the class alongside Turi McKinley, executive director of frog's New York studio. The firm specializes in helping companies anticipate customers' future needs and create better user experiences and has consulted on products from Apple devices to thermostats to 3D printing.
Starting last November, students convened on Fridays for five intensive sessions, learning design processes for turning ideas into prototypes and potential businesses. As a theme, they took on the disruptive possibilities of self-driving cars, which are already beginning to transform humans' relationship with automobiles and how roads are used.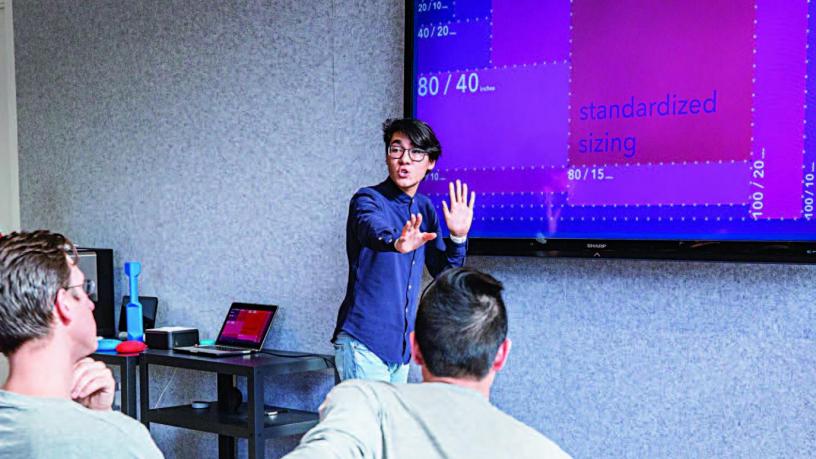 Working closely with West, McKinley, and designers at frog, students began with methods to help conceptualize evolving products in changing environments, looking not just at established models but also at the ethnography of market niches and the fundamental services that customers want (and will want). Then, they divided into teams for the ideation phase, honing and evaluating a series of prototypes based on the emerging potential of autonomous vehicles.
The final phase was designing companies to bring their concepts to market and developing compelling multimedia pitches to woo investors and capture potential users' imaginations. On December 9, students traveled to frog's studio in Brooklyn to deliver their final presentations.
"Human-centered design is incredibly useful for all aspects of life, not just startups and design school," said Anna Libey '17SEAS, whose team designed PORTR, a system to empower self-driving cars to verify the identities of passengers headed to an airport and scan their luggage on the way.
Other pitches included Project M.O.S.E.S. (Massively Optimized Smart Emergency Services), which proposes deploying a fleet of roving autonomous emergency vehicles to cut response times by as much as 40 percent; and Demospace, which aims to help communities and businesses partner to optimize the use of newly available real estate as ride-sharing renders parking lots less necessary.
The course is back this spring, empowering engineers, designers, entrepreneurs, and visionaries across campus to apply human-centered design principles to another set of futuristic challenges.
"The course started with just one seed idea—autonomous cars—and generated so many more concepts," said McKinley. "It's exciting that the students will take this approach and the supporting methods we taught to their other projects."