Letter from Dean Mary C. Boyce
Jun 02 2017
This January, I participated on a panel at the World Economic Forum in Davos discussing the Fourth Industrial Revolution and women. You have likely heard that phrase, Fourth Industrial Revolution. It refers to the coming (though in many ways current) era, in which new technologies accelerate the convergence of the digital, physical, and biological worlds.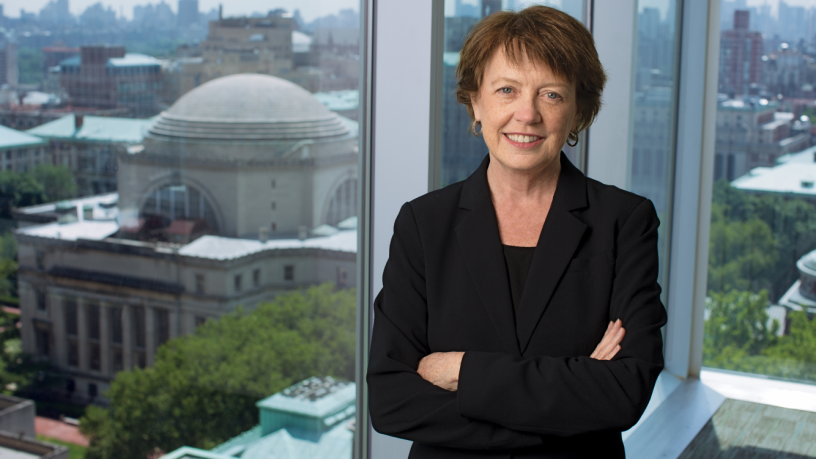 I firmly believe what I told the audience at Davos-the future holds great promise and opportunities for women, and for everyone. As we move to a more knowledge-based economy, education will truly become the great equalizer. When harnessed correctly, technology brings new opportunities, creates novel fields of endeavor, and enables greater freedoms.
At Columbia Engineering, I witness these possibilities daily. What impresses me the most about our community is not just its collective talent and intellect, but its dedication to research that translates into impact and its eagerness to reach across disciplines and outside of engineering for collaborative solutions to big challenges. These aspects of Columbia Engineering are attracting incredible and diverse talent and preparing them to shape this Fourth Industrial Revolution.
This spring, we unveil a new, strategic vision for the School that captures these strengths: Columbia Engineering for Humanity. This vision encompasses areas of research and education where our community is truly making a difference-in sustainability, health, security, connectivity, and creativity. True to our roots, we remain dedicated to serving humanity outside our walls, and this vision will help communicate our ideals to a greater audience.
Artificial intelligence (AI) is one area where this vision is at work. Professor Hod Lipson uses deep learning to train drones to detect crop disease in cornfields, an endeavor that could help save billions of dollars in lost yield and aid efforts for breeding disease-resistant crops. Professor David Blei has developed an algorithm that works with global genetic data sets to discover disease-carrying mutations. Professors Kathy McKeown and Julia Hirschberg are developing sentiment analysis techniques for limited-use languages that could help relief workers locate people most in need of aid during a crisis. Xunyu Zhou, Liu Family Professor of Industrial Engineering and Operations Research, is spearheading an exciting endeavor in behavioral finance with the Columbia Engineering Center for Intelligent Asset Management. Assistant Professor Changxi Zheng is changing our conception of sound and shape with acoustic voxels-hollow, cubed chambers that can be connected to form unique sound signatures.
Arunavha Chanda '18SEAS uses machine learning to decipher code switching, a ubiquitous practice in social media where one post contains multiple languages. Chanda recently presented his findings at a national conference where participants were surprised to learn that he was just a college junior. At the graduate level, a group of students and recent graduates have developed an AI-based platform that analyzes clinical data to help doctors deliver the best patient care.
As part of the Fourth Industrial Revolution, there's no doubt that AI's impact will be great. We urgently need its capabilities to manage, understand, and utilize the vast amounts of information pervading our world. Columbia Engineering is creating opportunities for lifelong learning to prepare for this new frontier. The demand is evident: when our online MicroMasters program in AI launched this spring, over 100,000 people registered. The advances made possible by AI and all of engineering can benefit everyone. They likely will be disruptive, but will ultimately open up a new era of jobs for the future.
For those of you attending Reunion Weekend (June 1-4), I look forward to seeing you as we enter an exciting new phase for Columbia Engineering.
Mary Cunningham Boyce
Dean of Engineering
Morris A. and Alma Schapiro Professor