Think Big, Take Risks, and Choose Your Partners Wisely
Apr 21 2017 | By Joanne Hvala
Len Blavatnik is being awarded the Samuel Johnson Medal in recognition of his outstanding leadership in business. The medal is presented to an alumnus of distinguished achievement in a field outside the realms of traditional engineering and applied science who has significantly advanced his or her chosen field of endeavor. Under the umbrella of Access Industries, which he founded in 1986, Blavatnik's accomplishments span a wide and diverse range of global industries and include natural resources and chemicals, media and telecommunications, real estate, and venture capital.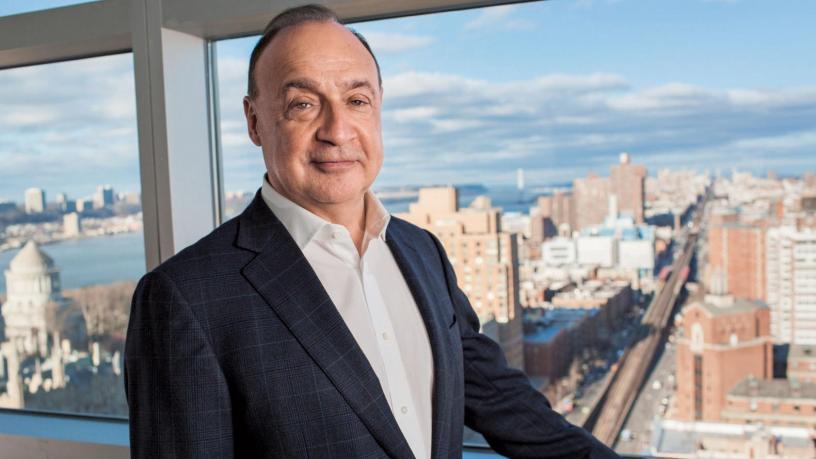 When Len Blavatnik came to New York from Russia (USSR) in 1978, his first job was as a computer programmer for Mount Sinai School of Medicine, where he created an algorithm to check the test results of medical students to see if any of them were cheating on their exams.
"I had attended the engineering school at Moscow State Engineering University, and there I studied early computer science. The Soviets had 'adopted' IBM technology, and we studied what was called automated control systems, in English," Blavatnik recalled.
His success with the Mount Sinai project spurred Blavatnik to pursue a master's degree in computer science at Columbia University. "Mount Sinai very generously let me pursue my master's, and after making up a couple of courses, I went to school part time at first, then full time. After graduation, I went to work for Arthur Andersen in their new consulting business."
With offers from IBM and Hewlett Packard, Blavatnik instead gravitated toward a job that was out of the mainstream of the high-tech computer science and engineering companies to one that combined computers and business. "We were programming large-scale computers for our clients, many in retail, including Macy's, who at the time were installing accounts receivable and data entry systems that ran on mainframe computers."
He later joined Macy's, heading their information systems area and managing a team of 15 employees. The company was going through a leveraged buyout when he decided to go to Harvard Business School. "My boss reminded me that I was one year from being granted equity, but I was ready to take some risks. I needed to force myself to get out of a comfortable corporate job, otherwise, I knew I wouldn't do it," Blavatnik said.
Known as a successful risk-taker, Blavatnik explained that growing up in Russia, where there was no private enterprise at the time, he had always been entrepreneurial. "I had a sense of the opportunity and understood the importance of thinking big and taking risks. I have taken big risks, and it has paid off. You have to force yourself not to be too comfortable."
The risks have definitely paid off. The privately held industrial group Blavatnik founded in 1986, Access Industries, is both global and diversified, with strategic investments in the United States, Europe, and South America in natural resources and chemicals, media and telecommunications, real estate, and venture capital.
Blavatnik brings this philosophy of thinking big and taking risks to his philanthropy. "My philosophy is to do something that improves life. I like to support areas that are interdisciplinary and non-traditional because that is where the truly revolutionary breakthroughs will come from." He is especially drawn to the work of smart, young scientists and engineers, observing, "that's where you leverage their enormous brain power. It is a force-multiplier."
Through his family foundation, Blavatnik has been celebrating and supporting the work of young scientists and engineers with the annual Blavatnik Awards for Young Scientists. Established in 2007 and given in conjunction with the New York Academy of Sciences to faculty and postdoctoral professors at scientific institutions throughout the United States, the awards support innovative work in science and technology that addresses society's most pressing needs. In 2017, the awards are being expanded internationally to also recognize scientists in the UK and Israel.
"Mankind is driven forward by the development of technology. Technology improves the quality of life," Blavatnik said, citing examples that we now take for granted, such as the dishwasher and washing machine that freed women from housework and the enormous progress that China has made in improving the living standards of its people over the past 20 years.
"Engineering trains your brain to be both systematic and adaptable, and those qualities prepare you to handle almost anything. People who are trained in engineering can go into so many fields—life sciences, space, agriculture, medicine," Blavatnik said.
Along with thinking big and taking risks, Blavatnik values partnerships, in business and in research. "In general, I believe in partnerships," he said, "and the partnership of creative and analytical people is the most powerful."
"I've found that teams of two or three people are the best for solving complex problems. But you need to choose your partners carefully," he advised. "It's more important than choosing a spouse."
Classmates often make excellent partners, Blavatnik said. "I have had partners from my student days in Russia and also from my computer science program at Columbia," he said. He also offered some advice for current Columbia Engineering students: "You are at a premier institution, one of the best in the world, and even if you don't realize it now, you will one day realize how it will shape your future. But don't forget to leave time to have some fun."