Letter from Dean Mary C. Boyce
Jul 20 2016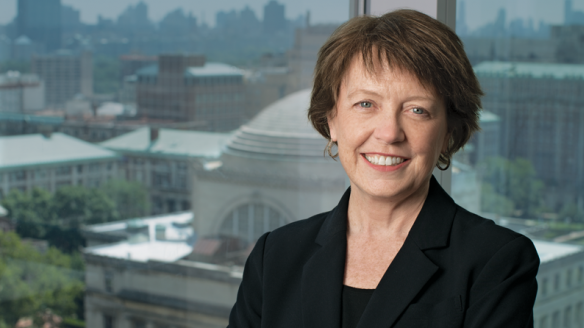 Our shared engineering mission today could never be more palpable or more important. We are inspired to confront the many challenges facing humanity, defining new frontiers and transcending disciplinary boundaries to bring novel solutions to these problems, and preparing the next generation to lead the future. Sustaining Earth while meeting the needs of an expanding population is one of the most daunting challenges of today.
In this issue, we highlight the research efforts of faculty who are tackling the complex global issues of water, energy, climate, and food production. They are leaders in Columbia's interdisciplinary Earth Institute and Data Science Institute and are conducting research critical to the health of the planet and its inhabitants.
You will read about four faculty members whose innovative approaches are helping to ensure water sustainability and about a life-changing rainwater harvesting project in Uganda by students in Columbia's chapter of Engineers Without Borders.
This issue also gives a glimpse into the research of professors and their students who are advancing our understanding of energy. From providing microgrids in developing areas, to creating new materials for advanced batteries, to developing systems that combine photovoltaics and thermal technology to simultaneously produce electricity and hot water, our researchers explore unique approaches that will lead to energy sustainability.
Learn also about how faculty are deconstructing extreme weather and working to better understand the impact of water and carbon cycles on atmospheric dynamics and climate, including how seasonal cycles in the Amazon rain forest affect us all, no matter where we live.
An in-depth look at the research of Peter Schlosser and V. Faye McNeill, coupled with highlights of work by faculty whose research interests initially may appear to have little connection to the environment, shows how their collective endeavors contribute to the resilience of the earth.
Other articles in this issue showcase our students, including the contributions of women engineers, who now make up a significant part of the student body; new courses that foster entrepreneurship and introduce data science; alumni whose work has an environmental footprint; and an introduction to new faculty who are taking their place among the best and brightest of their generation as they pursue their academic careers at Columbia Engineering.
Earth Day, which has been marked annually on April 22 since 1970, is a good time to reflect on what it will take to build a sustainable future and how we, as engineers, have an important role to play by inventing the technological tools to understand and solve the challenges that are critical to the future of life on Earth.
Mary Cunningham Boyce
Dean of Engineering
Morris A. and Alma Schapiro Professor