Join Us, Alumni! Reunion Weekend 2016: June 2 to June 5
Jul 21 2017 | By Jesse Adams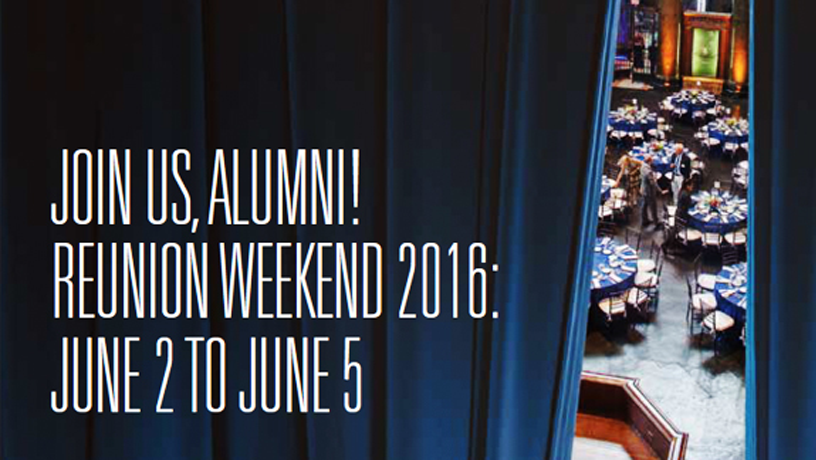 Generations of Columbia engineers will return to Morningside over four invigorating days this spring to reconnect with old friends, make some new ones, and rediscover the campus and city where so many formative memories were made.
Alumni from the classes of years ending in 1 and 6 (e.g., 1966, 1971, and so on) and members of the Golden Lions Society (which includes all alumni who graduated more than 50 years ago) are invited to bring their families and guests to celebrate at events on campus and around New York City, June 2–5. Dean's Day, for all alumni, will take place Saturday, June 4.
During "Back on Campus" sessions, Columbia Engineering faculty and distinguished alums will discuss their research and share their professional experiences. For example, SEAS alum Jamey Barbas BS'83 is scheduled to give a talk. A civil engineer with expertise in long-span bridges, particularly in cold weather climates, she is currently leading the multibillion-dollar Tappan Zee Bridge construction project. Alumni and friends will also hear from Dean Mary C. Boyce, who will detail the School's cutting-edge research in tomorrow's most pressing challenges, ranging from nanoscience and big data to health care and global climate change.
"Reunion is a wonderful opportunity for alumni to see what remarkable progress SEAS has made since they graduated, and to reconnect with the School, their friends, and the faculty," said Dean Boyce. "Reunion is a great way for all of us to celebrate our exciting trajectory."
Events will also include departmental luncheons and the Columbia Engineering Alumni Association's annual awards presentation and welcoming reception, as well as plenty of socials and mixers like wine tastings, dinner dances, Broadway shows, and tours around the city.
"Classmates who have not been back to campus recently will be amazed at both how much the place has changed and how much it has stayed the same," said Joshua Hauser BS'66, MS'68, a member of the 50th Reunion Committee. "I am looking forward to reconnecting, comparing notes about our recollections, and learning what people have done in their years away."
For up-to-date information about Reunion Weekend, visit the School's website at engineering.columbia.edu/reunion.