Engineering Icon: Santiago Calatrava, Engineer-Architect-Artist
Jul 21 2017 | By Melanie Farmer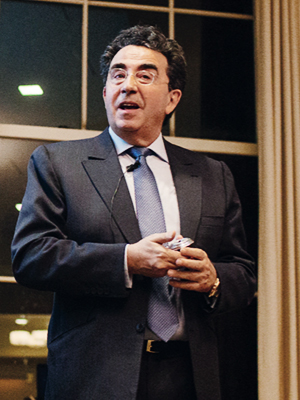 Santiago Calatrava's keynote in November marked the third in the School's Engineering Icons series.
(Photo by Timothy Lee Photographers)
In the latest installment of the School's Engineering Icons series, the world-renowned engineer and architect Santiago Calatrava shared his career highlights, detailing how art impacts his life and continues to influence his engineering designs.
Calatrava has strong ties to Columbia Engineering and the University: two of his children are graduates of the Engineering School, and he holds an honorary doctor of humane letters degree from Columbia. He also endowed a professorship in civil engineering at the School.
Fittingly, Calatrava was introduced by George Deodatis, the Santiago and Robertina Calatrava Family Professor and chair of the Department of Civil Engineering and Engineering Mechanics. In describing Calatrava's extraordinary talents, Deodatis referred to him as "a quintessential Renaissance man . . . one of the world's most prominent architects and a distinguished engineer."
An artist as well as an engineer-architect (Calatrava studied art in Paris before becoming an architect), Calatrava uses all his talents as he approaches the artistic design for each of his projects—from wineries, museums, and footbridges to immense train stations and public spaces. He has a penchant for translating an inspirational painting, work of art, or his own sculptures into a civil engineering structure. He often considers the project's surrounding landscape in his designs as well, whether it is a beautiful, lush countryside of hills and valleys or the more metropolitan terrain of a bustling city.
"It is not the hand that decides the work of an architect or an engineer; it's the eye: the physical eye and the eye in your mind," he said.
In her welcome, Dean Mary C. Boyce shared some of Calatrava's work with the audience, including beautiful images of the first bridge he designed and built, the Felipe II Bridge in Barcelona. "If you are an engineer, perhaps those of you who are architects, you cannot help but see the engineering in every design . . . It's fair to say that Santiago's visually stunning yet profoundly humanistic approach to grand public spaces appears in all his work," she said.
Calatrava's keynote, held November 18 at Faculty House, is the third in the Engineering Icons series, which was launched in the fall of 2013 to bring prominent, game-changing engineers to the School to discuss their real-world experiences with students and alumni. The event was sponsored by Columbia Engineering's Office of Alumni and Development.