Engineering Design Challenge Taps Water Innovations
Jul 21 2017 | By Jesse Adams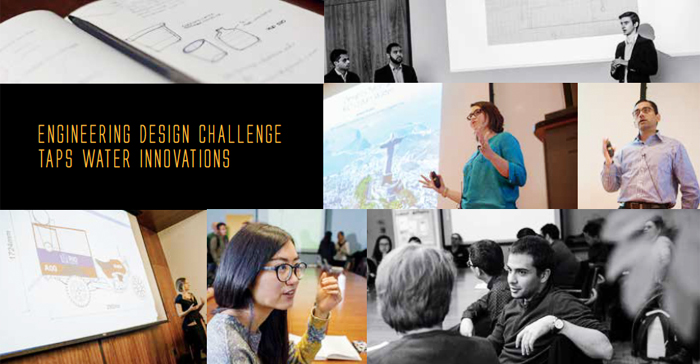 Water—a precious resource that poses many challenges in urban areas—is one of the world's most complex concerns facing engineers, planners, and policy makers alike. To this end, Columbia Engineering, in a recent partnership with the Columbia Global Centers | Rio de Janeiro, launched a design challenge in December centered on the multifaceted challenges of urban water. Columbia students, postdocs, faculty, and staff from all Schools were invited to participate, as were counterparts at the Federal University of Rio de Janeiro (UFRJ).
Multidisciplinary teams are collaborating on innovating engineering, planning, policy, and public health solutions to address such problems as delivery systems for access to clean water, enhanced collection and treatment of wastewater, safer water storage, and smarter planning and response for extreme weather events. The goal is to produce a viable design concept to earn further support and develop a technology-centered innovation or policy change that could be presented in Rio later this year.
Like many cities, Rio has experienced population growth far outstripping its municipal infrastructure, and struggles to treat the tremendous volume of wastewater and solid waste entering the city's waterways and Guanabara Bay daily. Additionally, standing water contributes to serious health concerns including mosquito-borne illnesses like dengue fever and the Zika virus.
Following presentations in December and February, 10 finalist teams representing both universities were selected to move forward and hone their ideas with guidance from mentors from Columbia and UFRJ. These teams are working on projects ranging from novel approaches to improve wastewater treatment, to a solar-powered propeller that agitates standing water and may prevent mosquito reproduction, to low-impact pipe repair using a mechanical system to apply liners. The design challenge is the second from Columbia Engineering, following 2014's Ebola challenge, which spurred several promising innovations to combat the spread of infectious disease.