Samantha John: Programming the Future
Feb 01 2015 | By Jennifer Ernst Beaudry
It may not have been her degree, but Samantha John BS'09 found the keys to a whole new career path—and to launching a company that lets her pursue a passion—at Columbia Engineering.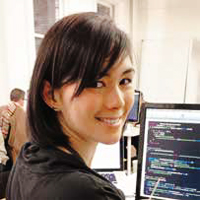 John cofounded Hopscotch, an iPad app aimed at children that lets any of its users create their own game. The app, which she codeveloped in 2011 with Jocelyn Leavitt '07BUS, went live in April 2013. Today, it sees 50,000 projects published each week, with users playing their games more than 3 million times each month. But founding a company and becoming a programmer wasn't in the plan when John enrolled at the Engineering School as an applied mathematics major on a premed track.
"I took a couple of programming courses that were required and made a website for a student club, and I got really into it," she said. "Before that, I hadn't been exposed to programming very much, and I didn't think of it as something I would like or I could do. But I realized between programming and math, I was having more fun with tech stuff than my premed stuff, and decided that it was what I want to be doing."
This late-blooming interest in the programming world was the inspiration for Hopscotch. "All these guys we know had started programming at 11 or 12 because they played video games and they wanted to make mods for them, and we thought, 'We wish we had had a toy that got us into engineering as kids,' " John said. "And then we thought, 'We need to make that toy.' "
Hopscotch is a gender-neutral platform, but making it a welcoming place for girls is a top priority for John and her business partner. And while the data is limited (because the app is designed for children, privacy laws restrict what user information the company can collect), the strategy seems to be working; anecdotally, John said, their audience seems to be 50-50 girls and boys.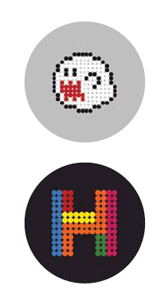 Hopscotch user-generated pixel art (Images courtesy of Samantha John)
"We've been very deliberate in making it feel girl-friendly," she said. "A lot of beginning programming tools skew boyish, even with the example projects they give. We want to make sure we're not shutting out girls."
John credits her Columbia experience for not only exposing her to programming, but also putting her in the mindset of conquering problems.
"I got used to looking at a problem set I'd been assigned and thinking, 'I don't know if I'm smart enough to complete this problem set,' " she said. "And so I got very comfortable with this feeling of, 'This might not happen!' which is how I feel every day as an entrepreneur."
And most critically, she said, her time at Columbia Engineering put her in great company.
"I think my main takeaway was just being around so many great, smart people," she said.
John and Hopscotch cofounder Leavitt were introduced by mutual friend David Albert BS'09, a cofounder of the programmer retreat the Recurse Center (formerly known as Hacker School). Today, three of the seven employees at Hopscotch are Columbia grads, including one of the company's newest hires, a friend of John's from the College who has really "discovered his inner engineer," she said.
Going forward, Hopscotch has big plans. To grow the burgeoning community, the company is looking to add ways for users to easily share and collaborate on projects, as well as adding a video feature to completed projects. Who knows, maybe there will be more alums coming on board in the future to help support that goal.
"I wouldn't mind hiring more Columbia people!" said John with a laugh.