Roundup: Faculty + Research Headlines
Feb 01 2015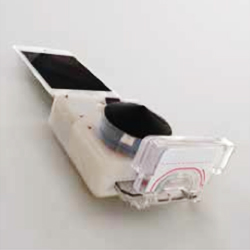 Deft Diagnosis
A team of researchers led by Samuel K. Sia, associate professor of biomedical engineering, has developed a major advance in miniaturized low-power diagnostics hardware for rapid and inexpensive point-of-care diagnosis of diseases including HIV and syphilis.
Sia's innovative dongle, a small device that connects easily to smartphones and computers, can perform a laboratory-quality test that simultaneously detects three infectious disease markers from a finger prick of blood in just 15 minutes. Powered by mechanical action and a phone or computer's standardized audio jack, the accessory performs an enzyme-linked immunosorbent assay (ELISA) on disposable plastic microfluidic cassettes with pre-loaded reagents, and reveals results via a user-friendly app. Sia estimates the dongle will have a manufacturing cost of $34, much lower than the $18,450 at which typical ELISA equipment runs.
The dongle was recently piloted to great success in Rwanda, where health care workers were able to test blood samples from nearly one hundred patients enrolled at clinics and testing centers after just 30 minutes of training. Because the dongle is vastly cheaper than conventional laboratory equipment, Sia hopes it will enable large-scale screening efforts and better care both in the developing world and closer to home.
Science Translational Medicine published the research on February 4. The study was funded by a Saving Lives at Birth transitional grant and the Wallace H. Coulter Foundation.