In Memoriam
ALUMNI
Feb 01 2015
Columbia Engineering lost a devoted alumnus and friend when Bernard "Bernie" Queneau '33CC passed away on December 7, 2014, at age 102. He was a distinguished metallurgist who began his remarkable career at Columbia and was a veritable font of insights into how far both the school and profession had come since 1928, when he first arrived on campus.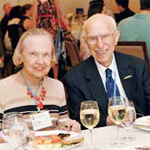 Esther and Bernard "Bernie" Queneau BS'32, '33CC
"When I was 16, I decided that I wanted to be a space engineer: I wanted to design spacecraft and rockets," he says. "Columbia helped focus my intellect and transform me into a rigorous problem solver." Chulik received his BS in mechanical engineering in 1989, earning honors with distinction.
"In March of my senior year, I was offered a job in General Electric's engineering management training program focusing on spacecraft design. Simply put, the Columbia Engineering experience enabled me to fulfill my career dreams."
Entering Columbia at just 16, Bernie was already seasoned beyond his years. In his capacity as an Eagle Scout, he'd been one of four selected to cross the country as an ambassador for highway safety, riding in a REO Speedwagon modified to look like a covered wagon. On campus, before Butler Library was built and when traffic still cut across 116th Street, he rose to become captain of the wrestling team (students were required to pursue a sport, he explained) and did his calculations on slide rules and cumbersome mechanical calculators.
After graduation, Bernie obtained a PhD from the University of Minnesota in 1936. He worked briefly at U.S. Steel's research lab before returning to Columbia in 1938 as an assistant professor. In 1941, he went on active duty in the U.S. Navy, rising to become commander in charge of the Armor and Projectile Lab in Dahlgren, VA. He returned to U.S. Steel after the war, serving as chief metallurgist at several mills around the United States before concluding his career in Pittsburgh, where he oversaw quality assurance.
Following his retirement in 1977, Bernie served as technical editor of the Iron & Steel Society's magazine, continued working as a consulting engineer, and completed his memoirs. He was a fellow of the American Society for Metals and, the day before he died, received the Boy Scouts of America's rare Distinguished Eagle Scout Award.
Bernie enthusiastically attended his 80th SEAS reunion in 2012, having some years earlier endowed the Bernard R. Queneau Fellowship for students in earth and environmental engineering. He will be remembered as much as a friend and mentor as for his many contributions to the field of metallurgy.
1947
Bernard Spitzer (MS, Civil Engineering and Engineering Mechanics), a civil engineer, real estate developer, and philanthropist, passed away on November 1, 2014, at the age of 90. A gifted student, Bernard graduated from high school at the age of 14 and went on to complete his bachelor's degree in civil engineering from CUNY. He joined the U.S. Navy and was posted to Bremen as a lieutenant junior grade in naval counterintelligence. He later earned his MS from Columbia and, shortly after graduation, he established Spitzer Engineering, working on a string of successful projects beginning in Riverdale and then expanding across New York City. His successful real estate developments included The Corinthian, a 55-story apartment building, which at the time it opened in 1988 was the largest apartment building in New York City; the historic Crown Building on Fifth Avenue; and an iconic 35-story apartment building at the corner of Central Park South and Seventh Avenue. Most recently, Spitzer Engineering acquired a retail condominium in SoHo and a development site in the Hudson Yards area. Bernard and his wife, Anne, established a family foundation, which endowed a new architecture and urban planning school at City College as well as the Hall of Human Origins at the American Museum of Natural History. They also funded stem cell research at Columbia University, Public Theater productions of Shakespeare in the Park, and many other philanthropic initiatives. According to his obituary in The New York Times, Bernard and his wife shared a passion for city life, classical music, tennis, skiing, and literature. He served on the boards of the Julliard School, the Museum of Jewish Heritage, the Michael J. Fox Foundation, and other organizations. He is survived by his wife; his sons, Eliot, the former Governor and Attorney General of New York State, and Daniel; his daughter, Emily; and seven grandchildren.
1948
Guido C. Dattaro, a loyal Columbian and former member of the Board of Managers of the Columbia Engineering Alumni Association, died on December 4, 2014, at age 89.
Born in New York City in 1925, Guido joined the U.S. Navy during World War II and served aboard the USS Heyliger in the Pacific. Like many veterans of his generation, he came to Columbia after his discharge, and went on to study civil engineering as faculty like Hans Bleich, Jewel Garrelts, and Mario Salvadori were building the department's global renown.
After graduating in 1948, Guido became a professional engineer, working on numerous projects around New York City, including the Brooklyn Battery Tunnel and the Coney Island Aquarium. Later in his career, he served as building inspector for the Village of Tuckahoe and the Village of Scarsdale, retiring in 1996.
Guido is survived by four children and five grandchildren in addition to many friends and colleagues.
1950
John B. Cochrane died peacefully on January 6, 2015, at the age of 89. John was a World War II veteran, serving as an army staff sergeant in the 294th Field Artillery Observation Battalion in Germany until the Liberation and the end of the war. He worked for several companies during his career in manufacturing, including Davidson Rubber Company, which took him and his wife to Georgia and Tennessee before retiring to Wolfeboro, NH, in 1987. He is survived by Mary Lou, his wife of 63 years; his children, Meg and Mark; and three grandchildren.
1952
Alexander (Alec) Feiner (MS, Electrical Engineering) passed away on August 30, 2014, of Parkinson's disease. For the first two decades of his life, in Europe, Alec lived through World War II. He experienced dislocation and deprivation in Poland and northern Russia where his father died in a labor camp. He lost three years of schooling and experienced child labor in a factory. He came to the U.S. in 1950 with his mother and brother, which was when he obtained his master's degree from Columbia Engineering. In 1952, he was recruited by Bell Laboratories where he built a successful career for the next 40 years. He held 47 patents in telephony ranging from the small ferreed switch, seminal to telephony in the 1960s and 1970s, to large communications systems for industry, commerce, and the military. Alec was elected a fellow of the National Academy of Engineering in 1983, and was the recipient of the International Society of Electrical and Electronic Engineers (IEEE) Engineering Excellence Award in 1991. He is survived by Helen Feiner, his wife of 45 years; his children; and seven grandchildren.
1957
Donald J. Peragallo '56CC passed away on November 19, 2014, in Bethlehem, PA. He was 80. After graduating from Columbia Engineering in 1957 with a degree in industrial engineering, Donald spent two years in the military stationed in Huntsville, AL, working on the Redstone rocket program (the first U.S. ballistic missile). He worked under the leadership of Dr. Wernher Von Braun, considered one of the "fathers of rocket science." After his service, he joined Bethlehem Steel where he held various positions in the information services department until his retirement 28 years later. He is survived by his wife of 55 years, Donna Boyd Peragallo; his son, Jeffrey; grandchildren; a sister; nephews; and nieces.
1960
Arthur Irving Newman (MS'65, Industrial Engineering and Operations Research) passed away at the age of 76 on September 21, 2014, in Houston. Raised in the South Bronx and Jackson Heights, Arthur attended Stuyvesant High School in Manhattan, and in addition to his Columbia Engineering degrees, he obtained a BA from Columbia College in 1959. At Columbia, he played the clarinet in the Columbia marching band. From 1960 to 1962, Arthur was a lieutenant onboard the USS Monticello in the Pacific. After the U.S. Navy, he began his career with Western Electric and Lever Brothers in New York City. A few years after starting a family, Arthur and his wife, Bobbie, moved to Houston in 1974 where he founded his own executive search firm, Arthur Newman & Associates. After two decades, his firm was acquired by Lamalie Amrop International where he continued as head of their worldwide energy practice. He is survived by his loving wife of 47 years, Bobbie Wadler Newman; sons, Stephen and Douglas, and their wives; and four grandchildren.
1961
Constantine T. Tsitsera (MS, Electrical Engineering, EngScD'65) passed away on September 18, 2014, in New York, NY. Constantine earned a BS degree in electrical engineering from MIT and, following service in the military during the Korean War, earned his master's and EngScD in electrical engineering from Columbia Engineering. Born of Greek immigrants, Constantine began his career at the Newport News Shipyard, and later had a long and distinguished career with IBM. He was a generous supporter of the arts, education, and medical research. He is survived by his wife of 60 years, Litsa, his four sisters, his brother-in-law, and many nieces and nephews.
Bruce M. Gordon passed away on November 1, 2014, in Carmel, CA. Bruce worked for Chevron for 38 years and enjoyed a successful career there, including heading Chevron's interests in the Northwest Shelf Gas Project—the largest natural gas project at the time and the largest single resource development in Australian history. In his professional life, he traveled extensively and spent significant time in Australia, Asia, and the Middle East. In retirement, he was very active in his community as a whole and with his family. He is survived by his son, Scott; daughter, Kirsten; son-in-law, Alan; three grandchildren; and longtime love, Marilyn Post.
1966
Entrepreneur, teacher, philanthropist, and devoted Columbian Gary F. Jonas passed away unexpectedly on September 26, 2014, at age 69.
Born in Queens in 1945, Gary was quick to make his name at Columbia. In addition to stellar academics, he was a talented fencer and served in student government, rising to become copresident of his class. In 1966, he received the Charles Kandel Medal for his tireless devotion to Columbia Engineering.
Gary went on to earn his MBA from Harvard Business School and settle in the Washington DC area for an accomplished and remarkably varied career.
For 20 years he worked with consulting firms supporting numerous federal and state antipoverty programs. Then, he took on an array of other challenges: president and CEO of University Research Corporation, president and COO of the advertising agency Earle Palmer Brown, cofounder and CEO of 20/20 Laser Centers (now known as TLC Laser Eye Centers), the first managing partner of Venture Philanthropy Partners, and president and CEO of Strategic Planning Advisors. He taught an entrepreneurship course at the Johns Hopkins Carey Business School and cofounded the Lever Fund, a not-for-profit that helps disadvantaged people in the capital region out of poverty.
Throughout his life Gary remained a proud member of the Columbia Engineering family. In 2001, with his classmate Jonathan Isaacs BS'66, MS'67, Gary endowed the Isaacs-Jonas Memorial Scholarship, an undergraduate scholarship for rising entrepreneurs at the School. He also supported a series of Isaacs-Jonas Lectures in Entrepreneurship at the School. Columbia Blue was his favorite color, and Gary proudly served as a hood marshal during graduation ceremonies in 1991.
He is survived by his wife of 41 years, Rosalyn Levy Jonas, and two daughters. His warmth, generosity, and good works will long be remembered at Columbia Engineering and beyond.
1981
Pierre T. Kabamba (PhD, Mechanical Engineering) passed away on September 20, 2014, in Ann Arbor, MI. Born in the Democratic Republic of Congo, Pierre graduated summa cum laude from the Université Catholique de Louvain, Belgium, in 1977, before moving to the U.S. to earn his doctorate from Columbia Engineering. In 1983, he joined the University of Michigan's Department of Aerospace Engineering as a professor. A distinguished control engineer, Pierre authored more than 100 journal papers, was a fellow of IEEE, served as associate editor for Mathematical Modeling of Systems and Mathematical Problems in Engineering, and served as a program committee member for several American Control Conferences. His teaching awards include the Aerospace Engineering Department Teaching Award (1994) and the Silver Shaft Award for Undergraduate Teaching (2002). He was an accomplished musician who played the guitar and the piano, and became a prolific composer of Christian and gospel music. He is survived by his wife, Josephine Kasa-Vubu, and three children.
2006
Kathryn Vanessa Lundberg passed away unexpectedly on September 1, 2013. She was 30. Kathryn, known as Kate, was born in Seattle and attended Epiphany School (Seattle) and Forest Ridge School of the Sacred Heart (Bellevue). At Columbia Engineering, she studied earth and environmental engineering. After graduation, she worked in San Francisco as a consulting engineer on water quality issues. Kate returned to her hometown of Seattle in April 2013 to be near family. She is survived by her parents, Larry and Lauren Lundberg; her brother, Michael; her sister and brother-in-law, Nicole and Sean McCormick; and her extended family.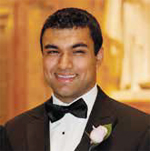 Vinod Kumar Vemuri BS'1
Vinod Kumar Vemuri passed away on December 30, 2014, in New York City. Vinod was born in Columbus, OH, and grew up in Murrysville, PA. He ventured to New York City in 2007 to attend school, and he immediately found his niche within the Columbia community. Freshman year, he joined the Hindu Students Organization and Columbia Raas Dance Troupe. One could frequently find him scrambling to finish his problem sets on the Lerner ramps just before he rushed off to catch up with friends on the Low steps or attend dance practice. On the weekends, Vinod explored other parts of the city, always returning home with a lengthy adventure to retell.
Vinod excelled at SEAS in applied mathematics. He cofounded the a cappella group CU Sur. Perhaps his most meaningful experience at Columbia was as Columbia Raas captain his senior year. Anyone who knew Vinod at Columbia would be able to hear his booming voice and infectious laugh from any corner on campus, and they would rush to hear about his latest adventure.
After graduation, Vinod joined Novantas, Inc., a financial services firm. He developed a solid reputation as one of the likable and talented young associates. In his spare time, Vinod enjoyed traveling, often to visit his parents and dog, Chester, in Murrysville. While Vinod believed he was developing into a foodie, he covered nearly everything he ate in hot sauce and pepper. His stories were long and animated, but he could hold a crowd's attention for hours. At Columbia, he took fashion advice from no one, and he frequently braved the bitter winter in flip-flops and shorts. Fortunately, he developed a more tasteful style upon entering the work force, but still maintained that December wasn't cold enough for a coat.
These descriptions do not relay even a fraction of the person Vinod was, because he is best embodied through the hearts he conquered. He turned strangers into friends, and he had a rare spirit of enthusiasm and excitement for life. While Vinod continues to live through the people he touched during his incredibly short time, he will forever be missed. The person the world has lost was more than just a good friend and son. He was truly our companion. —Puja Dave '10BC
OTHER DEATHS REPORTED
We also have learned of the passing of the following alumni:
Antoine F. Gagne BS'40, MS'43, '40CC
Carl J. Scheiner BS'42
Edward A. Fox BS'43, PhD'58
Donald Kerr BS'43, PhD'47
Paul V. Dalley BS'45
Alexander D. Kline BS'46
Edward P. Reid BS'46
Milton L. Wolfson MS'47
Howard E. Brooks BS'48
John G. Busharis BS'48
Franklin G. Hastings BS'48, MS'50
Raymond J. Rice BS'48, '48CC
Carl Fechtman BS'50
Alvin V. Filer Jr. BS'50, EngScD'51
Charles W. Hendershott BS'50, '52BUS
Spencer B. Smith MS'50, EngScD'58
Samuel Rock Jr. BS'51, MS'54
Emanuel S. Diamant BS'52
Hans K. Landesman BS'53, '56GSAS
Thomas H. Ford MS'54
Herbert Groginsky MS'54
Leroy C. Jacox Jr. MS'54
John D. Cerruti MS'60
Donald L. Beckman MS'61
Stephen B. Brown BS'61, '60CC
Elliot M. Olstein BS'61, '60CC
Andre J. Eydt PhD'66
Ling Mei BS'67, MS'74, '68GSAS
Charles F. Vachris MS'68
Anthony A. Karkosza MS'69
Abraham Friedberg BS'71
Donald R. Bloomfield BS'73, '72CC
James L. DeRosa BS'73, MS'76
John L. Varanelli MS'75
Pedro I. Lopez-Hurtado MS'77
Peter Lewis Bretz BS'86, MS'89, '85CC
Stephen G. Mauldin BS'92