Feng-Ming "Fermi" Wang, Digital Video Pioneer
Feb 01 2015 | By Timothy P. Cross
After earning a bachelor's degree in electrical engineering from National Taiwan University and completing his military service in Taiwan, Feng-Ming "Fermi" Wang had considered attending graduate school in California. His brother, Wang Fong-Jen, was already a student at Columbia Engineering studying mechanical engineering and convinced Fermi to join him, even though Fermi did not have any financial aid.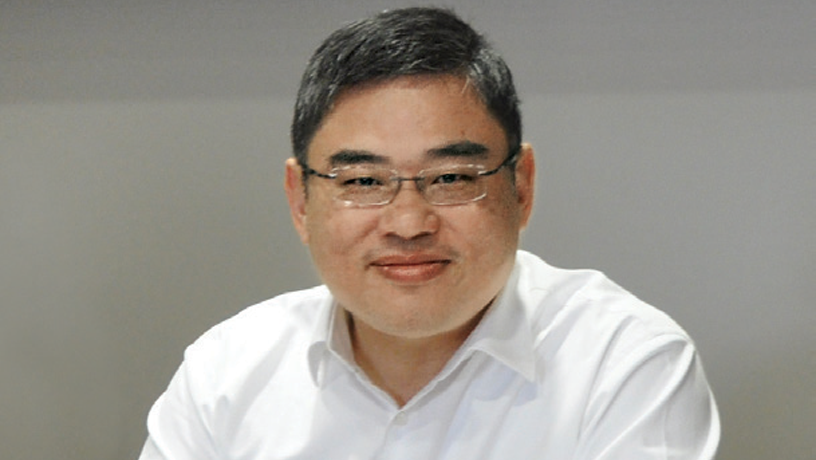 Despite what he describes as a "huge transition" moving to New York City, Wang thrived. "My brother and sister-in-law took care of me." He even used his brother's computer for his own coursework. Soon, however, Electrical Engineering Professor Dimitris Anastassiou decided to take Wang on as a student, and his career took off. Wang went on to earn both an MS (1989) and PhD (1991) in electrical engineering.
In 1990, Wang and Anastassiou successfully filed a patent for encoding core digital MPEG-2 video. Their technology is essential to video and systems coding standards still used in TVs, DVD players and recorders, personal computers, computer gaming, and cameras.
Since this early success, Wang has become a global authority on video compression technology, a highly respected leader in the semiconductor industry, and a serial entrepreneur, responsible for a set of highly successful products and services.
"The patent definitely changed my life," Wang says. "It helped make me financially independent so that I could take chances at other companies."
After graduation, he joined C-Cube Microsystems, a pioneer in video compression technology and semiconductor integrated circuits. By 1997, he was a vice president and general manager in both engineering and business management roles. In the home media division, he led the DVD, digital video recorder, and digital video business. He launched C-Cube's MPEG codec business, growing it by 200 percent and developing the world's first MPEG codec chip.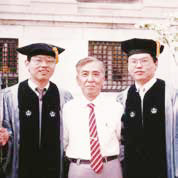 Wang Fong-Jen (left) and Fermi Wang (right) with their father, Wang Hsing-Pen
In 2000, Wang cofounded Afara Websystems, a start-up that pioneered throughput computing for servers. He was CEO until Afara was acquired by Sun Microsystems in 2002. Afara's multi-core, multi-thread CPU remains a critical technology in Sun's UltraSPARC microprocessor.
In January 2004, Wang cofounded Ambarella Inc., which produces low-power, high-definition, and ultra-high-definition video compression and image processing semiconductors. The company's products are used in cameras and video camera recorders as well as in television broadcasting. Wang is the company's CEO, president, and chairman of the board. The company, which has research centers in Asia and California, went public in 2012.
Last year, Wang endowed the Wang Fong-Jen Professorship in Mechanical Engineering in honor of his brother, who died tragically not long after earning his doctorate in 1990. "I wanted to do something for him and his family," Wang says. "I think of how appropriate this professorship is to remember him and his ties to Columbia." He also hopes "to encourage people to think about innovation and entrepreneurship in college."
The University's Trustees named James Hone as the inaugural Wang Fong-Jen Professor in October 2014. Wang approves of the choice. Hone "is great," he says. "I'm convinced some of his research will be important for the semiconductor industry."
The Wang Fong-Jen chair is part of the School's "Rising Superstar" faculty initiative, funded by University Trustee Armen Avanessians MS'83, that has supported seven new named professorships so far.