Alumni Reunion Weekend 2015
Feb 01 2015 | By Nick Mider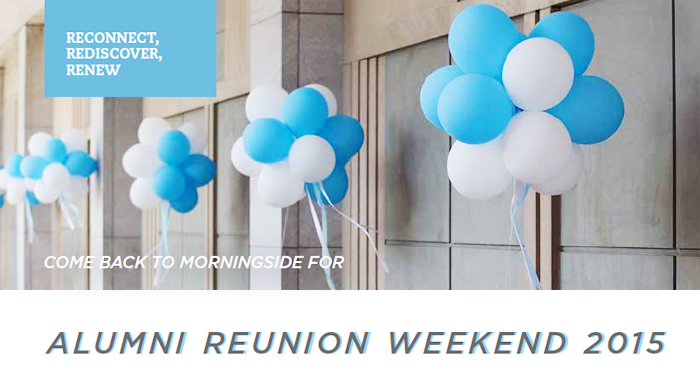 The four-day celebration, Thursday, May 28, to Sunday, May 31, offers the chance for alumni and guests to connect with old friends and make new ones, and to rediscover the campus and the city where they spent so much of their time. Celebrating this year will be alumni from class years ending in 5 and 0 (e.g., 1965, 1970, and so on). Reunion events will be held on campus and at venues throughout New York City all four days, and Dean's Day, open to all alumni, will take place on Saturday, May 30.
Reunion 2015 follows the culmination of the School's 150th anniversary celebration and builds on that great momentum. During "Back on Campus" sessions, Columbia's world-renowned faculty and prominent alumni will present their latest thought-provoking research and findings. Additionally, alumni and friends will have a chance to hear from Dean Mary C. Boyce when she provides an update on the School as it continues to have incredible impact on many key sectors, including data science, nanotechnology, sustainability, and health and wellness.
"Reunion is a wonderful time on campus and I am looking forward to greeting a new cohort of celebrants," said Dean Boyce. "It is a great opportunity for alumni and their families to see what remarkable progress our School has made since their graduation. Every department has experienced extraordinary growth in breadth and depth, and I know participants will be fascinated by the current research initiatives of their former professors. We are in an Engineering Renaisssance, and Reunion is a great time to celebrate it!"
For many alumni, Reunion Weekend is an ideal occasion to revisit Morningside and see how much the campus has changed since graduation. It also gives them a chance to relive their days here and have fun in New York City again.
"We had a wonderful gathering of our classmates and families," said Thomas Magnani BS'64, who attended his 50th Reunion last year. "The opportunity to connect with classmates I had not seen or spoken with in 50 years was a real treat."
David Schach BS'99 traveled from the San Francisco Bay Area last year to attend his 15th Reunion. "Reunion was such a success in so many ways," Schach said. "It was like no time had passed. Reminiscing was great, whether walking around campus, sitting on the Low Steps, or dancing on Low Plaza. I reconnected with classmates and even made some new friends that I hadn't been as close with during my time as a student. We all agreed on two things: our class has aged well, and our time at Columbia was both invaluable and essential to bringing each of us to where we are today!"