Class Notes: Undergraduate Alumni
Jun 16 2021
1959
Jim Bast (Mech E) writes: "I recently downsized from my lakeside home with a cranberry bog in Orleans, Massachusetts to a condo nearby in Chatham, Massachusetts. Life is good here in paradise on Cape Cod despite the virus."
Byron Nilsson (IEOR) writes: "I spent my last working years as Chief Engineer at Rollway Bearings. While at Rollway, I made business trips to China, Japan, and Romania. My son, daughter, and family are a constant source of contentment. We have one room in the house set up as an art studio, where my wife does her watercolors, and I do oil paintings. I also have an ongoing email correspondence with Guy Longobardo '49, '50(Mech E), whom I have known since high school. Retirement has been very fulfilling."
1960
Matthew Sobel (IEOR) writes: "I am still near Cleveland, Ohio, where I remain an emeritus professor at Case Western Reserve University. My field is operations research (broadly construed), and I continue to do research and writing. My family has endured the pandemic, but they are spread out in the US, and I yearn to see them in the flesh. Zoom is an inferior substitute for the real deal! My wife and I share the recreational passion of road bicycling. The great weather in our region this fall yielded more than 700 miles, including December rides with a backdrop of big snow banks."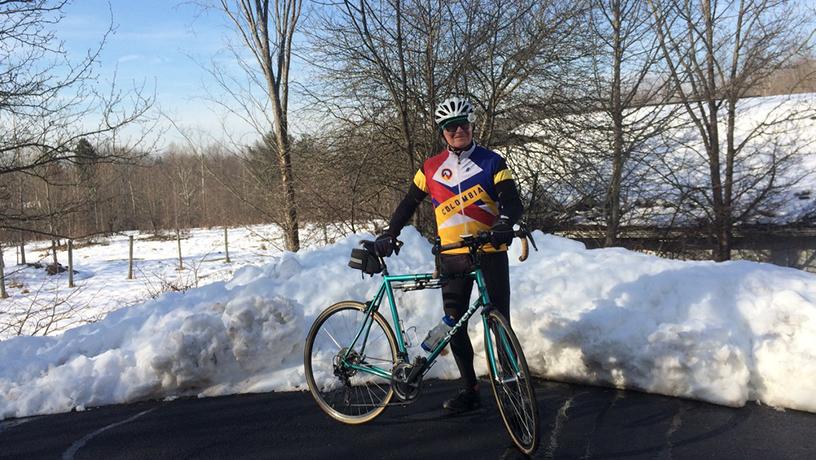 1963
Joe Feig (Chem E) writes: "We relocated to Camarillo, California about three years ago. I have participated in live drama and singing performances here, which have been a very new experience. Additionally, we have a garden plot and have successfully grown various tomatoes, green peppers, and lettuce. Although I remain an active member of an investment banking and consulting group headquartered in Pasadena, California, our meetings are now online. Fortunately, thus far, almost all of our colleagues and friends have not been infected, or have quickly recovered. Hope all manage to stay healthy and safe until all have been treated with the vaccine."
1964
Thomas Magnani (Elec E) writes: "I hope that all of you and your loved ones, have been able to stay healthy and are getting through this unusual time in your lives. On a sad note, Larry Lazar, one of the fellows who began with us in 1960, but did not make it through to graduation, passed away at his home in Florida this summer. Larry and I roomed together beginning in the second half of our Junior year in an off-Broadway roach-infested residence hotel. In our senior year, we and another classmate upgraded the accommodations to a small apartment on 109th Street. The last time I saw Larry was at his son's wedding. Larry will be missed."
Joel Schiff (IEOR) and Sharon (Schiff) Powers were overjoyed with the arrival of their first grandson, Grayson, in August 2019. He is their joy and delight! The three currently reside in Alexandria, Virginia.
1966
Peter Buitenkant (Elec E) writes: "I am marking my 31st year as an independent consultant providing digital, analog, microcontroller circuit, and software designs for my clients."
Brian Wangsgard (Mech E) writes: "Inauguration Day in January will mark 32 years since I first appeared as a contestant on Jeopardy! Starting with a bang, but holding on by my fingernails at the end, I won five games: the maximum allowed then. Later that year, I was third best in the annual Tournament of Champions. It was great fun, and unbelievably, is still recognized by strangers over 20 years later. After graduation, I received my MSE at the University of Michigan, then took a job with DuPont in Delaware. Over twenty years later, with a brief interruption for a term in the Air Force, I ended assignments in manufacturing, development, technical service, and sales, and became a consultant in pharmaceutical development. I worked with dozens of companies in the US and several in Europe, where I spent several months each in Sweden, England, and Scotland. Since I slid into retirement over a dozen years ago, my wife, Marian, and I have lived in Salt Lake City, Calgary, Alberta, Boston's north shore (for adventure), and now southern Utah (for economy). With work and family holidays combined, I have slept in a bed in all 50 states; the final one, Alaska, was in 2019."
1968
Steven Belenko (APAM) writes: "After receiving my PhD from Columbia in experimental psychology, I spent my career doing research on different aspects of substance abuse, crime, and the criminal justice system. Since 2006, I have been a professor at Temple University, and am currently principal investigator for two research grants aimed at increasing access to treatment for people in the criminal justice system with opioid use disorders."
Jeff Franklin (Chem E) writes: "Dear classmates, just a quick note to remind everyone that the Class of 1968 scholarship established at our 50th Reunion continues to accept all contributions large and small. Total contributions to date are $248,000, just shy of the $250,000 required to permanently endow. Please consider making a contribution, especially by directing a portion of your annual required minimum distribution (RMD) from your IRA to our scholarship fund. Please discuss this with your financial advisor, accountant, or IRA custodian before taking action. Feel free to contact SEAS if you have any questions. Thank you for giving back, and we'll see you at our 55th!"
Steven Nahmias (IEOR) writes: "After graduating, I went on to complete a master's and PhD at Northwestern, and have been an academic ever since. I'm currently in my fourth year of a five-year phased retirement program at Santa Clara University in Santa Clara, California. The eighth edition of my text, Production and Operations Analytics, coauthored with Tava Olsen, has just been published by Waverly Press. The original, solely authored edition appeared in 1989. It has been adopted all over the world and translated into Spanish, Hebrew, and Chinese."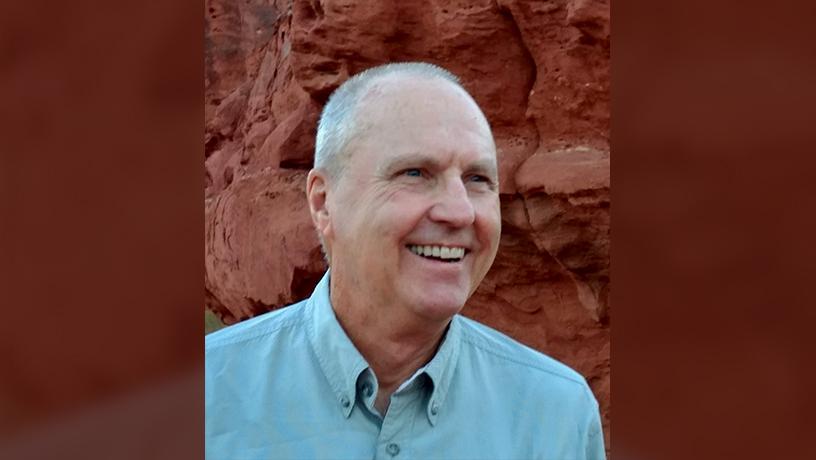 1969
Byron Hillblom (Mech E) writes: "I spent the last seven years of my Air Force career at the Flight Test Center in Edwards AFB, California, where I was privileged to fly with General Chuck Yeager on several occasions, including a ceremonial supersonic flight over the base in 1989 to commemorate his record-setting event. After retiring from the Air Force, I flew for Northwest Airlines and retired to Tennessee thirteen years ago. My wife and I celebrated a COVID-restricted 50th wedding anniversary earlier this year."
Ta Li (APAM) was selected for the 2021 American Institute of Mining, Metallurgical, and Petroleum Engineers (AIME) Presidential Citation Award, which recognizes extraordinary and dedicated service in furtherance of the goals, purposes, and traditions of AIME. His citation will read: 'For his unswerving and sustained dedication to AIME in building its prosperity and in support of its Member Societies.'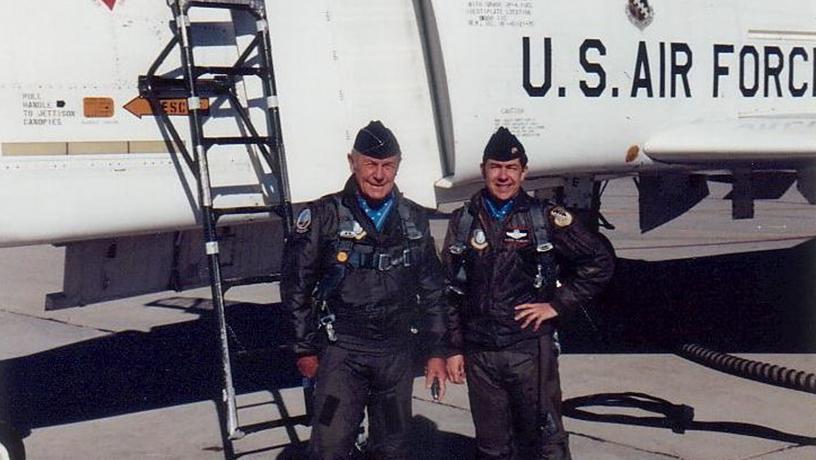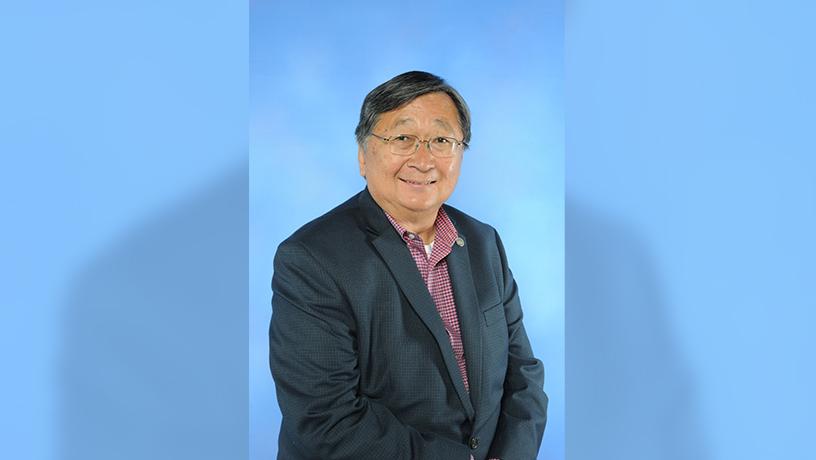 1970
Douglas Rigdon (APAM) retired in 2001 from the National Nuclear Security Agency as Director of Laboratory Programs for Sandia National Laboratories and Los Alamos National Laboratory. He joined the Georgia Tech Research Institute providing support in computer simulation of high energy lasers to the Air Force Research Laboratory. He retired again in 2017 and lives in the Dallas-Fort Worth area studying mitigation techniques for global warming effects."
1972
Dan Alexander (EEE) writes: "I reached 50 years of membership and Legion of Honor status in the Society for Mining, Metallurgy, & Exploration, where I held many positions from committee member to member of the Board of Directors. I also completed my term as president of the Pittsburgh Coal Mining Institute of America. I had joined Columbia Engineering on the 3-2 program with a full tuition scholarship in mining engineering and graduated from the Henry Krumb School of Mines very set on entering the mining industry as soon as possible. That was followed by many years in industry, academia, and mining safety and health research with the National Institute for Occupational Safety and Health. I am now retired, but still teaching part-time classes at West Virginia University in the Department of Mining Engineering. The graduate seminars and capstone senior design courses keep me busy. Students today are not much different from when I attended: still looking forward to entering their careers, ready to learn, and ready to excel. Once they prove they can learn, attitude is still the greatest positive quality they possess. Columbia gave me a great start and optimism for the future."
Peter Slosberg (Mech E) writes: "For the past five years, I have been a mentor at SCORE, an affiliate of the Small Business Administration that gives free advice to small businesses. I do three sessions one day a week and give two classes quarterly. It's been an 'interesting' life in the corporate world, in addition to having started beer and chocolate businesses. Cool data point: In 2004, for Columbia's 250th anniversary, I was chosen as the 243rd most famous graduate of Columbia University out of the top 250. Who knew The Spectator liked beer so much?"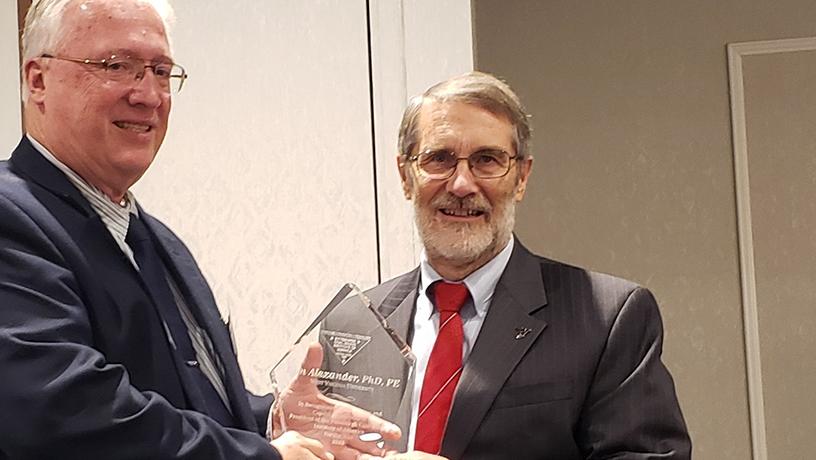 1974
David Dwyer (Civil E) recently retired from the civil engineering profession after 45 years and 25 years as Principal of Dwyer Engineering in Las Vegas, Nevada. In 1977, he married Vickie Schneider from Greeley, Colorado and moved to Fairbanks, Alaska, where they lived for 10 years. Together, they have three children: Phillip, Margerethe, and Richard. Phillip is a surveyor with the company, Margerethe runs a food truck business in Oklahoma City, and Richard is a major in the Army. David and Vickie have five grandchildren and spend retirement traveling, working with high school youth programs, and learning that every day is a Saturday."
1977
Gary Elzweig (Civil E) writes: "It has been a transformational year for the Elzweigs. My oldest daughter graduated from the University of Colorado Boulder's Engineering Honors Program, and my youngest daughter was accepted to the Columbia College Class of 2025. I started a new engineering platform 18 months ago, and we have grown into a 2000-person national engineering firm in record time."
1978
Albert McGovern (Mech E) and Mary Jo McGovern welcomed their second grandchild and first granddaughter, Molly, in April 2020. They are looking forward to the birth of their third grandchild in February 2021.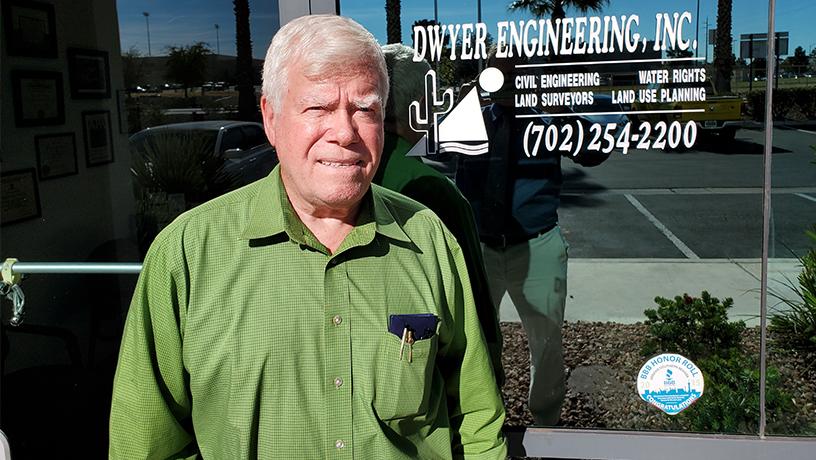 1980
Siu Wai Chan(APAM) writes: "I was so looking forward to celebrating my reunion this past June and had planned a number of ideas for making connections and engagements. Because of COVID-19, the reunion had to go virtual. I did 'meet up' with a number of classmates, but missed many others terribly. Catching up and exchanging the latest news was really wonderful among those that showed up online. I have been teaching at SEAS for the last 30 years and was the first woman of color to become a SEAS professor. In my Presidential Faculty Fellow-winning essay to the National Science Foundation years ago, I wrote that I wished to be an MVP (Most Valuable Professor) on campus. I am still working towards that goal. You are welcome to make suggestions on how I can echieve this status."
1981
Paxton Louis (Elec E) writes: "To say the year has been interesting would be an understatement. Fortunately, I have been busy working. My family and I are actually doing quite well. Like many, we have had to deal with the unfortunate effects of the pandemic, but we are getting through it all. I'm now on the back nine of my career and looking forward to eventually retiring, but my wife does not believe I will ever retire. She is probably right. But life has been very good since graduation. My wife, sons, and I have a great relationship. It helps having had to fight cancer a few times in the last several years; keeps life in perspective. I hope all is well with all of my old classmates."
1982
Mike Farmer (APAM) writes: "I moved from the University of Michigan-Flint to Kettering University, where I am the department head of computer science. Kettering has the same small classes that I remember at Columbia. It's a co-op school, so the students get lots of hands-on experience, both in their work and in our classes, where many labs are tied to the lectures. This is my sixteenth year in academia after 20 years in the aerospace and, later, automotive industries."
Gregory Healy (IEOR) has continued as principal broker for his own real estate office, Sovereign Associates. Greg's focus is residential rental and sale business in the neighborhoods of northern Manhattan (from Morningside Heights through Hudson Heights to Inwood). Greg's affiliation with Columbia University continues as Sovereign's business includes off-campus housing for undergraduates and graduates. The return of students to campus in 2021 is greatly anticipated! Sovereign also employs 2-4 CU Engineering Interns each summer season. Their corporate sponsorship includes the Harlem after-school program 'Street Squash' (located at 115th Street) and a successful softball team called the Sovereign Smashers.
1984
David Bilsker (Chem E) writes: "After graduating, I received a master's degree in biomedical engineering and conducted research on microcirculation. I then worked for a pacemaker company on a new rate-adaptive pacemaker that senses changes in blood temperature to change pacing rate. But my plan was always to be a lawyer, and I entered law school after a year of work. I graduated with honors from the University of Florida School of Law in my home state, where I was an editor on The Law Review. For the last 30 years, I have been practicing patent litigation in the biotechnology and medical device fields. My cases have been on the cutting edge of technology; they include the patents covering the sequence for human growth hormone and those covering positive-negative selection techniques for creating gene knockouts. I am also the co-chair of the biotechnology practice at Quinn Emanuel, and currently handle cases covering single-cell analysis using droplet technology, various techniques used in diagnostic assays, sequencing technologies, and chromatography systems. I live in Marin County, just north of San Francisco, with my wife, a concert pianist, and our two children, along with our playful Rhodesian Ridgeback. I maintain my Florida roots by spending a few months a year in Vero Beach, Florida, where I own a house. I still keep in touch with classmates, some of whom do not live that far away. If you are in the area, look me up."
Ethelyn Geschwind (Chem E) writes: "After decades of working in supply chain management for Verizon and other companies, I decided to pursue my lifelong passion and become a math teacher. I earned my Master of Arts in teaching at NYU Steinhardt's Teaching Residency Program while teaching at a high school in Bedford-Stuyvesant, Brooklyn. I am now happily living in Inwood, New York, and teaching Algebra 1 to ninth graders at Inwood Academy for Leadership. It's been a challenging time to enter the field of teaching, and there continue to be many obstacles, but I know I am making a difference every day."
1985
Paul Foglino(Elec E) writes: "After misspending my youth playing country-rock music with my pal Tom Meltzer 83'CC in the band 5 Chinese Brothers (hear us on Spotify), I have spent my middle age teaching math to the terrific students of the Brearley School in New York City. I've kept in touch with music by writing songs for Ellen Foley and performing as a singer-songwriter (on Spotify again). My wife Libby O'Connor 88'BC and I are pleased and proud that our daughter Francesca joined the Columbia Engineering Class of 2024 this fall. I have every expectation that she will prove to be a better engineering student than I was."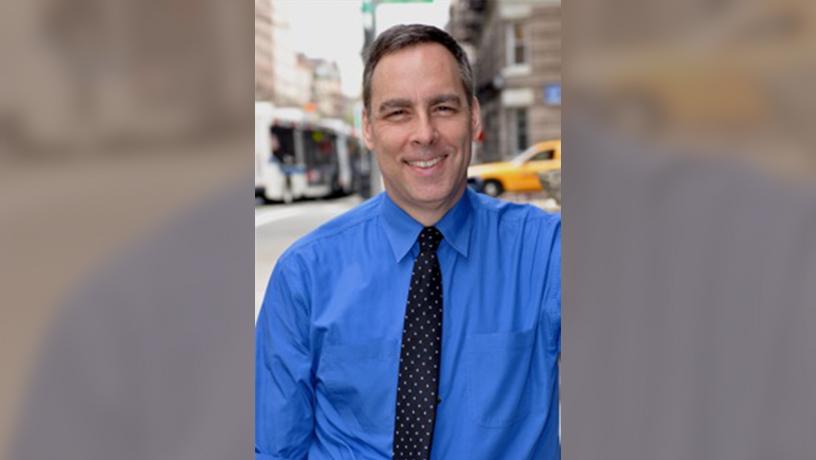 1987
John Alcordo (IEOR) writes: "As if running a business during the pandemic wasn't challenging enough, founding a pioneering solar home system retail and distribution company in the Association of Southeast Asian Nations and kicking off operations in July was even more of a rush. Focused on addressing a constantly growing rural electrification demand, YUMA is ending the year after having served hundreds of households with basic needs like lights, mobile phone charging, and internet data access (a distance learning must-have), while also providing hundreds of rural community entrepreneurs much needed incremental income along the way - all while maneuvering safety protocols to ensure the team stays COVID-19-free. Now if only I could finally kick off my Peaky Blinders binge on Netflix..."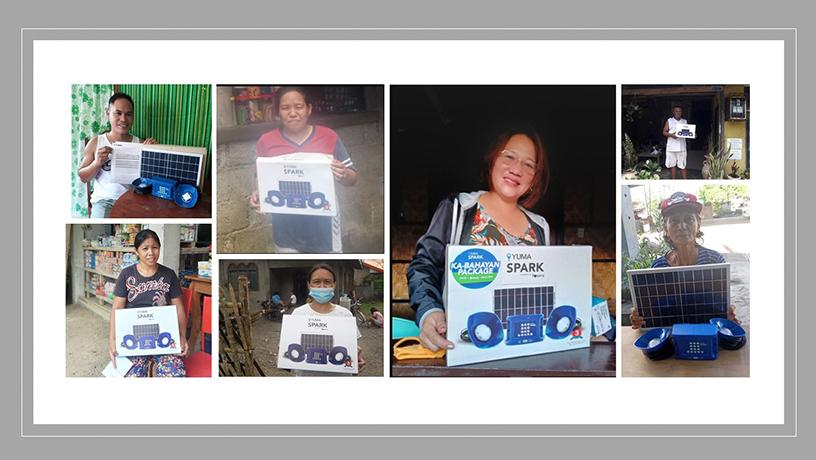 1989
Darrell Farlough (Mech E) writes: "I joined Royal Dutch Shell as a procurement manager in Houston, Texas in January 2019. Having some extra time working at home during the pandemic, I spent 4 months analyzing my lifetime personal and professional travel data. I have been to all 50 states in the USA and to 27 countries on six continents, flown 726 times on airplanes (1,050,000 miles), and stayed 1,244 nights in hotels. These statistics include traveling back to Columbia from Michigan, Illinois, and Texas for my 9th, 10th, 11th, 12th, 20th, 25th and 30th reunions. When the pandemic is over, I'll be back at Columbia for Alumni Weekend again."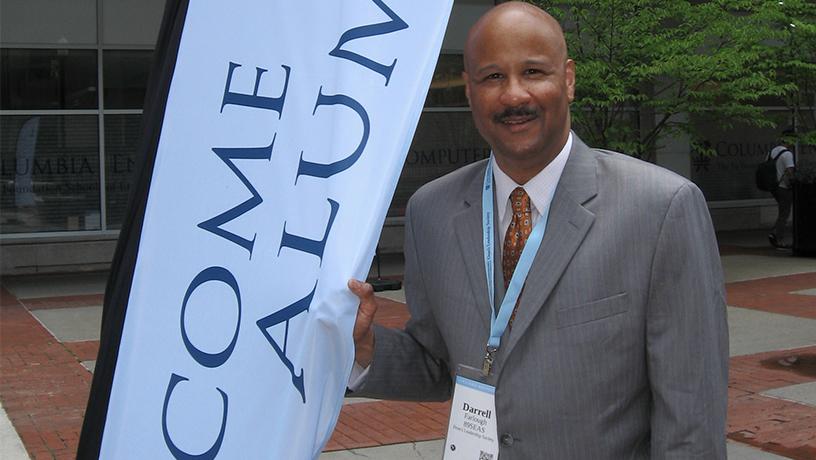 1990
Christopher Ahmad (Mech E) writes: "2020 marks 30 years since my graduation from SEAS and the thrill of competing for the Division 1 Columbia Men's Soccer team. It also highlights 12 years as the Yankees' head team physician and seven years as Chief of Sports Medicine at Columbia University. 2020 has also been marked by the challenges of COVID-19, which has forced my surgery practice to transition from Milstein Hospital to the Allen Pavilion. The Allen Pavilion location is adjacent to the Columbia soccer stadium, which consistently fills me with gratitude. I am grateful for the opportunity to perform surgery on injured athletes in an effort to preserve their dreams, and even more so being able to do it with a view of the soccer field. It was on that field where I first dreamed of applying my Columbia mechanical engineering education to the pursuit of sports medicine and surgical excellence. "
Robin Wald (Civil E) writes: "After a year of studying and training, I became a certified life coach through the International Coaching Federation this year and successfully launched my business, Robin Wald Cosmic Wisdom Coaching. I also sold the house I lived in for 26 years and am so happy in my new home and neighborhood in Ossining, New York."
1992
Rayson Yang (BME) practices cardiology in the Jersey Shore area.
1993
Chirag Gandhi (Chem E) was appointed Chairman of Neurosurgery at New York Medical College and Director of the Brain and Spine Institute at Westchester Medical Center, both located in Valhalla, New York.
Steven Greenberg (Elec E) writes: "I am married to a French trademark attorney whom I met during my time on faculty at the University of Florida, and I have three sons aged 16, 12 and not quite one - yes, a pandemic baby. I still live in South Florida (after more than 50 years), where I practice global patent transactions management as a patent attorney and investor in early stage technology ventures, including a very exciting incubator in Chennai, India. I also sit on the Board of Cherry GmbH in Germany where I continue to dabble in engineering. I often miss the struggles of Elec E studies with our classmates. It seemed so impossible thirty years ago, but here we are, all in one piece!"
1994
Jennifer Chew (Chem E) just celebrated her sixth anniversary with Tata Consultancy Services (TCS). She now leads business strategy and planning for TCS' consulting and services integration globally. She is also the US leader of the TCS Network of Outstanding Women (NOW), an employee-led organization of over 8,000 women focused on supporting diversity in hiring, retention, and promotion. Jen is married to Greg Zimmermann '95 (Mech E), founder of Zimmlitt Motoring, a specialty restoration business for luxury antique cars. Greg puts his engineering degree to use restoring engines to their original glory. Jennifer and Greg's older daughter, Kat, is a first-year student in the Trinity College Dublin and Columbia GS dual-degree program. She is focusing on European and Middle Eastern language and culture at Trinity and political science at Columbia."
1999
Janghwan Chung (Civil E) writes: "After having worked for more than seven years as a structural engineer, I went to law school and am currently serving as in-house counsel for an international construction company."
Amish Jhaveri (BME) writes: "2020 has witnessed us having a baby boy, Bodhi, moving to Brooklyn, and having a lot of time to try new things!"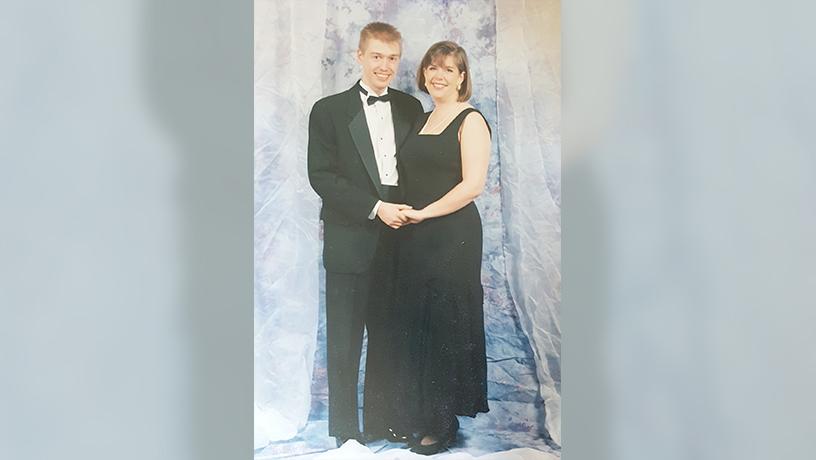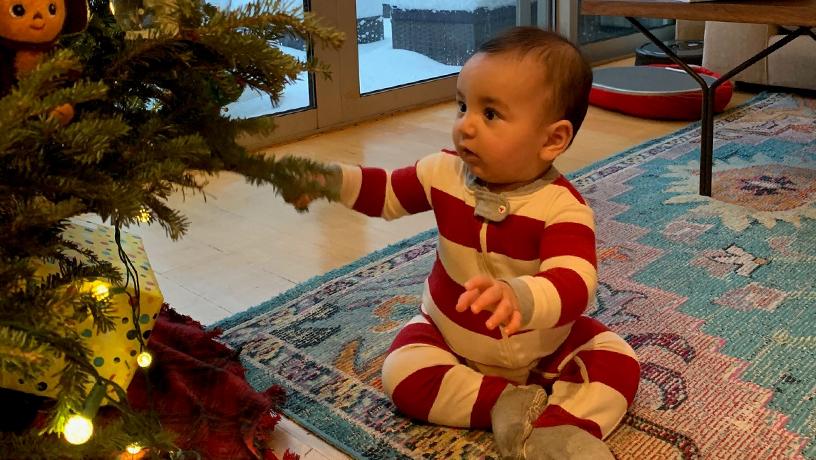 2000
Kirk Hourdaijian (Chem E) and Rich Wilches '02 (Mech E) wanted to show the College that engineers can swim too - if required! Both braved the 53-degree water in the San Francisco Bay this past winter. Kirk is based in San Francisco and is the head of environmental, social, and corporate governance and impact at Vista Equity Partners. Rich is based in New York and is a program manager at Google."
John Mullervy (Elec E) and wife Stephanie welcomed their son, Declan, in December 2019.
2003
Megan Magliozzi (IEOR) writes: "After seventeen years working in the finance and operations industries, I am pursuing my lifelong passion of photography and have started a small business making mostly photo notecards. I am constantly inspired by the simple, fun beauty in all that is around us. My notecard of Alma Mater was featured in Columbia Magazine's annual alumni gift guide."
Elizabeth Marsolan (IEOR) writes: "I recently launched my own business, Miles to Row, an inclusive children's book club that finds high quality, engaging books clebrating race, ethnicity, religion, gender, identity, families, and abilities. After my older son was born with a rare syndrome and my younger son was diagnosed with autism, I looked for ways each of them could connect with the world, specifically with books!"
2005
Sarah Murphy (IEOR) writes: "2020 was really challenging, but in November, my husband Tom and I experienced much joy by the birth of our third child. Colton is an incredible addition to our family, and his older siblings Sidney and Hunter adore him. While the travel industry faced unprecedented uncertainty and reductions in demand, my role as Senior Vice President of United Express at United Airlines allowed my team and I the chance to solve many challenges and look to the future. Hope you all are healthy - and wearing masks!"
2006
Gregg Gecale (Chem E) writes: "In August 2020, I got married to Nicole Newman. I started a new job this year as Director of Operations at Berje Inc., which makes essential oils and fragrances. I am also in school getting my EMBA at Cornell. I am now finishing up my last semester and will graduate in May 2021."
Josh Schachter (IEOR) left Boston Consulting Group Digital Ventures to launch Update.ai, a startup dedicated to becoming the first b2b SAAS product to use AI and machine learning to automatically distill key information from working teams' tools, communication channels, and meetings. Josh serves as CEO and co-founder alongside esteemed investor Bill Gross, who is Chairman of Idealab Incubation Studio in Pasadena, California."
2011
Jordan Schau (CS) writes: "Nearly 10 years after starting Pure Cycles in my dorm room, I sold the company to one of the largest cycling distributors in America! In a strange twist of cosmic fate, my son Ronan was born on the same day that the deal closed. I'm now focusing on starting my own seed-stage investment fund, Batfish Capital."
2012
Vivian Feig (Chem E) writes: "2020 was a difficult year, but also one filled with many personal milestones. I defended my PhD in Materials Science and Engineering at Stanford University, got engaged to the love of my life, and recently moved with my fiancé to Boston, where I am now a postdoctoral research fellow at Brigham and Women's Hospital, Harvard Medical School."
2013
Hyacinth Grubb (Elec E) writes: "On May 23rd, 2020, I was ordained to the Priesthood of Jesus Christ in the Catholic church as a Dominican friar of the Order of Preachers. The ordination took place at St. Vincent Ferrer Church in Manhattan, and due to the pandemic, was a private ceremony without guests. Immediately following ordination, I began ministry as a hospital chaplain in the Dominican Friars Healthcare Ministry. I predominately work at Memorial Sloan Kettering Cancer Center, but also serve a number of hospitals on Manhattan's East Side."
Kimberly Lynch (BME) writes: "I moved to Los Angeles and am doing a health services research fellowship at UCLA while seeing patients at the Greater Los Angeles Veterans Affairs Health System."
Tess Murray (Chem E) was selected for induction to the Gold Humanism Honor Society (GHHS). GHHS honors medical students, residents, fellows, role-model physician teachers, and others who demonstrate excellence in humanistic clinical care, leadership, compassion, and dedication to service. Tess will complete her medical degree at SUNY Downstate College of Medicine in May 2021 and is in the process of applying to pediatrics residency programs.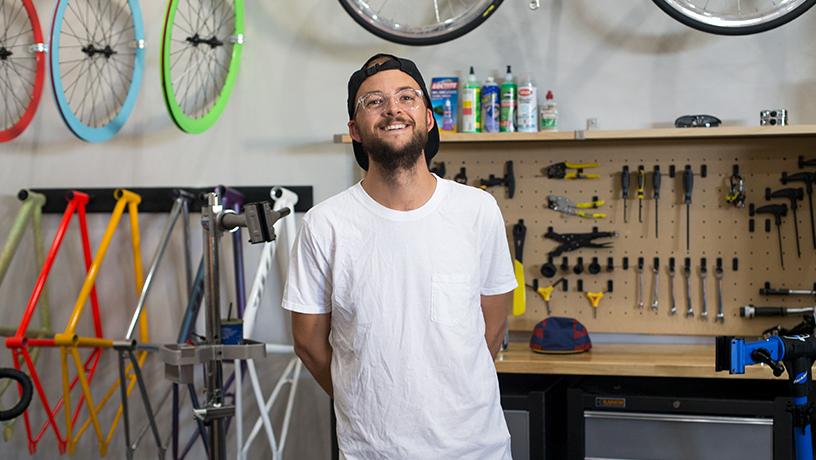 Leonard Robinson (Elec E) is lead manufacturing engineer at Cytiva (formerly GE Life Sciences). Robinson's focuses are strategic IT and automation that support the security of supply for customers that manufacture biologics. He sits on strategic boards and tactical teams that determine shop floor execution for clinical trials, trains technologists, and develops tests to ensure steady delivery of COVID-19 solutions during the pandemic.
Narayan Subramanian (EEE) was appointed by the Biden administration to serve in senior leadership at the Department of Energy. He'll be a legal advisor at the General Counsel's office
2014
Howard Mao (CS) writes: "I have just completed my PhD in electrical engineering at UC Berkeley and am now working full-time as a hardware engineer at Google. I am working remotely right now, but will be at the Sunnyvale, California office when the pandemic ends."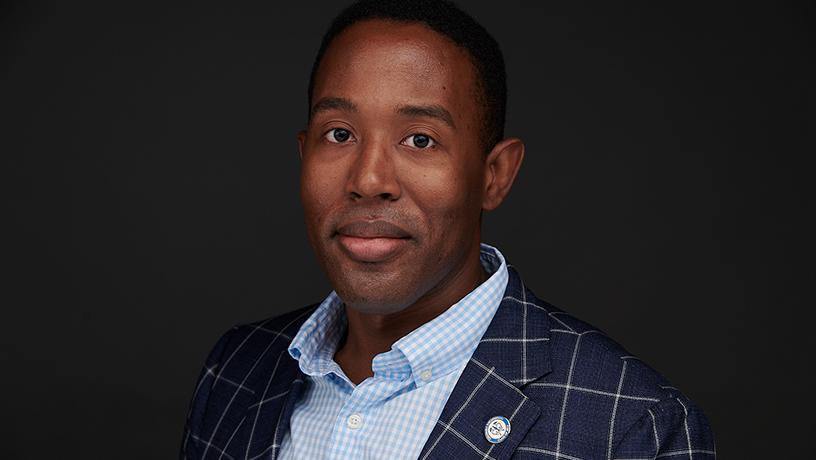 Shannon Sullivan (BME) writes: "This year, I graduated from medical school and joined the frontlines as a brand new physician in the middle of a pandemic! I am currently completing my preliminary intern year in internal medicine at the University of California, Irvine, and will then move to Cleveland, Ohio in the summer for my diagnostic radiology residency in the University Hospitals-Cleveland Medical Center at Case Western Reserve University. My decision to pursue radiology was influenced by my time in the Department of Biomedical Engineering at Columbia, and I look forward to integrating my biomedical engineering experience into my clinical radiology career."
Peter Xu (CS) writes: "Despite the unfortunate circumstances, I was incredibly fortunate to find opportunity in the turmoil of 2020. The quarantine offered a much needed change of pace and a chance to reflect and reprioritize my goals. Since then, I have bought my first house, gotten married, gotten promoted, and will soon be welcoming a young corgi into my life. I am grateful to have achieved these personal milestones and to share some positivity on a difficult year."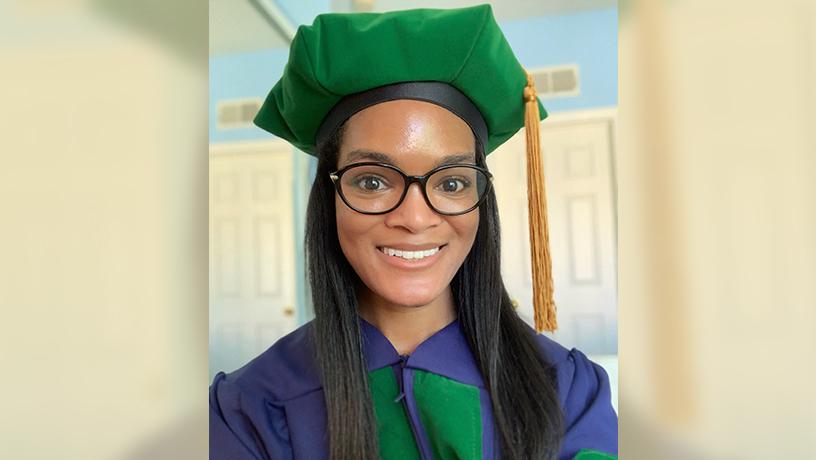 2015
Sonia Bansal (BME) writes: "After graduating from Columbia Engineering, I moved to Philadelphia to pursue a doctorate in bioengineering at the University of Pennsylvania. I recently defended my dissertation entitled 'Functional and Structural Remodeling of the Meniscus with Growth and Injury' and am proud to be a PhD!"
2016
Edward Li (CS) writes: "On the bright side, I hermitted all of 2020 and became a workaholic. This has significantly accelerated my career."
2019
Kim Santiago Mangual (CS) writes: "I would like to congratulate my beautiful Academic Success Program Class of 2019! I know most of you have gone above and beyond (thanks, Marvin) these past few years. I can't wait to see what you are all up to in the near future! Looking forward to connecting with you on LinkedIn!"
2020
Krystian Ganko (Chem E) writes: "Although this year has been rough with finding, transitioning into, and exploring our post-graduation paths, I am happy to say that my plans for graduate study have come full circle. Just this September, I moved to Cambridge, Massachusetts to start my PhD in Chemical Engineering at MIT, and what a gift it has been! With the new hybrid learning system, virtual advisor selection, and Zoom meetings, every day in this math-lover's paradise brings refreshing content into my otherwise homebound life. Practicing yoga, going on meditative walks, and cooking at home (i.e. trying to relive the Columbia Dining feels) also help me keep a healthy routine, and when I'm not cooking for myself, I'm out sampling the takeout options around Harvard Square and Mass Ave with my roommate."
Morgan Navarro (CS) writes: "I am currently working as a software engineer at Google in New York City. I will be making the move to Jersey City, New Jersey in the beginning of 2021."
Bernard Steyaert (Elec E) writes: "As graduates of the 'Corona Class of 2020',Brayn Fridman '20 (Elec E),Myles Barrow '20 (Elec E), and I pursued our professional interests and traveled together to Severn, Maryland. The three of us were roommates at Columbia - and still are. We work at L3Harris Technologies, Johns Hopkins Applied Physics Lab, and UBS Group AG, respectively. When we're not at home arguing about sports or reminiscing on our great days at Columbia, we go outdoors."