Keeping the New York City Subway on Track
May 07 2019 | PHOTO CREDIT: DON POLLARD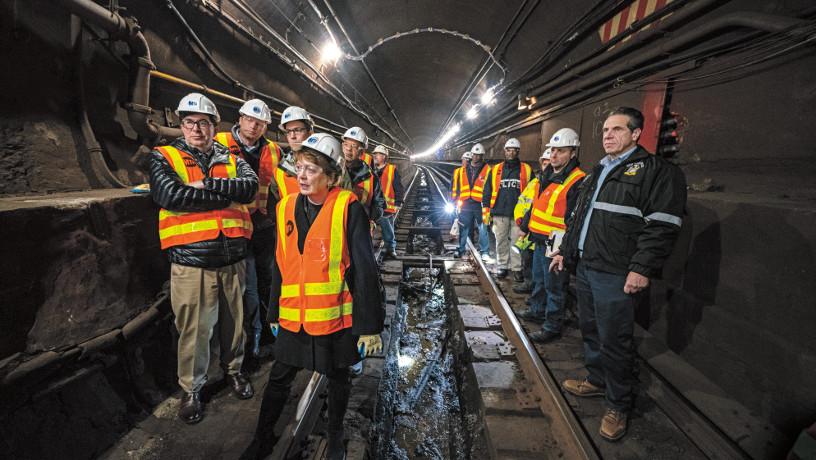 It had become known as the "L-pocalypse"—a 15-month full shutdown of New York's L train, a major subway artery connecting Manhattan and Brooklyn, slated to begin in April 2019. Flooded and damaged extensively in Superstorm Sandy, the tunnel that carries the L train below the East River suffered from power outages and other equipment malfunctions that left the line more vulnerable to future flooding. Repairs were inevitable—for three years, more than 250,000 daily commuters, the MTA, and neighborhood businesses had no choice but to brace for impacts.
But then New York State Governor Andrew Cuomo made a surprising call, reaching out to the deans of Columbia Engineering and Cornell Engineering jointly last December with a unique request: Would their faculty be willing to weigh in with an expert opinion? Working pro bono, Dean Mary Boyce, Civil Engineering Professors George Deodatis and Andrew Smyth, Electrical Engineering Professor Peter Kinget, and counterparts from Cornell Engineering had a series of meetings with private consultants and MTA engineers to assess whether there might be viable alternatives not requiring tunnel closure. "We had a very collegial team," Deodatis says. "We optimized our solution with continuous feedback from the MTA and private consultants."
Drawing inspiration from state-of-the-art designs in Hong Kong, London, and Riyadh, and proposing to use fireproof materials that have been deployed in the transportation and airline industries, the Columbia-Cornell team was able to devise a counterproposal allowing the tunnels to remain fully operational during repairs.
The key insight of the Columbia-Cornell team was to abandon the various old power/control/communication cables inside the subway's concrete "bench walls"—a 20th-century technique used for fire protection—and locate new cables on racks along the walls. Installed there, cables could be easily replaced, repaired, or augmented should needs arise. Most significantly, this solution avoided the need for demolishing and reconstructing the entire run of the bench walls—the main cause for the proposed 15-month shutdown. The team also recommended strengthening the bench walls with fiber-reinforced polymers and continuously monitoring their condition through a system of fiber-optic sensors in conjunction with Lidar technology. "That way, any future necessary repairs to the concrete bench walls will be easily identified well ahead of time and implemented in a straightforward way," Deodatis explains.
After a full review and vetting process, the MTA adopted the new plan, which also included a flood-prevention system comprising closures to seal off the tunnel, entryways, and vents.