Celebrating Women in Tech
May 03 2019 | PHOTO CREDIT: TIMOTHY LEE PHOTOGRAPHERS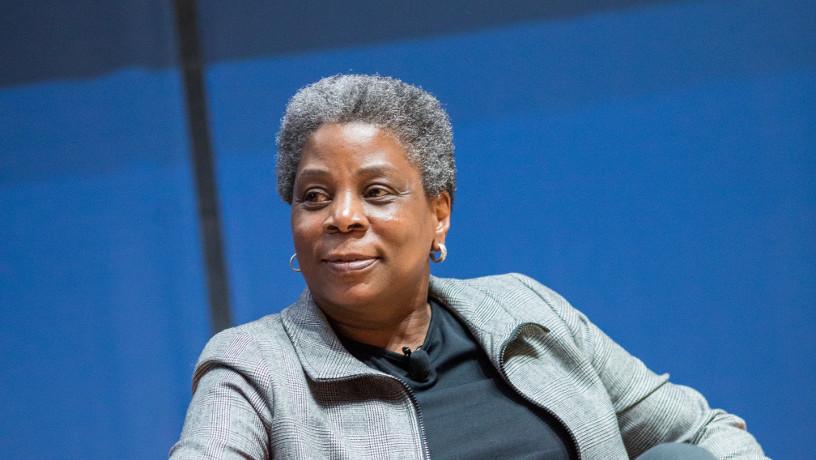 In 2010, Ursula Burns MS'82 made history as the first African American woman to lead a Fortune 500 company, Xerox, where she served as CEO until 2016. In 2017, she was named chairwoman of VEON, the international telecom company. Throughout her career, she's been a powerful advocate for women and underrepresented minorities in engineering. A founding member of the Obama administration initiative Change the Equation—launched in 2010 to boost STEM education—Burns also served as an MIT trustee, on Cornell Tech's board of overseers, and on the board of directors of numerous companies, including ExxonMobil and Uber. This past March, Burns returned to Columbia Engineering as part of a special night launching New York City Women in Tech (NYC WIT), an initiative devoted to leveraging the talent of women engineers as the city consolidates its place as a global tech hub. The packed gathering convened leaders from industry and government as well as students and alumni from engineering schools across New York City—Columbia Engineering, CCNY Grove School of Engineering, Cornell Tech, NYU Tandon School of Engineering, and Cooper Union—and Barnard College for an evening of reflection, discussion, and networking. We've excerpted a few highlights of the conversation here.
You earned your degree in mechanical engineering, but then quickly progressed into management. How did your training in engineering influence your approach to business
This idea about a way of thinking that engineering teaches is so fundamental and foundational. Engineering is a way of addressing and tackling problems. By the way, you're not born an engineer; you don't come out and they say, "Oh, this is an engineer." It is something that you are taught—that just about every problem has solutions. And that there's an organized, process-driven, step-by-step approach to figure out a solution to a problem. That carries itself to everything I do. I've not actually practiced engineering per se in, I don't know, thirty years probably. But I ran a company literally thinking like an engineer.
I believe these skills are so fundamental to 21st-century literacy, and we don't give everyone an equal opportunity to learn them. Nobody goes to school and says, "I'm not going to learn how to read, I'm not going to learn how to write, I'm not interested in those things." Well, you also have to understand higher math than simply addition; you have to understand physics and other sciences in order to understand how the world works. But today, we make gaining this knowledge a choice, and we actually push people away from it. I just think it can't continue.
What prompted your decision to go into engineering?
I chose my career by looking at the endpoint, which was earnability. I went to Catholic school, grade school, and high school; and I remember I did okay in math, I did okay in chemistry. We had nothing that was foundational to engineering. I remember going to the library and saying, "Okay, I need to figure out a way to get my mother out of poverty—myself as well. What's the degree that actually gets the most money after four years of college?" And it was chemical engineering. So basically I said, I'll do that.
You're not born an engineer... It is something that you are taught—that just about every problem has solutions. And that there's an organized, process-driven, step-by-step approach to figure out a solution to a problem. That carries itself to everything I do.
What do you think has to happen to lower more barriers into the field for women, people of color, and other underrepresented groups?
I think one of the fundamental things is, you have to increase the numbers at the leadership position. That's why the fact that in NYC the deans of three top engineering schools are women—it's a big deal. Leaders set tones; they often can also set rules, in addition to being an example. And if we don't fundamentally have more people who care about this in their gut—not because we're falling behind in some statistic—I think we're just never going to get the pipeline fed. We have to increase numbers. That's one.
The second is that we still pay women less money than men, in just about everything, including engineering. And we have to start to bring to the forefront the fundamental inequity in how women are treated in the workplace as opposed to how men are treated. So women leaders asking, "I want to see the data, I want to see the statistics, I want to actually drive a fundamental change"—it's a really big deal. There're so many other things. Just the way that we channel kids early in school—men towards and women away from technology and technical fields. We really fundamentally have to rethink everything.
I think one of the things I learned early was that there were a whole bunch of things about myself that were not negotiable. My look, for example. I remember when I went to work I had a big Afro, and I dressed a certain way, and I spoke very quickly. I'm a New Yorker, so I had a whole approach. And I tried in the beginning to fit in. I knew I couldn't change my skin color but I tried to change my hair—all of these things that I thought were playing to a weakness in me. I speak up; I have an opinion about everything. One of the things I learned is that you have to find out who you are, how you want to be, and you have to play that in work.
I always say this, "If you think about the role that we're playing, men designed it; they selected the players; they selected the rules and selected what winning looks like." And then they said to us, "Now we kind of want you to come in," and we are sitting there going, "We don't quite fit this." Men have to help, but women have to fundamentally be prepared to change the rules. We have to literally not fit in. We can't try to fit in, because we're fitting into a world not designed for us.
Who were your role models? Who convinced you or who allowed you to believe that you could do this?
My mother was the anchor. She didn't know what an engineer was. But she did make it very clear that each of her children would be successful at whatever they chose to do. When I chose engineering I remember saying to my mother, "How are we going to pay for that?" and she said, "You worry about what you worry about, which is doing the work, and I'll worry about what I have to worry about, which is how we're going to pay for the school."