Blockchain, Beyond the Hype
As the technology matures, Columbia students are helping define the next wave of innovation
May 03 2019 | By Mindy Farabee | DIAGRAM COURTESY OF JERRY LIN |
[email protected]
PHOTO CREDIT: TIMOTHY LEE PHOTOGRAPHERS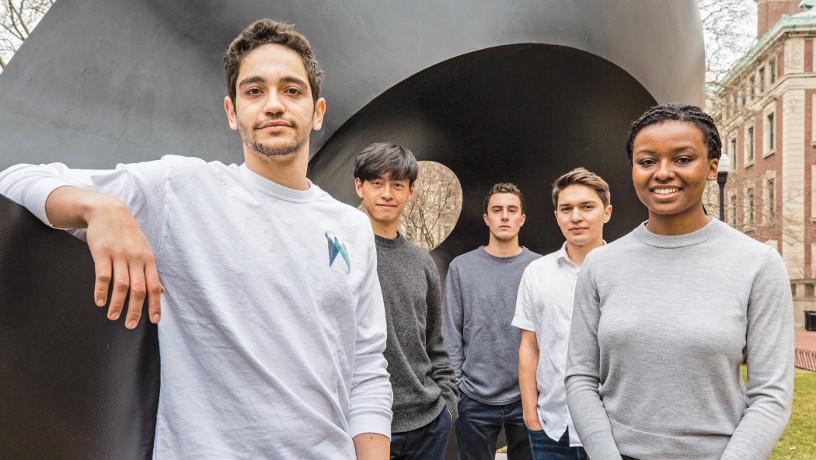 It was just past 6:00 p.m., and a surprise snowstorm had snarled traffic up and down Broadway. Inside Barnard Hall, a room full of students sat, patiently waiting for the latest installment of "Blockchains and Cryptocurrencies," a sixweek, noncredit course organized by student group Blockchain @ Columbia ([email protected]). As the minutes ticked by, a flurry of texts arrived from the evening's speaker, stuck in an Uber crawling through Harlem. [email protected] officers Nir Kabessa and Martin Gracia Jr. quickly conferred—should they cancel the event?
No, they would simply run it themselves.
Virtually nonexistent two years ago, student-led blockchain clubs have become a driving force in pushing this once-fringe technology to the fore at universities from UC Berkeley to Duke. Here on campus, [email protected], launched in fall 2017 and expanded exponentially since, plays a key role in Columbia's burgeoning ecosystem, where education, events, and entrepreneurship are looking to build not just ingenious applications but also smart policy.
A decade after it first emerged, blockchain—the decentralized accounting technology behind Bitcoin and other cryptocurrencies—is entering a new era. With more than $100 billion pouring into the space, distributed ledgers are currently propelling disruptive experiments in everything from supply chains to banking to elections.
As a result, demand for blockchain skills is skyrocketing, with job listings in 2019 jumping more than 500 percent year over year—a fact that's hardly gone unnoticed around campus. Gracia '20SEAS, a computer science major and [email protected]'s head of education, designs curricula for the group's informal courses and other workshops. "Anything with 'what is blockchain?' in the title is our most popular," he says.
What blockchain might ultimately become is still a very open question. "When people talk about the technology, they default to Bitcoin, but it's so much more than that," says Jonathan Itzler, a Columbia Engineering sophomore and former head of [email protected]'s technical R&D. "The mistake people make with blockchain is they try to think of it in terms of what they already know, and box it in that way."
Much of the current enthusiasm comes from the opportunity to help shape that future, and Columbia startups are gaining traction there. [email protected] alums Liam Kovatch and Henry Harder, cofounders of the decentralized relay protocol Paradigm, met in their first year at Columbia Engineering. Before they could return for their sophomore year, they had secured $1 million in seed funding and set up shop in San Francisco. SEAS Computer science junior Jerry Lin is the technical advisor for BitRights, a digital content licensing system developed with Columbia Business School students Charlie Hanna and Chris Robichaud. Playbill is currently a client. Lin likens blockchain to the internet—the version of the internet that existed in the 1960s. "Blockchain is at a stage of rapid development," Lin says. "But right now, to use it requires a very steep learning curve. That's an obstacle preventing wider adoption." To overcome that obstacle, developers are trying to streamline that cumbersome experience into "applications where you don't even need to know what blockchain is in order to use it."
"When people talk about the technology, they default to Bitcoin, but it's so much more than that. The mistake people make with blockchain is they try to think of it in terms of what they already know, and box it in that way."
Because distributed ledgers shift power away from centralized systems, many have seized on the technology as a way to democratize not just financial transactions, but social capital as well. Taylor Murrell '19BC, [email protected]'s head of operations, studies political science and statistics. In February, she helped lead LedgerFest, Columbia's first blockchain conference, which the group programmed and hosted. About 250 people attended the daylong event, which brought together big names like Hedera Hashgraph's Tom Trowbridge '03BUS; Zcash founding scientist Eran Tromer, who is currently a research scientist at Columbia Engineering; and Omid Malekan BS'02, author of The Story of the Blockchain: A Beginner's Guide to the Technology Nobody Understands, along with a slew of speakers addressing humanitarian applications and stablecoin—and political implications.
"From the political science perspective, in North America, we hold a reasonable amount of trust in government and institutions, which isn't necessarily present in other parts of the world," says Murrell. "People and communities in these circumstances could benefit from technology that provides access to trustworthy and credible information. Cases like voting, banking, and personal identification are especially compelling applications of blockchain technology in these environments."
To that end, the group is working with University officials on the possibility of piloting a blockchain system for voting in future campus elections. Originally, [email protected] planned to partner with an outside vendor on the initiative, but the group didn't feel satisfied with the level of encryption embedded by the system. So they built one themselves. "We wanted something Columbia students made," says Gracia.
Such decidedly noncryptocurrency-use cases typify the larger direction that blockchain is moving in, says Kabessa, [email protected]'s current president. "The get-rich-quick schemes are gone," he says. But despite their extreme volatility and security vulnerabilities, cryptocurrencies are far from dead—witness the debut of JP Morgan Coin—and their evolution into permissioned, or private, ledgers aligns particularly well with expertise at Columbia, a major talent pipeline for Wall Street.
In higher education, Columbia has been among blockchain's early adopters. Last summer, the University launched the Columbia-IBM Center for Blockchain and Data Transparency, a cross-disciplinary initiative to drive innovation in both realms. Columbia Engineering and the University's Data Science Institute (DSI) both provide strong leadership for the center, with Dean Mary C. Boyce and Senior Executive Vice Dean Shih-Fu Chang serving on the center's steering committee, along with Jeannette Wing, DSI's Avanessians Director and a professor of Computer Science, as well as SIPA Dean Merit Janow. The center's mandate broadly encompasses research, education, and innovation, with several programs geared toward helping students get a deeper understanding of blockchain through on-campus courses, lectures, and research opportunities.
The center also developed an innovation incubator for 10 startups that want to grow business use case applications in the blockchain space. "The center is an exciting place to engage on campus with knowledgeable experts and passionate students who care about the future of blockchain innovation and want to learn more about this new technology," says Juliette Fisbein, the center's director of strategy and operations.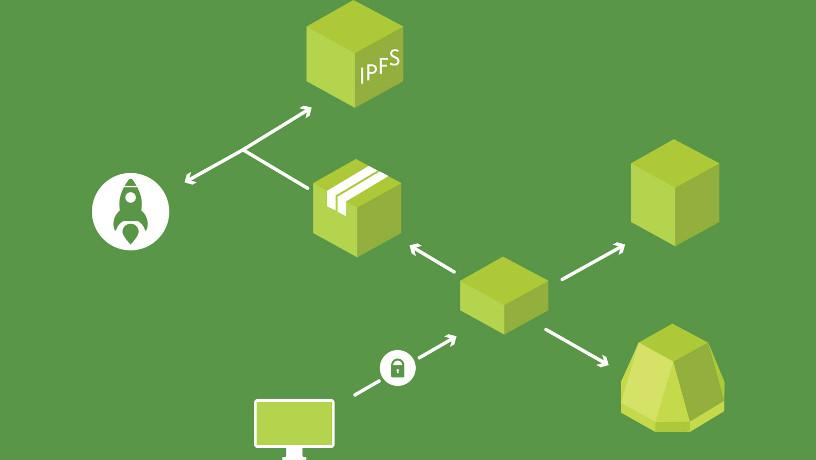 University-wide, Columbia already offers a handful of blockchain courses, with more on the way. For instance, Wing is planning to lead new courses around privacy-protecting technology, while recent faculty hires at Columbia Engineering are bringing novel expertise, as with Assistant Professor of Computer Science Ronghui Gu's work on securing smart contracts.
"We're not interested in just focusing in narrowly on technical aspects of blockchain," says Computer Science Associate Professor Tal Malkin. "We want to look at the ramifications of this emerging technology, from a legal, social, and regulatory angle as well."
As coleader of the center's education track, Malkin is helping plan a blockchain course modeled on the School's popular Computing in Context class, a widely accessible introductory course featuring specialized projects designed for students of different disciplines.
"The goal is to develop interdisciplinary teams—students who can work together from policy, law, and technical perspectives to shape a shared vocabulary," she says.
Blockchain is highly interdisciplinary by nature, and the kind of sophisticated, across-the-board competence it requires is a rare commodity. Along with the many students—from Columbia and elsewhere—who attended LedgerFest, the conference also attracted a slew of tech companies from the New York area, including heavy hitters like Brooklyn-based ConsenSys. Even Paradigm has already begun putting in calls to their alma mater.
"They're looking for talent," says Kabessa. "Every company is asking us for talent."