Program Notes: Graduate Alumni
Apr 18 2018
APPLIED PHYSICS AND APPLIED MATHEMATICS
Nicholas Fuller PhD'02 has been promoted to director, Cognitive IT Service Foundations, at IBM Research. In this new role, Nick will lead the worldwide research strategy for technology services and the IBM Research partnership with IBM's Global Technology Services (GTS) business. Over the past two years, Nick has been leading Technology Services Research, fueling innovation to GTS's Infrastructure Services and Technology Support Services businesses. Under Nick's leadership GTS has successfully launched the IBM Services Platform with Watson—the industry's first AI-infused managed services platform running on IBM's Cloud. Prior to this role, Nick had multiple research and leadership roles in Cloud, Services, and Science and Technology Research. He's also written his memoirs, which were released on Amazon in April 2017.
CHEMICAL ENGINEERING
Sheng-Fu Kang EngScD'74 writes: "Greetings from Tainan, Taiwan, for the New Year! Time flies, that it is now 2018, some almost 44 years since my graduation from Columbia Engineering. The Mini-Library I have helped set up four years ago at this Presbyterian Church in Tainan City is now fully functional and enjoyed by users. I also actively participate in vocal choral singing with YMCA and other church groups; so far we have four performance engagements scheduled by the end of April this year. In keeping up physically, I enjoyed very much hiking on mountainous trails of Taiwan with friends. I am also currently serving a two-year term as chairperson of the management committee for our apartment complex on the side. With best wishes to you all."
Benoit DeBecker PhD'95 is a member of the Executive Committee and vice president, Strategy & Commercial Excellence, at Allnex. The company is the leading supplier of resins for industrial coatings. Benoit played a leading role in the recent merger with Nuplex, a resin company headquartered in Australia. Since 2013, Allnex is owned by Private Equity Advent International.
Demetra Tsiamis MS'13 has coauthored the textbook Gasification of Waste Materials: Technologies for Generating Energy, Gas, and Chemicals from Municipal Solid Waste, Biomass, Nonrecycled Plastics, Sludges, and Wet Solid Wastes, which was just published by Elsevier. Demetra is the associate director of the Earth Engineering Center at City College of New York (EEC|CCNY), a research center that conducts industry-applied research in the field of waste sustainability. Demetra was first introduced to the field of waste sustainability while doing her master's research, on the potential to convert New York City's nonrecyclable plastics to oil using pyrolysis technology, at the Earth Engineering Center at Columbia University (EECColumbia) under the mentorship of Professor Nickolas J. Themelis. In 2014, Marco J. Castaldi, professor of chemical engineering at City College of New York and coauthor of the textbook, in collaboration with Professor Themelis established EEC|CCNY and Demetra joined shortly thereafter.
Beyza Bulutoglu MPhil'14, PhD'17 writes: "Under the supervision of Prof. Scott Banta, my PhD work concentrated on basic and applied aspects of protein engineering as well as molecular biology, focusing specifically on engineering of biomolecular interfaces for biotechnology applications. During this time, I can gladly say that I lived by Columbia's motto—"In lumine Tuo videbimus lumen"—and that these 4.5 years have taught me so much. I said my goodbyes to our beautiful campus on the Upper West Side of Manhattan about a year ago. Since then, I moved to Boston and started working as a postdoctoral research fellow at the Center for Engineering in Medicine, at Harvard Medical School and Massachusetts General Hospital. Here, I am using my background in protein and genetic engineering for medically oriented studies. Following the completion of my postdoctoral studies, I would like to stay in academia to direct my own research group, to educate the future generation of scientists, and to keep spreading Columbia's light."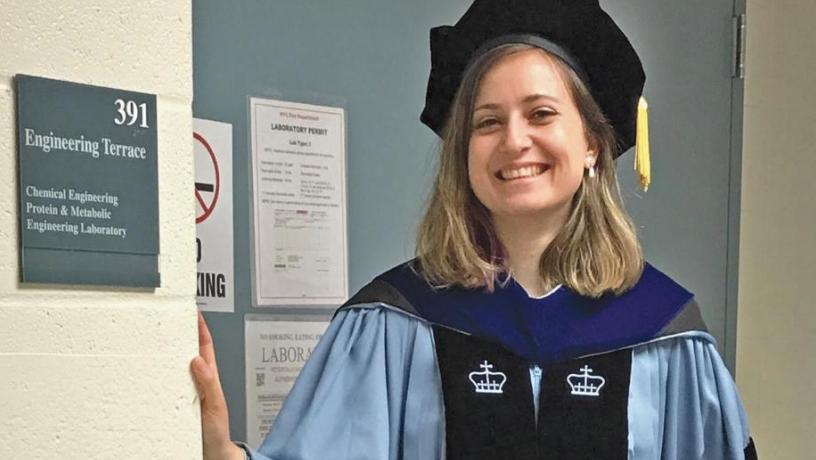 CIVIL ENGINEERING AND ENGINEERING MECHANICS
Ahmed Jaddi MS'61 writes: "I graduated in 1961 with an MS in Civil Engineering. I worked under Dr. Hanskarl Bandel on the design of Jefferson Monument, the Gateway Arch in St. Louis, MO; also supervised the fabrication of the stainless steel arch sections in Warren, PA. I moved to Seattle in 1967 to work at Boeing Company on Supersonic airplane design and 747 before returning to building design in 1969. Then I worked in Kuwait on design-build projects 1971–73 and joined Millegan Jaddi, Consulting Engineers in 1974, before becoming president of Millegan Jaddi, 1986–95. Now I'm working part-time on various projects with registration in Alaska, Washington, Oregon, Idaho, Arizona, Montana, and Colorado. I live with my wife, Ellanora, in Washington, Arizona, and Texas. We have four sons and one daughter and 11 grandchildren. Ellanora is now retired. She worked as a grade school teacher for 31 years."
Chris Evans MS'07 has been promoted to president of Universal Builders Supply, Inc. (UBS), where he has served as professional engineer and chief operating officer for 18 years. He has played an integral role overseeing operations while working in corporate, field, research, development, and yard operations. He began his career as a scaffold erector, then as a scaffolding foreman, before becoming general foreman at Aluma Systems Canada. Since joining UBS he has completed work in all engineering-related items from drawing, permits, and submittal packages to coordinating with field personnel in managing projects from preconstruction start to closeout finish. Enrica Oliva MS'07 writes: "Eleven years after graduating at Columbia, I am happy to share my 2017/2018 updates: in March 2017 I became partner and COO at Werner Sobek New York, the engineering company based in Stuttgart (Germany) that I joined in January 2016 as director of structures. "Also, in the fall semester I once again joined the Columbia GSAPP Faculty as adjunct assistant professor and had the privilege of teaching at the Architecture School of Pratt Institute for the first time: these experiences marked a very exciting aspect of my career, and I look forward to repeating them next year. "On a personal note, as of January 5 I am engaged to my boyfriend of four years, Silverio, who is also from Italy and works as a senior project manager of facades in New York City. We met five years ago at work and immediately established a special connection. We are getting married in the South of Italy in August 2018!"
Nelson Eng MS'14 writes: "Since graduating from Columbia in 2014, I've been juggling the kaleidoscope that is life, career, family, and academic pursuance. My son, Nicholas, was born September 2015, and I currently have a newborn daughter, Heidi, born December 2017. I participated in the NYC marathon twice, running the 26.2 miles in 2015 and 2017. I received a promotion to senior planning analyst and transferred positions from an electricity commodities trader, over to the Natural Gas sector, managing daily marketer operations and policy. I started a part-time MBA program with NYU Stern in the fall semester of 2015 and am expecting to graduate May 2018. I passed the EIT examination in 2015 and plan to schedule to sit for the PE license exam shortly. Since graduation, I've traveled through Southeast Asia, Italy, and France, and trekked two weeks through the Swiss Alps on the Haute Route from Chamonix to Zermatt."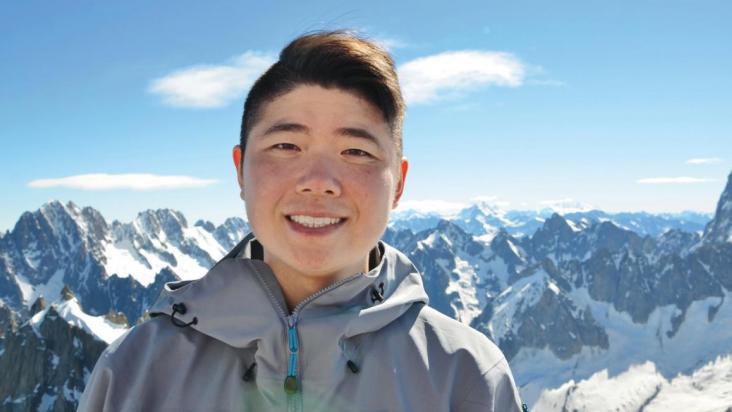 COMPUTER SCIENCE
Lin Yang MS'09 writes: "I am currently working at LinkedIn as a senior software engineering manager, and my teams are in charge of over $1.5 billion in revenue every year. Our team's mission is to connect opportunities with professionals. We put extra thoughts into diverse candidate matching, which is really great. It is such a fulfilling feeling to see people's lives being changed thanks to the work you do. In my spare time, I travel a lot and I take lots of pictures when I travel. Last year I went to France and Japan for the third time and I am planning to visit Argentina and Antarctica this year. I can't wait to take lots of pictures of penguins."
Michael Deeringer MS'13 writes that, since graduation, he joined Google as a software engineer in Mountain View, CA, building infrastructure to detect and disable policy-violating Google ad placements at scale. He and his wife have settled in Castro Valley, CA, and gave birth to their son Toby in May 2016. In their free time, they volunteer playing percussion in local community orchestras.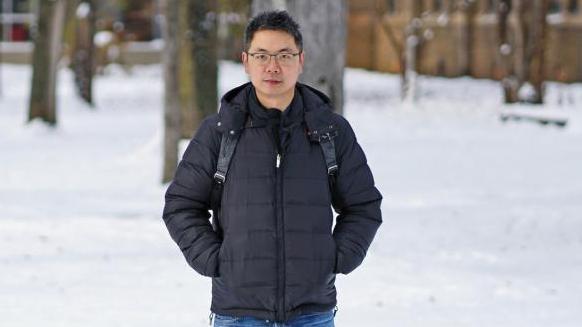 ELECTRICAL ENGINEERING
Anthony Bauer MS'58 writes: "When I attended Columbia U '63–'65 for graduate work, we had three children. Today we have four children and nine grandchildren, and on December 21, 2017, our first great-granddaughter joined the family. God willing, we will celebrate our 60th wedding anniversary in June."
Yin Lu MS'05 has started a job as principal at Control Risks based in NYC. Control Risks is a premier global consultancy with 37 offices around the world. Shikhar Kwatra MS'16 writes: "I am aiming to become one of the youngest Master Inventors in IBM and am on track to be one. Having graduated from Columbia in December 2016, I started working in IBM as an intellectual property engineer and an inventor. In a span of one year, 10 of my inventions have been sent for patent filing at United States Patent and Trademark Office. I received my first invention achievement award during my internship while I was working in the field of hardware systems. Later, I went on to achieve my first plateau achievement award for four significant inventions in similar domain. My other patent awards and inventions are currently being processed and sent for filing by the company. The inventions range in the field of Internet of Things, Cognitive, Cloud computing, and 3D printers. I currently sit on three different invention panels responsible for evaluating other invention disclosures submitted to the board. We are also responsible for mentoring other fellow inventors or aspirants interested in inventing or brainstorming new ideas. I'm hoping to achieve the Master Inventor title soon!"
INDUSTRIAL ENGINEERING AND OPERATIONS RESEARCH
Lawrence N. Weston MS'74 attended Columbia University School of Engineering and Science evening's division from 1972 to 1974 where he received his MS in Industrial Engineering and Management. Upon completion of his master's degree, he worked for a major corporation for approximately 21 years in a variety of positions, including senior financial analyst, marketing supervisor, and senior project engineer. Lawrence subsequently retired in 1995. Years after retirement, he fulfilled his dream of becoming a published author with two inspirational self-help books titled: Avoiding Life's Pitfalls By Thinking First Before You Act (currently out of print) and Think Before You Act (available on Amazon books). He is happily married to his wife, Elaine, for 51 years and has three adult children, Christopher, Hillary, and Andre. He also has three grandchildren—Ariana, Madison, and Mackenzie—and is a frequent traveler to his homeland, Jamaica.
Ziad Dalloul MS'88 started as a telecom entrepreneur in the international traffic carrier business through establishing many JVs with MCII, before moving into telecom infrastructure in 1992, implementing projects in 11 countries (divested this business in 2009). He began the first GSM Mobile venture in 1994. "I always had a vision and a passion for Africa," he writes. He started his first GSM Mobile venture in Gambia in 2001 under the brand Africell; moving to postwar Sierra Leone in 2004. Congo (DRC) came next in 2011 and Uganda in 2014. Africell currently serves 12 million customers across the four countries it operates in; the brand became a household name as the top carrier in Gambia and Sierra Leone and a solid contender in the markets it more recently entered. Dalloul attributes the company's entrepreneurial spirit and genuine desire to change people's lives as the key to the quick growth. Africell is now focusing on fintech and universal access to highspeed data in Africa. The company, with a current value tag of over $1.5 billion, is gearing up for an IPO in the coming few years.
Topang "James" Kong MS'03 writes: "I am the founder and CEO of Alp Technologies, located in London, United Kingdom. Alp Technologies is a renewable energy engineering start-up based in London. We focus on developing renewable energy technologies for the developing world. In 2017, the company won multiple awards and funded R&D projects such as advanced battery systems on recycled cells, novel biogas generation, and power electronics and control systems. Our small-scale power plant for developing regions uses solar, bio-ethanol, and agricultural waste to generate uninterrupted electricity. It aims to displace diesel generation and fossil fuel–based power plants and leapfrog grid infrastructure in the developing world. In 2018, we plan to open an office in New York with current job openings in NY and London. I was born in a rural region in China and grew up in NYC before attending Columbia University. Currently, I live in Central London with my wife and two children."
Cheng Guo MS'17 writes: "I graduated February 2017 from the Master of Operations Research program in IEOR. Now I'm a first-year PhD student studying stochastic optimization in the MIE department of University of Toronto, Canada. In 2017, I have done two internships with startups in NYC, been enrolled in a PhD program that I'm very interested in, got settled down in a new city, and met some wonderful people. I also find myself enjoying the refreshing cool wind and eversnowing sky of Toronto."
MECHANICAL ENGINEERING
Emanuele Valeriano MS'11 writes: "After graduation, I moved to Chicago and worked at Caterpillar in a leadership program. Recently, I graduated with an MBA from the University of Chicago Booth, and I am now a product manager for the Innovation Garage on Johnson Controls in the Silicon Valley. My most recent travel has been to Japan and Indonesia."
Manos Emmanoulopoulos MS'17 writes: "I recently joined Turner & Townsend, a management consulting firm in the construction industry, specializing in infrastructure, real estate and natural resources projects. In 2017, prior to joining Turner & Townsend, I worked for a mechanical design consulting firm in New York City. I am participating in Turner & Townsend's Graduate Development Program, a rotational program which exposes new employees to all facets of the business. My goal is to gain experience in long-term strategy, project management, cost management, and analytics in construction."