A Pioneer in Data Processing
Apr 18 2018 | By By Katherine Davis-Young | Photo: John D. & Catherine T. MacArthur Foundation
Regina Barzilay PhD'03 was preparing to teach class at MIT when she got the phone call telling her she had been  awarded a MacArthur "Genius" Fellowship. Her first thought was that it was a hoax.
"It was really surreal," Barzilay said. "Sometimes I still think I invented it because it can't be true."
But the computer scientist and Columbia Engineering alum has spent her career making unbelievable things into reality, from teaching machines to understand texts and translate languages, to using data to better treat cancer patients. The prestigious MacArthur Fellowship comes with a $625,000 no-strings-attached grant to honor "exceptional creativity," and that's exactly the quality Barzilay's colleagues say she embodies.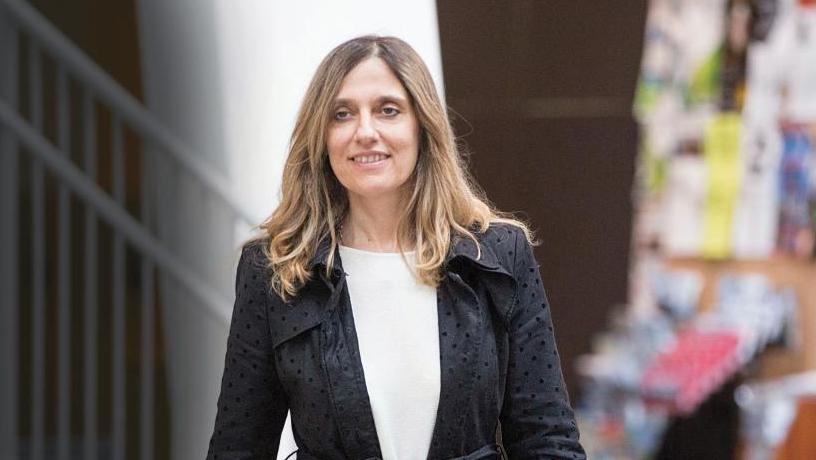 "She has very novel ideas," said Kathleen McKeown, Henry and Gertrude Rothschild Professor of Computer Science at Columbia and Barzilay's former PhD adviser. "She may take a technique that's been in the field, then twist it or redo it in a very interesting way."
Born in Moldavia and educated in Israel, Barzilay said she was hesitant to move to yet another country and pursue a PhD in the U.S. But in the late 1990s, a professor at Ben-Gurion University in Israel recommended her for a summer position at Columbia Engineering, working with McKeown on a formative summarization project funded by the Defense Advanced Research Projects Agency. McKeown said she recognized Barzilay as a hard worker and innovative thinker right away.
"She was really pushing the limits of what she could do at every point in time," McKeown remarked. "She pushed herself and she pushed me."
The experience was formative for Barzilay as well. After briefly leaving academia to work as a computer programmer, she quickly realized that it was the wrong fit. Her real passion was research. She returned to Columbia to continue studying with McKeown, whom she credits with empowering her to take on creative approaches to computer science.
"[McKeown] created an amazing atmosphere where you are not afraid to fail and you can try new things, and for that I will be always grateful," Barzilay said.
Barzilay's doctoral research focused on an area of computer science known as natural language processing. A native Russian speaker, who picked up Hebrew, then English later in life, Barzilay found herself studying languages in yet another way: developing algorithms to allow computers to understand human communication. At the time, she said, it was a relatively new field, and the potential for discovery tantalized her.
"It was so exciting, it was like the Wild West," Barzilay remarked. "You can just go try something and experiment with ideas and be the first one to solve the problems."
She was really pushing the limits of what she could do at every point in time.
From Columbia, Barzilay went on to a postdoc at Cornell University, then joined the faculty at the Massachusetts Institute of Technology, where she is currently a Delta Electronics Professor of Electrical Engineering and Computer Science.
Throughout her career, Barzilay has worked to teach machines to be able to recognize not only individual words, but whole sentences and the more nuanced meanings behind them. She developed a computer program that was able to decipher the ancient Semitic language Ugaritic, mapping its alphabet and vocabulary by comparison to modern Hebrew. Barzilay and her colleagues were also able to teach a computer to read the instruction manual for the game Civilization, understand the semantics of the rules, and develop its own playing strategies based on the information it gathered.
In more recent years, Barzilay's research branched into medicine. In 2014, she survived breast cancer, and the experience left her concerned about inefficiencies in the processing of medical data, which is still often recorded by hand.
"After I came back from my treatment, I felt like I really needed to make a change," Barzilay said.
She knew if computers could be programmed to understand medical records, descriptions of diseases, and courses of treatment, there would be a much greater potential for analyzing patterns and making new discoveries.
"There is so much uncertainty in the treatment for any disease because the data is in a form that we cannot easily process or that requires human input to enter. As a result we are really behind in understanding," she said.
So Barzilay and her team set about compiling hundreds of thousands of medical records into a database, in collaboration with doctors from Massachusetts General Hospital. At the same time, they are creating computer programs capable of providing more in-depth analyses of mammogram images, rather than relying on human eyes to interpret results.
"She brings a fresh perspective and approach to health care problems that we would not otherwise have in the field," said Dr. Constance Lehman, who has worked with Barzilay on her research at Massachusetts General Hospital.
Now Barzilay and her colleagues look forward to many more unbelievable discoveries in the years ahead.