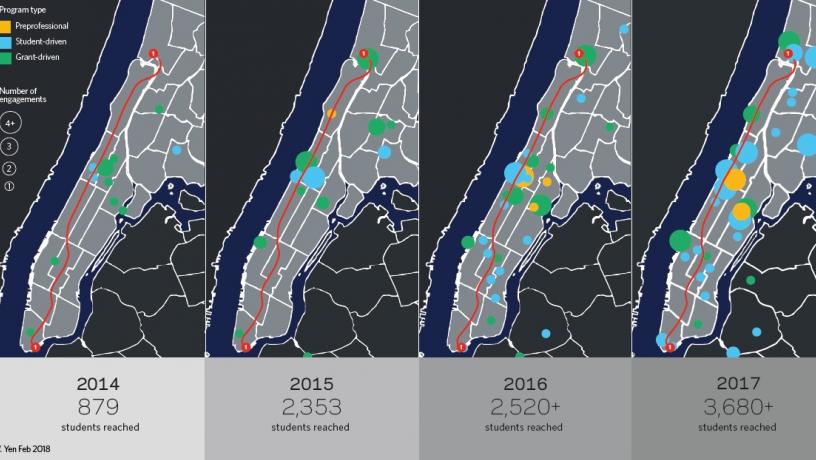 Since 2014, outreach efforts at Columbia Engineering have grown dramatically, thanks to the dedication of our faculty and students, who generously share their time and skills. Student clubs, such as the National Society of Black Engineers and Girls Who Code, are an especially vital link in these efforts. Collectively, our student groups carry out nearly a dozen ongoing and event-specific programs, driving over 50 percent of our initiatives in 2017 alone.
Every year, we work with schools throughout the five boroughs to engage a diverse range of students—from kindergartners to high school seniors—connecting them with Columbia's exceptional faculty and resources in order to open up academic and professional opportunities in every STEM discipline. Our programs are designed with numerous communities in mind, and many of the students we serve come from low-income families earning less than $55,000 a year. Accessibility to and from schools in the community is crucial, and the 1 train operates as a lifeline, ensuring a high level of participation.
At both the undergraduate and graduate levels, Columbia Engineering students stage robotics competitions, teach valuable coding skills, and organize major math tournaments, providing area youth with unparalleled educational opportunities. But the knowledge they share reflects just one part of their tremendous impact.
"Our programs provide opportunities for underrepresented youth to discover engineering. But more important, volunteers in our student groups are role models and living examples that engineering can be inclusive," says Emily Ford, director of outreach programs.
"It's the passion and commitment of our undergraduate and graduate students that make these programs possible. We try to harness our students' stories—both about their struggles and their successes—and that in turn serves as inspiration for us all, not only for future engineers."