Letter from Dean Mary C. Boyce
Apr 18 2018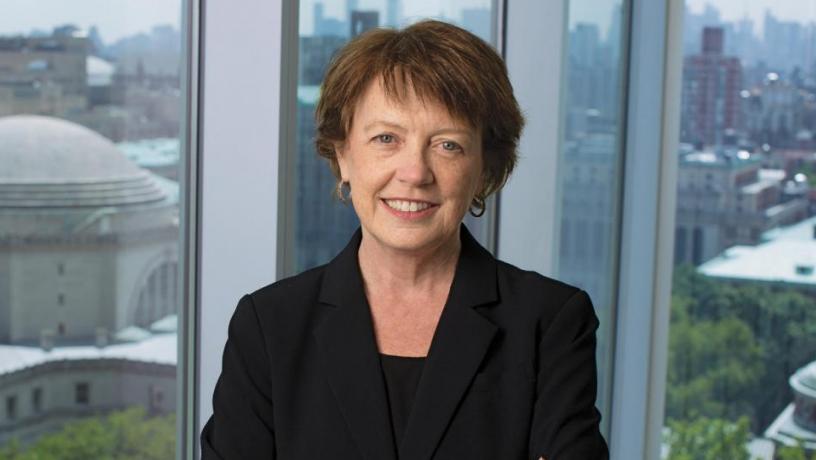 The past fall semester was full of travel to connect with alumni across the world. My first visit to India was a remarkable experience, made even more special by the warm welcome I received from Columbia alumni and families. I met with young entrepreneurs and business leaders in Mumbai and Bangalore, and more recently with alumni in Silicon Valley, New York City, and London at a series of special panels to discuss the impact of financial technology on the future.
I also traveled to Mozambique with Dr. Lee Goldman, dean of the Faculties of Health Sciences and Medicine at Columbia University Irving Medical Center, and Dr. Wafaa El-Sadr of the Mailman School of Public Health, who is the founder of ICAP, a global leader in HIV and infectious disease prevention. True innovation will happen at the crossroads between disciplines, and I look forward to further expanding our collaboration with the Vagelos College of Physicians and Surgeons and the School of Public Health.
Our Columbia Engineering for Humanity vision provides a framework for our research and education. Inside this issue, we highlight another group of faculty and their research groups whose work is bringing this vision to life in the areas of sustainability, health, security, connectivity, and creativity. We also take a look at the fascinating area of augmented reality (AR), a potentially transformative technology that is moving into the mainstream thanks to engineering advances. Our faculty are spearheading advancements that will benefit humanity in numerous ways. Among the projects, AR and virtual reality (VR) pioneer Steve Feiner is developing eyewear to guide surgeons and a system that makes the study of ancient manuscripts dynamic and interactive. Paul Sajda studies how the brain can interact with or affect external devices through brain-computer interfaces (BCIs). His group is pushing the possibilities of pairing BCIs with AR and VR to train computer systems to understand human intent. Peter Allen is also breaking ground with robotic systems that can help disabled patients direct robotic limbs with the twitch of a muscle and may even one day make moving objects with our minds a reality. On the materials side, Michal Lipson is leading an interdisciplinary team of faculty and their students focused on inventing an optical material for AR glasses that could save soldiers' lives.
Running alongside and intersecting with this exciting research is a thriving culture of entrepreneurship. Our "From Lab to Market" feature shows how our work with Columbia Technology Ventures (CTV) and the Columbia Accelerator Network creates opportunities for faculty and students to bring their ideas to market and supports them throughout the process. This past fall, we hosted our first Robotics Conference with CTV to showcase cutting-edge robotics research.
Ever important to our research and innovation is a commitment to reaching across disciplines to share ideas and inspire new thinking. In keeping with our mission to educate leaders, we have developed new team-taught courses in partnership with various schools across the University, including an interdisciplinary course on cybersecurity with the Law School and a new joint master of science degree in business analytics with the Business School, as well as a unique course with the history department that helps students explore and approach the many questions that arise from our unprecedented access to data.
Also in this issue, you'll see more innovation updates from faculty, students, and alumni, including a novel strategy to store real-world data on DNA and a breakthrough in the quest to use single molecules as electronic components.
These developments typify how engineering breakthroughs are propelling our future and how much society recognizes the invaluable role that engineers play as problem-solvers, innovators, and creative thinkers.
I hope you will learn more about the exciting things happening at Columbia Engineering through these pages and, for those of you attending reunion this spring, I look forward to sharing more updates in person.
Mary Cunningham Boyce
Dean of Engineering
Morris A. and Alma Schapiro Professor