Class Notes: Undergraduate Alumni
Apr 18 2018
GOLDEN LIONS CLASS REUNION:
1968 and Years Prior
To take an active role in your Class Reunion activities, please contact Star Sawyer at [email protected].
1945
Class Correspondent:
Gloria Reinish
[email protected]
1947
Harold E. Brandmaier MS'48 writes, "I received my BS in engineering in 1947, an MS in 1948, and a mechanical engineer degree in 1962. My wife, Ginny, received her BS and MS degrees from Columbia School of Business. We were married in 1951 and have two sons and two daughters.
"I enlisted in the US Naval Reserve in 1953, graduated from the Officer Candidate School, and spent the next two years at sea as a main propulsion division officer aboard the heavy cruiser USS Newport News. I was released to inactive duty in 1956 and restarted my engineering career.
"Some of my career highlights: I was able to evaluate new concepts in propulsion and power generation. I also directed the development of a corporate capability to design, fabricate, and test aircraft engine compressor blades made from a graphite epoxy composite.
"After retirement I became involved with sundial design and fabrication, mainly using spheres as shadow casters. My accomplishments are recorded in the technical journal of the North American Sundial Society, The Compendium.
1949
Calvin A. Thompson (IEOR) asks for his classmates to contact him at [email protected].
1951
Class Correspondent:
Ted Borri
[email protected]
Herman Bieber MS'53, EngScD'62 writes, "2017 has been exciting, though it brought some physical challenges that severely limited activities. In February, I had another angioplasty that went well, but cardiac rehab lasted until June. However, I was able to resume nightly ballroom dancing almost immediately after the stenting. I reduced my Engineering Foundation Conferences activity to a single technical meeting in Newfoundland and limited foreign vacation travel to gentle cruises to the Bahamas and to Holland/Belgium. Because antiaging activities have left no room for keeping up my house and grounds, however, I have decided to move to a nearby senior living facility."
1952
Class Correspondent:
Peter Mauzey
[email protected]
1953
Class Correspondent:
Don Ross
[email protected]
1954
David M. Richman MS'56, '53CC (Chem E) writes, "My first job in 1955 was at Brookhaven National Laboratory involving the development of peaceful applications of nuclear science. Several years later I joined the Atomic Energy Commission (AEC) more broadly involved in medical and industrial nuclear applications. This led me to a new role: review and support of research at both universities and AEC national laboratories. Ultimately I became involved in the design and management of alternative energy programs in the new Department of Energy to meet national needs and reduce emission of greenhouse gases. Years later, when I retired, I became involved in local aging issues and in volunteer activities with the AAAS in supporting teachers in the STEM fields in public schools. In 2016, I was proud to receive AIChE's National Award for Service to Society."
1955
Class Correspondent:
Leo Cirino
[email protected]
1956
Class Correspondent:
Gordon Silverman
[email protected]
Gordon writes, "As your new class rep I was curious about what accomplishments my revered classmates had achieved over the past 62 years. Using a list of U.S. Dept. of Labor professional classifications, I sent an (unscientific) survey to the class and received enthusiastic responses from Jeffrey Broido, Bob Thonus, Peter Leeser, Arthur Liberman, Jerry Schultz, Fred Schlereth, and Aaron Hamburger. A brief summary of our accomplishments: we used our engineering skills as pathways to a variety of careers in engineering (EE, ChemE, MechE, Nuclear, Biomedical, Civil, BioChem); administration/management; education; law; MD/DDS; and business/sales. A number of us count major corporate/academic-level responsibilities on our CVs. We also contributed to the endeavors of large U.S. corporations (e.g., Dupont, GE). My personal joy was recalling the familiar names from our shared Columbia experiences. For those of us who were the 3/2 "wonder kids," I am sure that the '56CC class rep Robert Siroty ([email protected]) would enjoy hearing from you. And, if you can get to the campus, we hold periodic lunches at Faculty House—it's a blast! Stay well, watch your diet, and exercise!"
1958
Robert Drucker (Chem E) has celebrated 58 years of marriage, three children, who are all connected to Columbia, and nine grandchildren including one granddaughter entering Barnard class of 2021. "With the aid of a Lehigh MBA 1964, I enjoyed experience in chemical and pharmaceutical production, engineering, plant design, construction and plant sales as well as global shipping and letter of credit processing procedures. Most rewarding was as product manager in the design, construction, and installation of three offshore Gulf of Mexico oil and gas production platforms for Texas Gulf Oil & Gas Co., now part of Total Petroleum of France. Most unique processing experience was the patented treatment of cut tobacco in pressure vessels at 400 psi with liquid carbon dioxide. Following recovery of the CO2, the CO2 impregnated tobacco was rapidly heated to remove undesirable elements and used in production."
1959
Lou Shrier (Chem E) is trying to balance adventure travel with professional activities. In 2017, to supplement his graduate courses in international affairs at Columbia and U of Maryland, Lou (and his wife, Diane) visited the North Slope of Alaska where 50 years earlier Lou's engineering team determined that export of the immense oil discovery would proceed by pipeline and tanker to the Western US rather than by ice-worthy vessels to the US East Coast. To recover from Arctic tundra conditions (and swarms of biting insects), they next traveled to the tropical forests of Costa Rica for wildlife viewing via horses, small boats, and ziplines.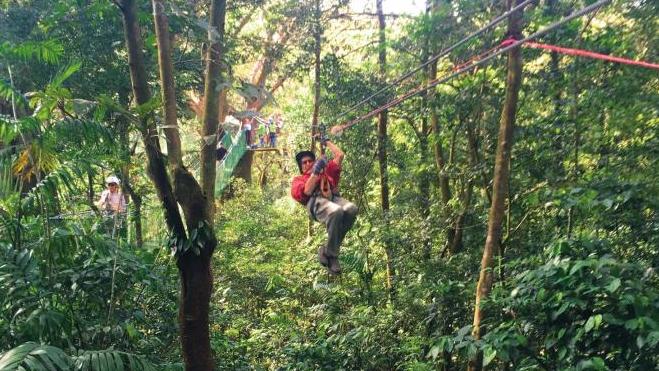 1961
Class Correspondent:
Doug Kendall
[email protected]
Nicolas Kariouk (Mech E) writes, "In the early 1960s, many of our classes were held in Pupin. I don't quite remember how I discovered the entrance to the tunnel connecting buildings along the west side of campus, but the secret passageway is etched into my memories. During extreme weather, this underground corridor came particularly handy, helping me avoid freezing crosswinds and temperatures below limits of human endurance. On some days, I would brand it the 'cave of Columbia,' while on less auspicious ones, I'd think of it as its bowels. I accessed the tunnel through an inconspicuous door inside the School of Mines that I believe is now the Mathematics building. Eerily lit by a few light bulbs emitting a dusty glow, one would walk along large-diameter pipes which may have been connected to the heating system. The trick was to know which of the unmarked passageways led to the various buildings. In my case, this tunnel guided me to what was then the mechanical engineering lab. In the basement of Pupin, I arrived "home," warm and cozy, ready for an exploration into thermodynamics!"
Philip S. Schaenman (Elec E) writes, "After focusing most of my energy for the last 35 years on founding and heading what is now TriData LLC, which specializes in public safety research and consulting, I have been focusing more on competitive ballroom dancing across the nation. Columbia engineers rock. Literally!"
1962
Class Correspondent:
Marshal (Mickey) Greenblatt
[email protected]
1963
Class Correspondents:
Chuck Cole
[email protected]
Mark Herman
[email protected]
1964
Class Correspondent:
Tom Magnani
[email protected]
Tom Magnani writes, "I've been living in a suburb of Raleigh, NC, for just about 10 years, having lived in the NYC area for my first 65 years. Well, Raleigh finally had a decent, by NYC standards, snowstorm. The 7" of snow here qualified as a serious storm and schools were closed for last three days of the week as well as for a make-up Saturday. Time, snowstorms, and events go by, and our 55th anniversary of our graduation will be next year. For those of you who are nostalgia buffs, New Hall, now known as Carman, is still there in all its concrete block glory. It would be nice to see everyone at Reunion, and, to that end, the school needs your current contact information. Please send it either to the School's alumni office at [email protected] or to me at [email protected]. I hope everyone is doing well, and I hope to see you next year at our 55th."
Neil I. Marmor MS'67, EE'69 writes, "I have concluded 74 is not young. Fortunately, I still remember much of my prior life. I am thankful for three things: My good health (relatively speaking), my ongoing ability to pay my rent (etc.), and enough remaining IQ to function reasonably well (as best I can tell). With that good fortune I invest some of my time helping situationally homeless people, reading aloud to young kids, and providing free financial checkups for college student veterans. I also continue to work out, attend performances, museums, galleries, and "live at the Met simulcasts." I also make use of the local library. "Keeping up with family and friends has become easier thanks to the internet. I've done more travel than a kid from Jackson Heights, Queens, ever dreamt of, including transiting the Northwest Passage from Greenland to Nome and sailing past Cape Horn in a 57-foot sloop. "With warm greetings to all my CU classmates, let's connect—[email protected]. I'm in San Diego."
1968
50TH REUNION
To take an active role in your Class Reunion activities, please contact Star Sawyer at [email protected].
1969
Class Correspondent:
Ron Mangione
[email protected]
1971
William Hooper MS '73 writes, "Hi from North Carolina. Cathy and I now live in the Raleigh/Durham Research Triangle area. This past summer, we visited Yosemite, Alaska, and the Colorado Rockies. I remain active with the Columbia Entrepreneurship program, and with Theta Tau, the national engineering fraternity. This fall, I was privileged to mentor at a local digital sciences magnet school career day. My table featured opportunities in electronic transactions for value exchange, digital advertising, and digital identity. I look forward to seeing classmates at our 50th reunion. Go, Lions!"
1973
45TH REUNION
To take an active role in your Class Reunion activities, please contact Star Sawyer at [email protected].
1974
Robert Schubert, Jr. (Mech E) writes, "I celebrated 10 years at Siemens Energy Inc. last October, and 43 years in the energy industry. I also celebrated the big 65 in November, guest lectured at Prof. Modi's Graduate Energy course late last year, and look forward to continuing participation with him and his class this year. I am looking forward to working in the offshore wind and combined heat and power industries this year as well as extending my representation to transmission and distribution products. I look forward to working on the digital grid. My wife, Kate, and I celebrated 25 years of marriage last year and we still live in Devon, PA. My charitable efforts for Mercy Hospice Philadelphia continue, and I am on target to complete my 1,500th casserole this year. That's over 7,500 pounds of food for the homeless women of Philadelphia!"
1977
Les Halberg (Chem E) writes, "Columbia, thank you for the formative education and life experiences. So unreal that it's been 40+ years since Columbia days and 20 years since moving my family from Boston to Southern California to take a job for Neuromodulation startup Advanced Bionics as R&D Director. Happy to say that it was a good decision, ending in acquisition by Boston Scientific. I stayed on for a few years after integration but was motivated to take on a new and broader challenge working for a nonprofit aimed at incubating various emerging medical technologies from several renowned universities. This came to an end after three years so I hung my consulting shingle out for a year, which led me to my current full-time role as Sr. Director of an Advanced Technology Group for Integer. All three kids are successfully launched; two engineers and a veterinary tech, all living in Northern California. Leslie Ann, my wife of 34 years, is teaching art locally and folk dancing whenever she can. I am still playing handball. Come visit."
1978
40TH REUNION
To take an active role in your Class Reunion activities, please contact Star Sawyer at [email protected].
Class Correspondents:
Larry Chung
[email protected]
Peter Luccarelli
[email protected]
1979
Class Correspondent:
Stewart Levy
[email protected]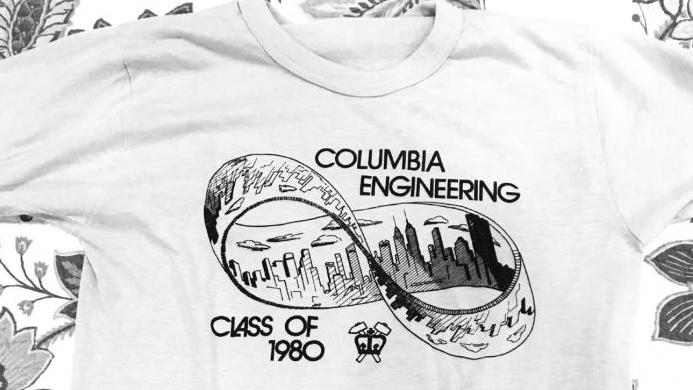 1980
Bill Catchings MS'83 writes, "For the last fifteen years, I've been busy growing the company I co-founded, Principled Technologies or PT (www.principledtechnologies.com). Today, PT provides industryleading technology assessment, fact-based marketing, and learning and development services. PT's goal is to provide the engaging, compelling marketing, and learning content that companies need to win in the attention economy. "In December 2017, my cofounder (Mark Van Name) and I published a book: Limit Your Greed (www.limityourgreed.com). The book looks at questions like: What if profit isn't the main goal of a company? What if maximizing shareholder value isn't a goal at all? What if business leaders limit their compensation so that all employees can have more? In the book, we attempt to confront today's accepted business norms and present alternatives that work. Using our own company as a case study, we attempt make a compelling argument for a new approach to business—one in which everyone limits their greed."
1981
Class Correspondent:
James Reda
[email protected]
1982
Class Correspondent:
Dan Libby
[email protected]
1983
35TH REUNION
To take an active role in your Class Reunion activities, please contact Star Sawyer at [email protected].
1984
Andrew Akers MS'94 (IEOR) writes, "I have become engaged to Jennifer Wilkov and will be married in June. Further I recently joined Urban Investment Partners (uipllc.com), an experienced multifamily development, management, and investment company in Washington, DC, founded 17 years ago by a lifelong friend of mine with whom I have built businesses previously. Literally, our parents pushed baby carriages together!
"Since its founding, UIP has successfully invested over $1 billion across 44 deals for institutional and individual investors. Over the years I have invested in several successful deals and the track record speaks for itself. In my role as senior advisor in NYC, I am expanding our capital partner relationships and looking at other strategic opportunities for growth. And when I'm not working on real estate deals, you can find me making music with my band, Midnight Sun (www.facebook.com/MidnightSunGratefulDeadTributeBand), a Grateful Dead tribute band. We play private parties, and at bars and clubs in Brooklyn, Manhattan, and New Jersey."
1986
Louis J. Soslowsky MS'87, PhD'91 (Civil E), the Fairhill Professor of Orthopaedic Surgery in the Perelman School of Medicine and Professor of Bioengineering at the University of Pennsylvania, will receive the H.R. Lissner Medal from the American Society of Mechanical Engineers (ASME). The Medal recognizes outstanding achievements in the field of bioengineering and is widely viewed as the highest honor in the bioengineering community. Soslowsky is also Associate Dean for Research Integration and the Founding Director of the Penn Center for Musculoskeletal Disorders. In making its selection, the Society cited Soslowsky "for outstanding contributions toward the understanding, prevention, and treatment of musculoskeletal injuries to tendinous (tendon) and ligamentous (ligament) tissues; and for internationally recognized leadership in the biomechanics community."
An expert in orthopaedic bioengineering and functional tissue engineering, Soslowsky focuses his research on soft connective tissue, seeking to identify the causes of tendon and ligament injury, healing, repair, and regeneration. Soslowsky will deliver a plenary lecture and receive his award at the World Congress of Biomechanics in Dublin, Ireland, in the summer of 2018.
1988
30TH REUNION
To take an active role in your Class Reunion activities, please contact Star Sawyer at [email protected].
Class Correspondents:
Caryn Frick
[email protected]
David Shofi
[email protected]
1989
Class Correspondent:
Shreosee Roy
[email protected]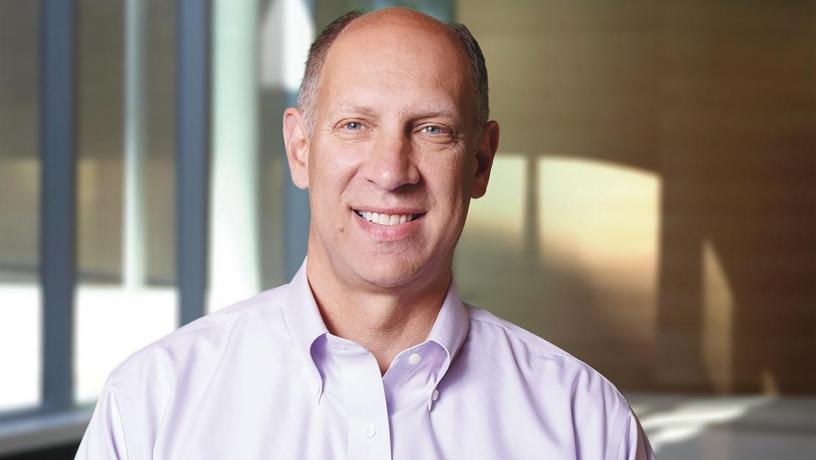 1990
Class Correspondent:
Laura Cordani Christopher
[email protected]
1991
Class Correspondent:
Radhi Majmudar
[email protected]
1992
Class Correspondent:
Janneth Ignacio Marcelo
[email protected]
1993
25TH REUNION
To take an active role in your Class Reunion activities, please contact Peter Pallotta at [email protected].
Class Correspondent:
Herbert Kreyszig
[email protected]
1996
Class Correspondent:
Enrico Marini Fichera
[email protected]
1997
Aaron Frankel (IEOR) is married to Maria and has four children (Ethan, 11; Jacob, 7; Matthew, 4; and Amelia, 10 months). They live in Allendale, NJ, with two dogs. After graduating Harvard Law School, Aaron began working at Kramer Levin, where he was recently elected partner. He specializes in IP litigation (patents, trademarks, and trade secrets). If you would like to catch up with Aaron, email him at [email protected].
1998
20TH REUNION
To take an active role in your Class Reunion activities, please contact Peter Pallotta at [email protected].
1999
Michael Moussourakis '00GSAS is a Director, Technical Marketing and Commercial Development, at Alconox, Inc. headquartered in White Plains, NY. The Marketing team provides tactical and product leadership to Alconox, Inc. customers for their cleaning needs. He has over 17 years of experience in the biotech, pharmaceutical, medical device, and laboratory industries. Through various and progressive roles in technical, tactical marketing, and product management, he has contributed via publications, training, and committee participation. Michael's technical expertise covers critical cleaning, biopharmaceutical filtration, and process troubleshooting.
2000
Class Correspondent:
Daisy Chow
[email protected]
John Mullervy (Elec E) and wife, Stephanie, welcomed their son Colin Henry Mullervy on November 25, 2017.
2001
Class Correspondent:
Cathy Marcinkevage
[email protected]
2002
Class Correspondent:
John Morris
[email protected]
Gordon Christopher '03CC and his wife, Cassie, welcomed their daughter Nancy Christopher to the world on June 30, 2017. Nancy joins her brother Bobby and sister Edie. When not changing diapers, Gordon is a recently tenured faculty member in the Department of Mechanical Engineering at Texas Tech.
Rick Thompson and Khanhvy Phan, welcomed Lyra Janet Thompson, their first child, on June 3, 2017, at Hoag Newport Beach. She was 19.5 inches and weighed 7 pounds and 1 ounce. Rick, Khanhvy, and Lyra have settled into their new house in the hills of Orange. Rick teaches calculus and statistics at Mater Dei High School in Santa Ana. Khanhvy teaches seventhgrade English at Harbor Day School in Newport Beach.
Rich Wilches (Mech E) has been with Google for seven and a half years in various roles. As of this past summer he's lead program manager for the engineering team that runs the company's global staffing systems. He's just recently graduated from the Heritage Flight Academy at MacArthur Airport and is in the midst of taking his FAA check ride for his private pilot license. He, his wife, and kids (two-year-old girl and five-year-old boy) continue to enjoy life out on Long Island.
2003
15TH REUNION
To take an active role in your Class Reunion activities, please contact Peter Pallotta at [email protected].
Class Correspondent:
Amar Doshi
[email protected]
2004
Class Correspondent:
Eric Rhee
[email protected]
Eric Rhee writes, "Happy New Year, Class of 2004! I'm happy to share some exciting news from a few of our classmates. Recently, our family took a trip to San Francisco, where we met up with fellow classmates at the home of Scott Linthorst and his wife Angie ('05BC). Scott is a finance director at Aetna. Jenn Chu is director of buying at the fashion startup Stitch Fix and, more importantly, is the mother of her beautiful son, Grayson. Jay Mung now has two kids and is working as a biomedical engineer at Apple. Jing Cai—pictured here with her husband, Mike Lee ('04CC), and daughter, Avery—left her role at Athleta to pursue her own meditation practice called Pacific Pause. Last but not least, I started a content strategy and production agency based in NYC called Point Seven Labs. Please give me a shout at [email protected], and it would be my pleasure to catch up with any of you."
2005
Class Correspondent:
Devang Doshi
[email protected]
2006
Class Correspondent:
Nick Jennings
[email protected]
Stephenie Lee (BME) is proud to announce that Natalie Lee Melencio will be a big sister this February 2018.
2007
Class Correspondent:
Tamsin Davies
[email protected]
2008
10TH REUNION
To take an active role in your Class Reunion activities, please contact Beth Manchester at [email protected] or +1-212-854-4472.
Class Correspondent:
Amy Lin
[email protected]
2009
Ramon Torres (BME) writes, "It sounds odd I'm sure but I'm in preproduction for my first feature film. I've used my engineering skills to problem solve in the most unusual way. Last year I was in Marvel's The Punisher and was on an episode of Gotham. This year I'll be on The Blacklist! My sister graduates from Barnard this year, and I'll be traveling to LA for my second feature. My official homepage is www.ramon.nyc!"
2010
Class Correspondent:
Heather Lee
[email protected]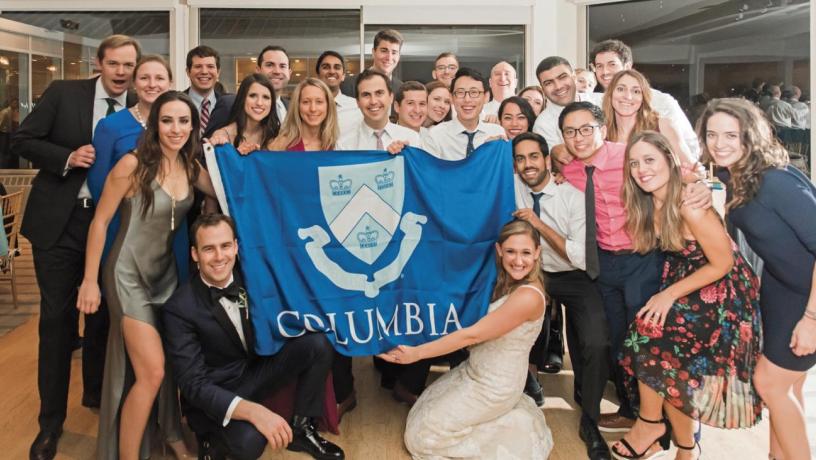 2011
Class Correspondent:
Justin Merced
[email protected]
Tejas Kumar (IEOR) married Manisha Johary in 2017 in Rajasthan, India at Neemrana, a 15th-century fort palace, now converted into a resort. He was joined by several friends from the U.S., including classmate Micah Babbitt.
Doug Yolen '16BUS (IEOR) and Jen Rhodes ('15BUS) were married on November 18, 2017, in Garrison, NY. They had a wonderful time dancing the night away with many fellow Columbia engineering and business school alumni. Doug and Jen live on the Upper West Side, not too far from campus. Doug is currently a client solutions manager at Facebook and Jen is an HR business partner at Flatiron Health, a healthcare technology and services company focused on accelerating cancer research and improving patient care. Doug currently serves as president of the Columbia Engineering Young Alumni and looks forward to seeing fellow alumni of the last 10 years party again at the Blue and White Gala this March.
2012
Class Correspondents:
Rebecca Frauzem
[email protected]
Hannah Cui
[email protected]
Hannah Cui (IEOR) writes, "After five years without much to report, I finished my PhD in environmental engineering and water resources from Princeton University last October. I wrote my thesis on how droughts evolve in North America, how they affect electricity generation, and how they may be different in the future due to climate change. Following the PhD, I started a postdoctoral position at the Department of Earth Systems Science at Stanford University, where I am continuing to study the impacts of droughts on energy security. I look forward to connecting with my Columbia friends and other Columbia alumni in the Bay Area, so please reach out, if you are around, to [email protected]!"
2013
5TH REUNION
To take an active role in your Class Reunion activities, please contact Beth Manchester at [email protected] or +1-212-854-4472.
Class Correspondent:
Mary Byers
[email protected]
Elizabeth T. "Tess" Murray (Chem E) started medical school at SUNY Downstate Medical Center in Brooklyn, NY, this past fall. Prior to starting medical school, Tess completed two years as clinical research coordinator for the division of pediatric rheumatology at the Hospital for Special Surgery in Manhattan.
2014
Class Correspondent:
Victoria Nneji
[email protected]
2016
Chris Chyung (IEOR) is taking a break from working at a Chicago real estate startup to run for the Indiana House of Representatives on a STEM platform. Visit VoteChyung.com for more information.
2017
1ST REUNION
To take an active role in your Class Reunion activities, please contact Beth Manchester at [email protected] or +1-212-854-4472 or Swaati Puri at [email protected] or +1-646-745-8411.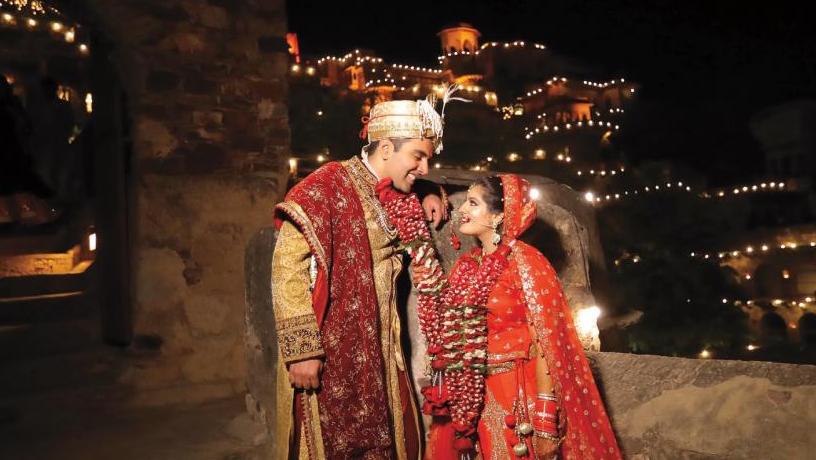 Save the Date!
Reunion: May 31– June 2, 2018