Letter from Dean Mary C. Boyce
Apr 25 2014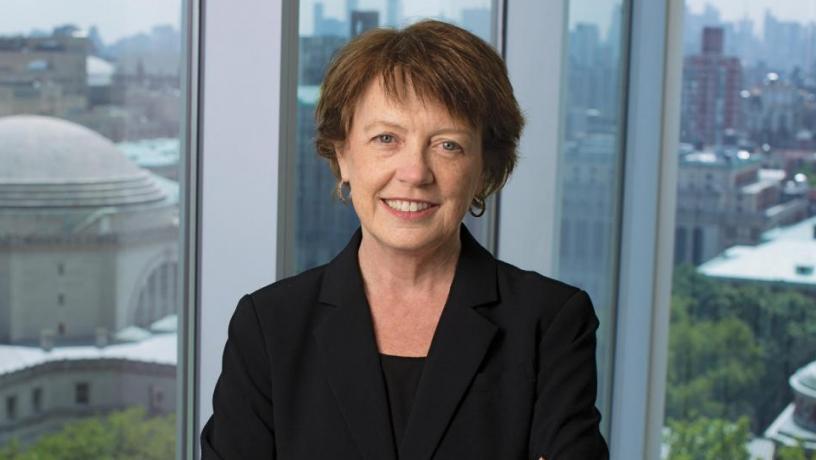 Welcome to the first of two special issues of Columbia Engineering magazine in honor of the 150th anniversary of the School's founding. I've written previously in these pages about what I see as a Renaissance period for engineering and applied science in the world today—a coming-together of creativity, invention, and entrepreneurship that is bringing solutions that shape our world for the better. As we now celebrate our 150th year, we reflect on our history of excellence in pushing disciplinary frontiers and solving engineering grand challenges while, at the same time, preparing the next generation of engineers and applied scientists to assume the mantle of leadership.
We launched our sesquicentennial celebration in February, coinciding with Engineers Week. Launch Week featured a number of events, including a magnificent light display on Low Library! You can read more about the launch events in this issue and learn about upcoming events in the coming months that continue our festivities, culminating with a special symposium in November. As part of our observance, we were pleased to have a history of our School, A Lever Long Enough, written by Robert McCaughey, professor of history at Barnard College. I was privileged to have been asked to write the Foreword for this book—a reprint is provided in this issue. It is impossible to fully describe the depth and breadth of the remarkable story of technical achievements and people in a brief Foreword, but I hope to have captured the spirit and the essence of who we are and where we are headed. I believe you will find that Columbia Engineering has been the home for imaginative, innovative, and interdisciplinary thinking (and doing) since its very inception. We have much to be proud of and much to celebrate!
The research feature of this issue also focuses on our past and our future—highlighting a few of our many pioneering faculty and alumni whose work exemplifies a legacy of creative thinking that cuts across the decades. It also echoes the theme of our upcoming November symposium, which pairs the research of Columbians, past and present, to show how each researcher extended the scope and reach of a discipline, solving societal problems of the day, and creating new avenues of innovation.
I invite you to visit and participate in our new 150th anniversary website, seas150.columbia.edu. There, you can learn more about the accomplishments of the Columbia engineers and applied scientists who have shaped our past, present, and future. Scroll through our in-depth timeline, see video interviews from alumni, view time capsules created by Irving P. Herman, professor of applied physics, and keep abreast of special anniversary events. I especially hope you think about your time at Columbia and upload your own special memory of a class, a professor, a classmate, a lab, a research project, a discovery, or perhaps a dorm, a club, or an athletic event! To share your recollections, go to seas150.columbia.edu/memories.
I look forward to seeing you on campus during Reunion Weekend (May 29–June 1) as we continue our celebration of 150 years of excellence in education, research, and innovation.
Mary Cunningham Boyce
Dean of Engineering
Morris A. and Alma Shapiro Professor