Giving Back
Sheldon Weinig MS'53, EngScD'55: Celebrating 18 Years of Weinig Scholars
Apr 25 2014 | By Tim Cross
On December 11, Dean Mary C. Boyce and a group of Columbia Engineers braved the winter weather to fete Sheldon and Mary Jo Weinig and the successful Sheldon Weinig Scholars Program at the School.
More than 40 undergraduate and graduate students have been Weinig Scholars, representing all departments. Past recipients attended the dinner, as well as this year's Weinig Scholar, Kyoko Yoshida, a second-year graduate student in mechanical engineering.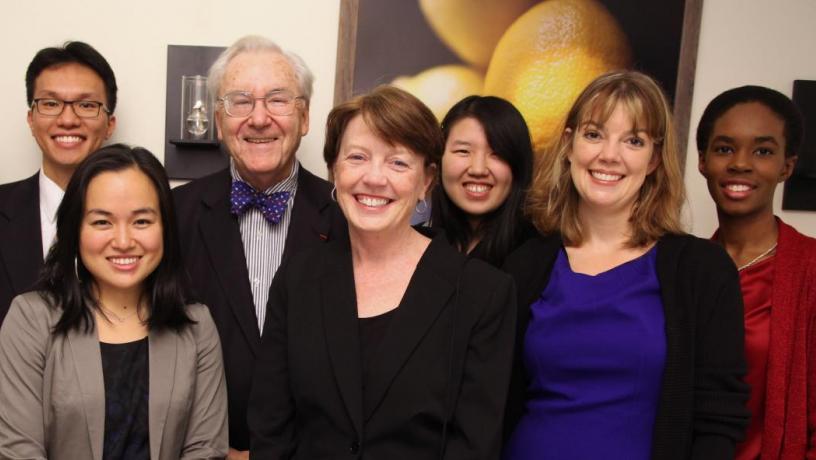 Dean Boyce praised the Weinigs for their commitment to students. "Their love of learning—and their commitment to our students—is a shining example of how wise philanthropy truly can enhance the lives of generations of students," she said.
A New York native, Weinig, who likes to be called, "Shelly," graduated from Stuyvesant High School and, after military service, earned a BS in mechanical engineering from NYU in 1951. He earned a master's in metallurgy in 1953 and an EngScD in 1955 from Columbia Engineering.
Although Weinig taught briefly at Columbia and at NYU, "academia was not an ideal career for me," he says. He spent most of his career at the company he founded, Materials Research Corp., which manufactured alloys and highly engineered materials widely used in semiconductors and computer chips. For his contributions as the "father of electronic materials" for the semiconductor industry, Weinig was elected to the National Academy of Engineering and appointed by President Ronald Reagan to the Presidential Board of Advisors on Private Sector Initiatives.
In the late 1980s, facing a possible hostile takeover by a Swiss firm, Weinig instead sold his company to Sony. After the acquisition, Weinig agreed to stay on, and as vice chairman of Sony Engineering and Manufacturing of America, he completed a report on manufacturing education, which led to his teaching a course on manufacturing at Stony Book University. In the 1990s, he began teaching the course at Columbia Engineering.
Weinig is quick to point out that his education was paid for through the GI Bill and scholarships, including a William Campbell Fellowship from Columbia. "I had a fantastic education at no cost at all," he says. So when he and his wife decided to set up a foundation, education was a natural choice. He was particularly interested in finding ways to motivate people to go into technical fields.
Weinig is still going strong. He teaches each fall in the IEOR Department and through the Columbia Video Network, and in the spring, an Internet course for SUNY. His wife, Mary Jo, has developed an international literacy program, Read a Recipe for Literacy, which operates in the United States and Italy. Weinig also stays in touch with his scholars, often meeting with them for breakfast at what he calls his "real office," a diner on Manhattan's East Side.
Clearly proud of the students he has supported, he says, "They have all done extremely well. They excite the hell out of me."