Time To Invent
Oct 27 2017 | By Holly Evarts
Late last May, Xiaozhou Sean Zhou, an associate research scientist at the Lenfest Center for Sustainable Energy, was at the center of a press conference at the Columbia Global Center in Beijing. He and Alissa Park, professor in the departments of earth and environmental engineering and chemical engineering, unveiled their plans to build a $4–5 million pilot plant at the Baotou Iron and Steel (Group) factory in Inner Mongolia, China, to an audience of Baotou Steel and top Chinese government officials, members of the Chinese media, and the U.S. Embassy counselor. Just three years ago, when he was transitioning from a PhD to a postdoctoral fellow in Park's lab, Zhou developed a chemical process that turns iron and steel manufacturing waste, or slag, into valuable materials that can be safely reused in a variety of industries, while also reducing overall carbon emissions.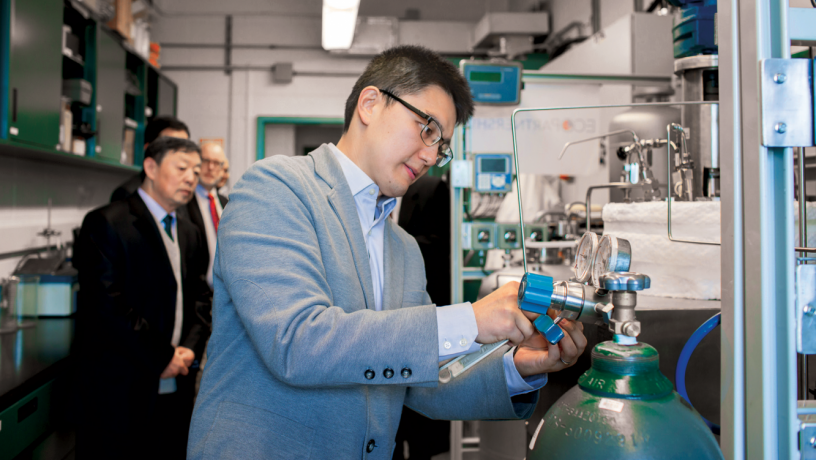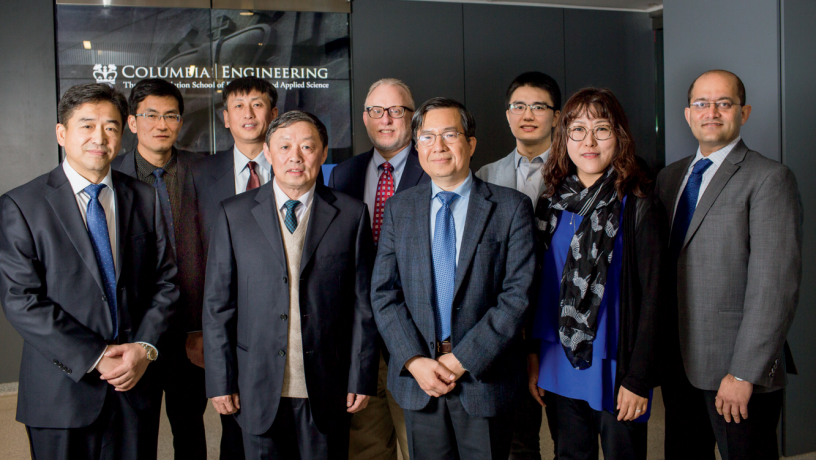 Dean Boyce realized that postdoctoral fellows and advanced graduate students are at a particularly good point in their careers to commercialize their research and that support from the School could be crucial to move on to the next step. "Postdocs and PhD students are fearless, and that's the perfect time to ignite the spark of creativity," she said. "They are at the beginning of their careers, working with faculty to hone their skills and gain expertise in their field. This is an especially fruitful moment to nurture discovery and help them translate their innovations into tangible benefits for humanity."
With support from the program, Zhou and Park launched their startup, GreenOre CleanTech LLC, in summer 2016, and that fall they commissioned a demonstration system with the capacity to process 10 metric tons of slag per year. Currently in operation at the Engineering School, the system is on track to process up to 300 kilograms by December 2017. In fall 2017 they will begin installing their project in Inner Mongolia, and they expect to complete construction by summer 2018, when they will start their pilot study. If the project is successful, Zhou sees a large global market for his slag treatment technology—virtually every country that is making or has made steel, iron, and aluminum is a potential customer.
"The Translational Fellows Program has given me opportunities galore to talk to different people, especially in the business world," Zhou said. "By creating a synergy between my newly learned entrepreneur skills and the science and engineering knowledge I gained during my PhD work at SEAS, the program quickly prepared me for the startup launch and the subsequent daily challenges."
The Translational Fellows Program is one of the many ways that Columbia Engineering is helping its students and faculty accelerate the movement of research from the laboratory to the marketplace. A competitive, nomination-based postdoctoral research program, TFP funds 20 percent of the salary—one day per week—of the selected fellows for one year. The program enables them to study the commercial opportunities and potential markets of a specific body of intellectual property generated through research and to connect with mentors and the University's entrepreneurship ecosystem, including working with Columbia Technology Ventures on patent filings and licensing. Fellows learn how to assess the necessary technological development and the path to a minimally viable product, as well as best practices in building a founding team and developing a business plan, all the while networking with advisers, fellow engineer-entrepreneurs, and potential investors to begin fund-raising.
The program is led by the School's entrepreneurship faculty co-directors—Sam Sia, professor of biomedical engineering, and Chris Wiggins, associate professor of applied mathematics. Now in its third year, the initiative has been so successful that it has been opened to PhD students. "We wanted to increase the competitiveness of the program by expanding the applicant pool," Wiggins said. "And we think it's a good, proven program that should be available to graduate students as well. The ranslational Fellows Program is a great investment by Dean Boyce that shows the value of translational research to the mission of the School."
Zhou is the furthest along in establishing his startup, but close behind is Sameer Saproo, who has seen his startup BRAIQ flourish with support from TFP. BRAIQ aims to close the gap between a passenger's expectation and experience while riding in an autonomous vehicle by teaching the car to drive the way passengers prefer by "reading" their emotions, a personalization that not only increases passenger comfort but also increases trust in automated driving technology. Off-the-shelf sensors collect biometric information on how the passenger is feeling about how the car is moving, such as its acceleration, braking, and steering. This data is aggregated and analyzed securely in the cloud. Unlike most self-driving car startups, BRAIQ is focused on the human experience; and Saproo, a cognitive neuroscientist who is working with Biomedical Engineering Professor Paul Sajda on the project, hopes it will "disrupt a market full of disruptive technology."
BRAIQ has already participated in top accelerator programs such as Techstars, which provided $120,000 in startup funds. The team has also received almost $500,000 from the automotive industry for technical development. Saproo's three-year plan includes furthering product development, raising more capital, and expanding his business team. He is collaborating with many car manufacturers, including Honda, as well as with automotive suppliers. Japanese companies interested in industrial robotics have also contacted him.
"We are trying to build emotional intelligence in AI so that robots can more easily cooperate with humans and function in social settings," Saproo added. "The Translational Fellows Program is a great platform because not only does it authorize postdocs to spend time away from the lab to do business development by providing a 20 percent salary benefit, it also creates a support system by bringing together entrepreneurial postdocs and holding them accountable to each other."
The broad diversity of the translational applications, and the ways in which they can be applied to important world problems, impressed both Wiggins and Sia. Moreover, Wiggins observed, "It's been really exciting how many of the fellows come from the groups led by new faculty—it speaks to the creative energies of the talented people the School has been hiring over the past few years."