Home Again for Reunion 2017
Nov 06 2017 | By Jesse Adams
Spanning decades, professions, and research interests, generations of Columbia engineers returned to campus this June for Reunion 2017. The weekend highlighted exciting developments at SEAS, celebrated the outstanding recipients of the School's highest honors, and reimmersed alumni in Columbia's intensely interdisciplinary life of the mind.
"To all of you celebrating a reunion, whether it's the fifth or 50th, welcome home to Columbia Engineering," said Dean Mary C. Boyce at the June 1 awards dinner and Reunion kickoff at Low Library. She brought guests up to speed on accelerating developments at SEAS in recent years, including partnerships like the Data Science Institute, recently elevated to a University-wide initiative.
"For the past several years our faculty has been developing a vision to capture this moment in history and articulate the role of Columbia Engineering in this new and ever-changing world," Boyce said. "This spring we publicly announced a strategic vision called Columbia Engineering for Humanity. This vision reflects our history of innovation and impact and guides us as we move into the future, focusing on the areas where we can have the greatest impact."
Exemplifying Columbians' immense impact in engineering and beyond were the recipients of the Engineering School's most distinguished honors.
Jacqueline Barton '74BC, GSAS (MS'75, MPhil'78, PhD'79), a pioneer in better understanding the chemical and physical properties of DNA molecules, received the Michael I. Pupin Medal-Columbia Engineering's highest honor-from Provost John H. Coatsworth. Barton, a molecular chemist who taught at Columbia for several years, is chair of the Division of Chemistry and Chemical Engineering at Cal Tech. The Pupin medal was established in 1958 in memory of Michael I. Pupin, Columbia College Class of 1883, the renowned inventor, author, and professor, to recognize service of lasting and broad significance to society as a whole.
"Barnard is where I fell in love with chemistry, and Havemeyer Hall is where I fell in love with the DNA molecule," said Barton, a MacArthur Fellow and recipient of the National Medal of Science. "What I learned at Columbia is what I do every day."
One of the world's foremost scholars in the areas of optics, photonics, and high-speed optical networks, Alan Willner MS'84, MPhil'88, PhD'88, Steven and Kathryn Sample Chair in Engineering at the University of Southern California, received the Thomas Egleston Medal from Rene B. Testa MS'60, EngScD'63, professor emeritus of civil engineering and president of the Columbia Engineering Alumni Association. Awarded annually since 1939, the Egleston medal honors distinguished achievements in engineering and is named for a key founder of the School of Mines, which grew into Columbia Engineering.
Leonard Blavatnik MS'81, an entrepreneur, investor, and founder and chairman of Access Industries, received the Samuel Johnson Medal from Jonathan Schiller '69CC, '73LAW, Chair of the Trustees of Columbia University. The Johnson medal, named for the first president of King's College, the forerunner of Columbia University, was established in 2007 to recognize distinguished achievement in a field other than engineering and the applied sciences.
Reunion continued with departmental luncheons, tours of the campus and Morningside Heights, gatherings with classmates throughout New York City, and an array of academic sessions with University faculty including Michal Lipson, Eugene Higgins Professor of Electrical Engineering. Lipson, a MacArthur Fellow and pioneer in the field of silicon photonics, discussed how scientists and engineers have made astounding advances over the last decade in energy-efficient chips that transmit data with light instead of wiring to help keep massive machines from overheating.
"By the year 2000, it was clear that computers weren't scaling up anymore based on the big issue of energy and power dissipation," Lipson said at a talk June 2. "And if we had these problems on home computers, can you imagine how it was at data centers?"
Later, Shahram Ebadollahi BS'99, MS'02, PhD'05, '16BUS, vice president of innovations and chief science officer at IBM Watson Health Group, spoke about his team's work applying artificial intelligence to improving human health. The task has been developing cognitive systems that can understand and learn at scale, reason with purpose, and interact naturally with humans for smarter health care, he explained.
"People call this the era of artificial intelligence or augmented intelligence, but I prefer the term cognitive computing," Ebadollahi said in a presentation June 3. "It's about the symbiotic relationship between man and machine, and accomplishing minute tasks in the broader conceptual context."
Other talks examined climate change, Thucydides, the University's Alexander Hamilton archive, and the contributions of Columbia women over the past 30 years, among other topics, while children of alumni attended Camp Columbia in Lerner Hall. After a variety of receptions, including for veterans, alumni of color, and LGBTQ engineers, the weekend concluded with a wine tasting, a starlight reception in front of Low Library, and a farewell brunch.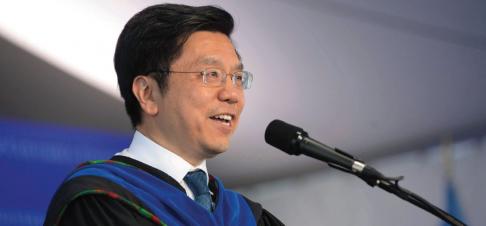 Congratulations, Class of 2017
"Columbia Engineering for Humanity reflects our great past, our present, and our aspirations for the future. It embodies our frontier education, research, and innovation, but also importantly embodies our people-our students, our faculty, our alumni. YOU each embody Columbia Engineering for Humanity."
-Dean Mary C. Boyce
 
My hope for all of you, as your careers blossom and your lives take shape, is that you will approach your lives with all the brains you certainly have, but also, above all, with all the heart you can muster . . . if you let your heart be your guide, you'll find your way through all of the massive changes that lie ahead, and make the next 10 years the best years of your lives."
-Kai-Fu Lee '83CC, Founder & CEO, Sinovation Ventures; President, Sinovation Ventures Artificial Intelligence Institute (Class Day Speaker)
 
2017 Faculty Award Recipients
 
Presidential Award for Excellence in Teaching
Aaron M. Kyle, Senior Lecturer in Biomedical Engineering Design
 
Distinguished Faculty Teaching Awards
Julius Chang, Lecturer in Construction Engineering and Management
John Paisley, Assistant Professor of Electrical Engineering
 
Janette and Armen Avanessians Diversity Award
Ah-Hyung Alissa Park, Lenfest Earth Institute Associate Professor of Applied Climate Science of Earth and Environmental Engineering and Chemical Engineering; Director, Lenfest Center for Sustainable Energy
 
Edward and Carole Kim Award for Faculty Involvement
Katayun Barmak, Philips Electronics Professor of Applied Physics and Applied Mathematics