Speed of Light
Alan Willner PhD'88 is inducted into the National Academy of Engineering.
Jun 21 2017 | By Jennifer Ernst Beaudry
Alan Willner PhD'88 has spent his illustrious career at the University of Southern California, but Columbia still has his heart.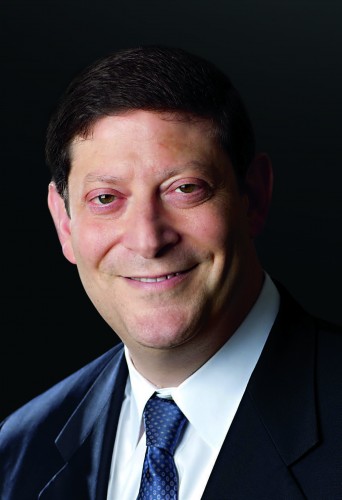 Alan Willner (Photo courtesy of Alan Willner)
"I have blood in my two arms—one flows red for USC, one flows blue for Columbia," he said.
Willner, the Steven and Kathryn Sample Chair in Engineering at the University of Southern California and 2016 president of the Optical Society, was elected to the prestigious National Academy of Engineering earlier this year. An internationally recognized expert on optics and photonics, Willner will be formally inducted into the Academy at a ceremony in October.
"There were about eight elected from electrical engineering this year, including people from academia and industry," Willner said. "What struck me is that I know so many truly excellent people who are better than I am but who aren't in yet and should be. I feel very humbled by it."
Willner joined USC in 1992, after doing postdoctoral work at Bell Laboratories in the Photonics Networks and Components Research Department and as a researcher at Bell Communications Research. His work with optical technologies, notably tunable fiber optic equipment, has helped to critically advance the communications industry—and has been recognized. His award history includes being named an International Fellow of the Royal Academy of Engineering in 2010 (one of four Americans to receive recognition that year from the U.K. body); a 1994 Presidential Faculty Fellows Award from the White House; and the 2014 IEEE Eric E. Sumner Technical Field Award in Communications. He is a prolific author and speaker: His resume lists more than 1,100 publications, including one book; 30 U.S. patents; 350 refereed journal papers; 21 book chapters; 23 keynotes or plenaries; and more than 220 invited papers and/or presentations.
But Willner said his success is a reflection of his incredibly good fortune.
"I've been blessed for 25 years at USC with wonderful students and colleagues. With my students, I give them resources and try to get out of the way. It's amazing," he said. "I'm the team leader, but they're better than I ever was. I stand on the shoulders of giants, and they are my students. Fifty percent of them work harder than me, 75 percent of them are smarter than me, and 100 percent of them are nicer than me. I'm inspired by them."
Born in Brooklyn, but having spent his teenage years in Baltimore, Willner came to Columbia after graduating from Yeshiva University with a degree in physics. And initially, he had a very different career path in mind.
"I applied to law school and got in, but I went to get my master's in SEAS first because I thought I'd be interested in patent law," he remarked. "After my first year, Professor [Richard] Osgood asked if I was interested in doing a PhD with him, and, after much soul searching, I said, 'Yes.' At some point, when my LSATs were no longer valid, I said, 'Well, that's it.'"
At Columbia, his relationship with Osgood, the Higgins Professor Emeritus of Electrical Engineering and Applied Physics, was transformative.
"Professor Osgood is the most fair-minded person I know: He has incredible intellectual integrity and personal honesty, and he taught me much more than how to be a researcher," he said. "I didn't realize until later how much I run my own group and treat my own students just like Professor Osgood did."
Willner's relationship with Columbia—he also serves as a visiting professor—will take on a new dimension this year. One of his sons is at SEAS this fall; a second has been accepted and, having deferred, will attend SEAS after spending a year in Israel. And Willner couldn't be more proud. "My wife, Michelle—whom I met when she was going for her doctor of musical arts at Columbia—and I are thrilled our kids will be there," he said.
"I have come to really appreciate more and more as the years go on what Columbia did and what Professor Osgood did for me—it was really the best years of my life as a student there," Willner added. "And even though Professor Osgood has now retired, I cherish my ongoing wonderful collaborations with several current, outstanding Columbia faculty. Roar, Lion, Roar!"