Women Who Inspire Girls Who Code: Jessica Valarezo, Computer Science, Senior
Girls Who Code chapter cofounder 
Sep 07 2015 | By Elaine Rooney
When senior Jessica Valarezo first encountered Girls Who Code, the national nonprofit dedicated to educating young girls about computer science and programming, she thought about the impact it would have had on her in high school. Like many other girls, she felt intimidated by computer science. "I was not interested by a pass/fail computer science class," she admits. "At the time, I was terrified of CS." Fortunately, Valarezo decided to give engineering a chance in college. She benefited from an invigorating summer experience she had at MIT, and an older sister who studied biomedical engineering and shared her love of STEM. And now, Valarezo is paying it forward.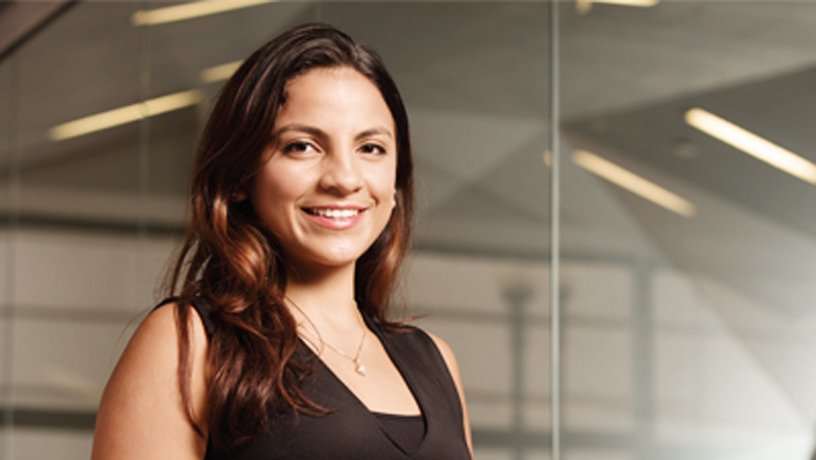 In February, she cofounded Columbia's first-ever Girls Who Code chapter with friend and Columbia College computer science major Lauren O'Connor. In 2014 the pair served as teaching assistants for the Girls Who Code Summer Program and felt enlivened by the young girls who learned so quickly and had so much enthusiasm. When the director mentioned an interest in starting chapters at colleges, Valarezo and O'Connor jumped at the chance.
"We thought, 'why not?' Columbia's beautiful, grand campus would be the ideal location to have a club, combined with Columbia students as teachers who would provide the students with direct exposure to higher education," Valarezo says.
Valarezo chose Columbia Engineering, like many of her fellow students, because of the invaluable core curriculum. "In high school I wanted to have the liberty of taking political science, ethnic studies, and language courses while in undergrad," she says. And it seems fitting. In seeking a diverse learning environment, Valarezo is able to tune into a social consciousness that has no doubt motivated her to start the Girls Who Code chapter.
The results have been tangible. As O'Connor attests, sometimes all it takes is exposure. "I think I connect so personally with Girls Who Code because before I took my first computer science class, I never would have considered it as a major," she says. And the effects are cyclical. "The girls I've taught are getting into their top schools and starting clubs at their own schools—they are in turn becoming advocates for computer science among women, which is spreading incredibly fast," Valarezo adds.
With the headiness of success, including speakers from Google and Goldman Sachs, and a couple of Valarezo's students from last summer with a final project that went viral, resulting in interviews with Time and CNN, Valarezo remains mindful and focused; there is still much to be done. "I believe some of the gender disparity can be attributed to the lack of familiarity with computer science coming into college and facing an intimidating introductory computer science course," she says. "Students who have taken a CS class in high school are much more likely to indicate interest in computer science as a major. Because of this barrier, along with the shortage of relatable female role models, women will continue to pursue other career paths."
Though Valarezo is adept in her assessment, she and O'Connor are taking action and providing solutions, serving as role models to young girls to whom they also provide the exposure they identify as crucial.
As for the future of Girls Who Code at Columbia, it's as bright as the cofounders' enthusiasm. The hope is to expand: two classrooms this coming year, new speakers, more events, and one can only imagine exponential growth in the years to come.