Venture Competition Winners Moving Ahead
Sep 07 2015 | By Jennifer Ernst Beaudry

Three emerging startups born at Columbia Engineering are taking their business to the next level thanks to wins at the annual Columbia Venture Competition. Held at the School last April, the event brought together students and alumni from SEAS and other schools to vie for $250,000 in seed funding—among one of the largest and most competitive university-based startup competitions in the United States. This year, teams participated in specific, topic-related tracks, two of which were sponsored by the Engineering School: Technology Challenge, focusing on software and hardware startups in multiple sectors; and Global Technology Challenge, aimed at health, environmental, and disaster relief ventures with a global sustainability component.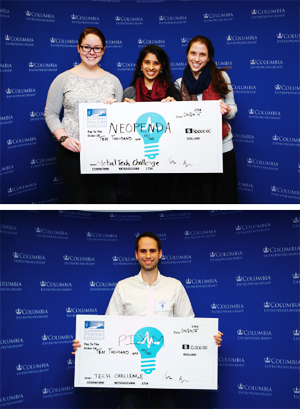 Top, from left to right: Teresa Cauvel, Sona Shah, and Rebecca Peyser; Bottom: Chris Cleveland
Neopenda, a health technology startup founded by Teresa Cauvel, Rebecca Peyser, and Sona Shah, took third place in the Global Technology Challenge track. The three biomedical engineering graduate students took home $10,000 for their concept: a hat or headband containing a small circuit that measures heart rate, respiratory rate, temperature, and blood oxygen saturation in critically ill infants and sends the data to a centralized monitoring device. Their winnings will fund a trip, possibly to Uganda, to put early prototypes of their design in the hands of doctors and nurses to gather feedback and help refine the product for optimum use in low-resource medical settings.
"In many places where there's a really horrible nurse-to-baby ratio, where there might be 30 or 60 babies for each nurse, a lot of babies die because the nurses don't recognize when something is going wrong," Shah said. "And we want to try to prevent that from happening."
Going through the Venture Competition at such an early stage for Neopenda—the idea was born in early January during a biomedical design class—has helped shape the company from the start, Shah said. "It was an awesome experience to learn about the business side," Shah remarked. Since the competition, the team has added Columbia MBA student Jonathan Lichtinger to flesh out the logistics. "Apart from having an idea, we're learning that having a solid business plan is just as important."
Nick Petrone PhD'14 and Adam Hurst PhD'15 won first place in the Technology Challenge track, as well as $25,000, for their company, Neovel. This venture, which grew out of Petrone's work with graphene at Columbia, is developing flexible, wearable display screens made out of the 2D material. (Neovel also won a $25,000 cFUND Ignition Grant in 2014; Petrone and Hurst deferred it until January of this year in order to complete their PhDs.)
"Initially we'll probably focus on active camouflage for soldiers in the field for the military, as well as heads-up displays on vehicle windshields," Hurst said. "We'd also like to transition the technology to wearables, where there are a number of ways we could really transform the user experience."
Two-year-old Pixm, founded by computer science MS student Chris Cleveland, won third place and $10,000 in the Technology Challenge track for its work in building technology that combats phishing attacks and fake web page attacks.
"What we're trying to do is make software that can detect fraudulent websites by identifying visual elements of the real web pages and cross-check domain addresses," he said. "And while there are many crappy phishing attacks, there are more and more sophisticated attacks and very compelling pages. It's a big problem for the private sector, costing more than $10 billion a year, so timing is on our side."
Cleveland said he found the Venture Competition invaluable—and not only for the $10,000 in prize money, which he's using toward two full-time summer interns as well as computing infrastructure.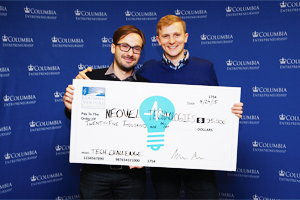 Adam Hurst (left) and Nick Petrone
"It was a great way to get focused and get feedback. There are three different rounds, and we got very useful feedback in each round," he remarked. "And it really forces you to focus on marketing. I found it really fun—stressful fun, but really fun."
And it is paying off. Pixm, which was born out of a computer vision class at Columbia Engineering, has already been contacted by two security firms, as well as a handful of other groups, without having invested anything yet into marketing. "It helped us get our message out into the world," Cleveland said.
The School's dedication to incubating startup culture in New York City and in support of its alums doesn't end there.
Both Neovel and Pixm have won space in Columbia's year-old Startup Lab, cofounded and cosponsored by the Engineering School, which offers dedicated office space in the WeWork Soho West building on Varick Street. As part of WeWork, which brings startups and entrepreneurs together in a shared office environment, the teams get desks and access to conference rooms, kitchens, and office services, as well as an open work space that encourages collaboration and cross-pollination across the different ventures through get-togethers, guest speakers, and more. They also get a big break on costs, with Columbia paying 75 percent of the normal monthly space fee.
"There are lawyers, venture capitalists; different alumni with different backgrounds spend time talking at the Lab, and it's very, very useful—you can really leverage the network," Pixm's Cleveland said. "And you're around other Columbia students and alums, and it's really a great community. You're fighting similar battles, and it's cool to be able to trade war stories."
And the Neovel team, which also uses space at the School's clean room to manufacture, agrees. "I have to be honest, as a hardware company, we have some different needs [from other startups], but being able to work out of Columbia's clean room provides that, so it's been great working out of the Startup Lab along with people from the business school and the law school," Petrone said. "For the daily operation of the business, it's been a huge support to be in that diverse environment."