The Big City Scaled Down for Sustainability
Columbia to colead $12 million livable cities research project
Sep 07 2015 | By Kim Martineau
Two-thirds of people on the planet will live in cities by 2050, but few cities are prepared for the coming population boom. A $12 million research project sponsored by the National Science Foundation (NSF) will explore a new model for urban infrastructure—the roads, pipes, and grids that move around people, food, water, and energy—to make cities cleaner, healthier, and more enjoyable places to live.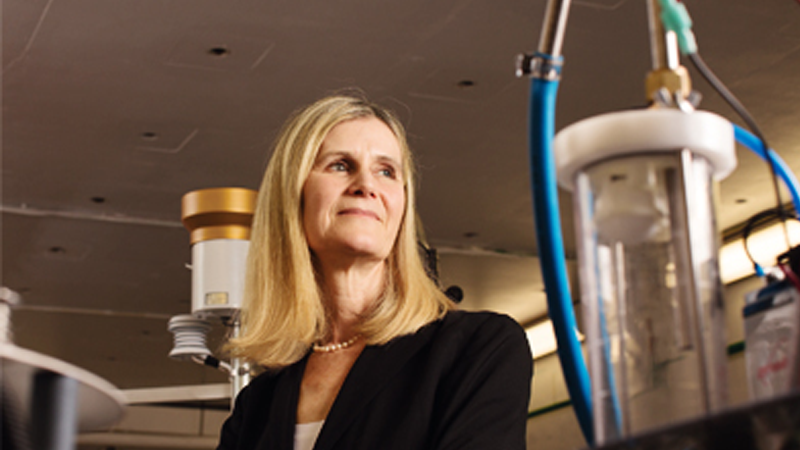 Columbia's role in the Sustainability Research Network will be to look at the potential for designated cities to scale various sustainability solutions, be it planting rooftop farms or rewiring buildings for solar energy. How much capacity is there, and how big are the benefits? The Columbia researchers involved include Engineering faculty: Patricia Culligan, professor of civil engineering and engineering mechanics and associate director of Columbia's Data Science Institute; Upmanu Lall, Alan and Carol Silberstein Professor of Earth and Environmental Engineering and of Civil Engineering and Engineering Mechanics, who heads the Columbia Water Center; and Vijay Modi, professor of mechanical engineering, who directs Columbia's Sustainable Engineering Lab.
By studying the infrastructure of cities in the United States and India, the Sustainability Research Network will identify the best mix of local and regional systems to meet city dwellers' needs. The team will also explore the community attitudes and public policies that allow cities to evolve and adapt. Over the next four years, it will develop a framework for change based on new technologies and trends already underway, including district energy systems, community solar energy, light-rail, bike share systems, and urban farms.
Cities to be analyzed include, among others, New York, Minneapolis–St. Paul, Detroit, and Atlanta, as well as cities in India with minimal infrastructure. The researchers, in collaboration with their partners, will focus on developing practical solutions that can be scaled and immediately put into action.
In New York City, Columbia has worked with City Hall, property owners, and local community groups to measure the impact of city initiatives to green the urban landscape by planting more trees and vegetation, including on rooftops and roadways. Trees and plants absorb rain and snow, reducing the amount of stormwater runoff that sewage treatment plants need to process. They also cool the air, helping to bring down temperatures on hot days. In addition to measuring the benefits of green infrastructure, Columbia researchers are studying the psychological factors that lead communities to care for city-planted trees and vegetation in their midst, protecting the public's investment. Initial results of the ongoing research highlight the importance of involving neighbors in the stewardship of green infrastructure.
The shift to a city with local and decentralized services will require technology—sensors to pull in data from solar panels, weather stations, and so on—and systems to analyze it, make decisions, and coordinate with other systems. "The Internet of Things, where sensors talk to sensors and make decisions without any human involvement, is going to be key for the city of the future," said Culligan. "Sensors on green roofs will tell sensors controlling irrigation when plants are thirsty and need to be watered."
She added, "Big data and data science will be central to all of this."
For more, visit the Data Science Institute's website.