Reshaping SEAS
School opens new student commons, more renovations underway
Sep 07 2015 | By Melanie A. Farmer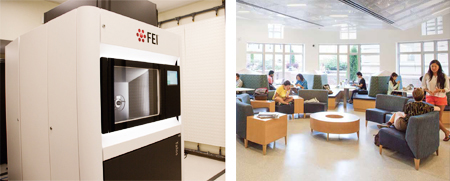 Transmission Electron Microscope; the completed Carleton Commons space.
(Photos by Jeffrey Schifman and Timothy Lee Photographers)
Those returning to campus this fall got a welcome surprise: a strikingly renovated lobby entrance into Mudd (campus level, fourth floor); an aesthetically modern new student space, Carleton Commons; and the newly opened Blue Java Café.
The former space housing the Carleton Lounge and cafeteria have been transformed into a beautifully reimagined space, comprising 2,800 square feet, with seating for 160 and areas for casual meetings, individual and group work, and quiet study. The versatile space can easily be reconfigured for special events. Adjacent to the Commons is Blue Java Café, a contemporary coffee bar that offers sandwiches, soups, pastries, salads, and even homemade cookies.
On May 1, 2015, Dean Mary C. Boyce presided over a special ribbon-cutting ceremony for the new Carleton Commons.
"The need for top-quality student space is among our most urgent," said Boyce. "These student spaces are places where we foster all the student creativity and energy outside of our courses and our classrooms. In a remarkably short period of time, we have transformed the former Carleton Lounge, the primary student space at the Engineering School, into an entirely different experience for our students."
The ceremony recognized the contributions of a group of Columbia parents—including Kaveepan and Supanavit Eiamsakulrat P'17CC, '18 and Mehmet Nazif and Zeynep Gunal P'07, '10, '12, '18—who made leadership gifts that helped make the renovation possible. "Your generosity highlights the vital role that parents and families play in our Columbia Engineering community," Boyce added.


New hallway displays; Carleton Commons student space.
(Photos by Timothy Lee Photographers)
Over the busy summer, the School also completed construction of the Data Science Institute's (DSI) main office space for its faculty, researchers, students, and staff. Located on Mudd's fourth floor, the new space comprises 8,400 square feet, including faculty offices, conference rooms, and open areas for research collaboration and meetings; the Engineering Library, which was formerly housed in that space, is now at the Northwest Corner Building. Additional DSI spaces in the Northwest Corner Building, consisting of faculty offices, labs, and conference rooms on the 10th and 14th floors, were completed by September. In addition, the fifth floor of Mudd, which consists of DSI offices and two classrooms, was also under construction over the better part of the summer. The renovated classrooms opened in time for the start of classes.
To provide state-of-the-art facilities for research that increasingly requires a contamination-free, controlled environment, an expansion of the clean room on the 10th floor of the Schapiro Center for Engineering and Physical Science Research (CEPSR) is well underway. Operated by the newly formed Columbia Nano Initiative (CNI), the CEPSR clean room is being fully renovated and expanded from 3,000 to 4,000 square feet and will provide faculty, students, and researchers the necessary state-of-the-art instrumentation and facilities to accommodate interdisciplinary nanotechnology research. It is scheduled for completion by March 2016.
Up and running in nearby Havemeyer Hall is the School's new Electron Microscopy (EM) Laboratory, in partnership with Arts & Sciences, as part of CNI. Instrument acquisition and laboratory renovations were directed by Katayun Barmak, the Philips Electronics Professor of Applied Physics and Applied Mathematics. The EM Lab includes one transmission electron microscope (TEM), a precession electron diffraction system for phase and crystal orientation mapping in the TEM, one scanning electron microscope, and a suite of sample preparation instruments.
Also included in the many upgrades and construction projects, from small to large scale, are departmental lab spaces and facilities within applied physics and applied mathematics (APAM), biomedical engineering (BME), chemical engineering (ChemE), computer science (CS), mechanical engineering (MechE), and electrical engineering (EE). This summer, renovations to BME and EE teaching labs were completed, and additional projects currently underway include build-out and renovations for optics research labs in the basement of Engineering Terrace and in CEPSR for APAM and EE, as well as wet labs upgrades in Engineering Terrace for BME.
These enhancements of SEAS spaces are just the beginning of a program of renovations, construction, and facilities upgrades, underscoring the School's mission to provide its talented student body and faculty with the facilities and resources they need to reach their full potential.