Congratulations Graduates
Sep 07 2015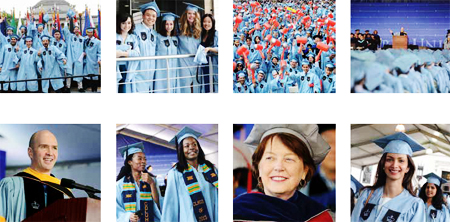 Bottom left: Class Day Speaker Ben Horowitz '88CC, cofounder of VC firm Andreessen Horowitz; Bottom, third from left: Dean Mary C. Boyce. (Photos by Eileen Barroso)
"The impact of engineering has never been more visible. Society looks to engineering for solutions to the many challenges facing our world—whether energy, water, air, the environment, food security, privacy, health, or medicine. Engineering is now recognized as a foundational degree that prepares you for any career, for any future."
—Dean Mary C. Boyce
Faculty awards were presented as follows:
Distinguished Faculty Teaching Awards
James Hone, Wang Fong-Jen Professor of Mechanical Engineering
Shree K. Nayar, T. C. Chang Professor of Computer Science
Edward and Carole Kim Award for Faculty Involvement
Martha A. Kim, Associate Professor of Computer Science
Janette and Armen Avanessians Diversity Award
Helen H. Lu, Professor of Biomedical Engineering
Rodriguez Family Junior Faculty Development Award
Christine P. Hendon, Assistant Professor of Electrical Engineering
"Following your passion is a very 'me' centered view of the world, and when you go through life, what you'll find is what you take out of the world over time . . . is much less important than what you put into the world. My recommendation would be: follow your contribution. Find the thing that you're great at, put that into the world, contribute to others, help the world be better—that is the thing to follow."
—Ben Horowitz '88CC, Class Day Speaker
For more, visit the Engineering School's website.