Class Notes: Undergraduate Alumni
Sep 07 2015
1945
Class Correspondent:
Gloria Reinish
[email protected]
1951
Class Correspondent:
Ted Borri
[email protected]
Robert A. Heller MS'53, PhD'58, professor emeritus at Virginia Tech, and coauthor Deborah J. Oakley have completed the manuscript of the fourth edition of Salvadori's Structure in Architecture: The Building of Buildings. The book is a tribute to the late Civil Engineering Professor Mario G. Salvadori, author (with Heller) of the earlier editions. The books have enjoyed worldwide popularity and have been translated into 10 languages. The new, updated and expanded edition will be published by Pearson Education Inc. in January 2016.
1953
Class Correspondent:
Don Ross
[email protected]
John Ragusa writes, "After graduation in 1953, I tried to stay out of the draft and got a job with the Corps of Engineers in New York . . . Unfortunately the army found me, took me out of the Marine Reserve that I had joined, and drafted me, as the Korean War had not "treatyed" out. After Basic, I got sent to Fort Sill, Oklahoma, as my hearing tests apparently aced the Morse Code . . . I graduated as a bona fide radio technician, got sent to Panama, and spent my Army career in the jungles protecting the Panama Canal and keeping communication gear operative. I married my wife, Edith Edwards, one week after I was released from the Army, and we will be married 60 years in January. I worked for M W Kellog Co., an engineering/ construction company, specializing in designing oil refineries, chemical plants, etc. I then spent 30 years at IBM as a systems engineer and marketing manager . . . Our four children blessed us with 10 beautiful grandchildren. Not all was happiness, as we lost a grandchild in an ATV accident, a handsome boy of 12. I designed and built my house, which we eventually sold. In retirement, I've pursued a genealogy hobby and spent 10 years as a volunteer for the Service Corps of Retired Executives, helping people with their businesses . . . It feels like it was just yesterday at Columbia."
1955
Class Correspondent:
Leo Cirino
[email protected]
Leo Cirino writes, "Please send me information about yourselves so that I can post what our classmates are doing. I have been active over the past five years starting the Westport Electric Car Club. The club has been well received by my community, and membership continues to grow. Having an engineering background in power and energy helps with understanding the technology of electric car designs. You can see what the club is doing at westportelectriccarclub.com. Please keep us updated."
Philip Bonanno MS'64, '54CC has spent his entire career in the heavy construction industry. He started as a field engineer in 1955 with the Arthur A. Johnson Corporation, a subway contractor in New York City. In 1964 he became a project manager with the Kiewit Company, and in 1968 joined the J.F. White Contracting Co. in Boston as vice president and general manager. In 1970 he became president and served in that position until 1998. He presently works as a senior consultant and also as an arbitrator for the American Arbitration Association, in addition to serving as a member of the Dispute Review Board Foundation helping review and adjudicate construction issues. He spends summers on Cape Cod and winters in Naples, FL, with his wife of 60 years, Maureen, enjoying time with his family of five children and grandchildren.
1956
Class Correspondent:
Lou Hemmerdinger
[email protected]
William Epstein '55CC writes, "My granddaughter, Rebecca Brunsberg, has been accepted by Columbia Engineering and will start at SEAS this fall. She is the seventh member of my family, including myself, to attend Columbia: my son, Eric Epstein '83CC, my brother Ira Epstein, my brother-in-law Jeffrey Rosenstock, my niece Susannah Rosenstock, and my daughter-in-law Michele Shapiro."
1958
Robert Drucker writes, "I was fortunate to escape the last weeks of a rough winter in cruising the Caribbean. The highlight of June was attending my granddaughter Moriah Albert's graduation cum laude from Boston University. Nearby, my grandson Brian Albert BS'10 (Chemical Engineering), continues his doctorate work at MIT. On the Columbia University campus, my granddaughter Blythe Drucker is currently participating in an enrichment program at Barnard."
1959
Class Correspondent:
Betsey Altman
[email protected]
1960
Bob Nelson MS'61 was recently elected an honorary member of the Arkansas Academy of Civil Engineers. Nelson retired as senior vice president of AFCO Steel, for whom he worked summers while at Columbia. He had served as chair of the AISC Nuclear Design Specification Committee. Bob has lived in Little Rock, AR, all during and after his professional career. He is still active in local civic and church activities.
1962
Class Correspondent:
Marshal (Mickey) Greenblatt
[email protected]
Lynn Conway MS'63 writes, "I so enjoyed attending our Class of '62 50th reunion in 2012. What a trip down memory lane that was! Life's been good since then. My husband, Charlie, and I are especially enjoying enhancing our 23-acre "nature preserve" in rural Michigan, just to the west of Ann Arbor. We've been together for 27 years now! Though retired as professor emerita of EECS at the University of Michigan, I also enjoy hanging out with young students and researchers there. In 2012 I finally wrote a career reminiscence about my research in VLSI microelectronics design during the 1970s. Published in a special issue of the IEEE Solid-State Circuits Magazine, it was the first time I'd felt free to tell the story of how, as the "hidden-hand" behind the scenes at Xerox Palo Alto Research Center and at MIT, I'd created, demonstrated, and widely propagated via the ARPANET the innovations that triggered the VLSI chip design revolution in Silicon Valley in the '80s and '90s. Since 2012, major recognitions have begun coming my way, including election to the Hall of Fellows at the Computer History Museum in 2014 and being awarded the James Clerk Maxwell Medal by the IEEE and the Royal Society of Edinburgh in 2015. This spring I also had the honor of presenting the Steinmetz Memorial Lecture at Union College, on the occasion of the 150th anniversary of Charles Proteus Steinmetz's birth. It was a wonderful moment of closure to participate in so honoring Steinmetz, for he's long been an inspiration and powerful role model in my own work."
Andy Levine '61CC and his wife, Toby, have been living full-time in the Berkshires since he retired from Compaq Computer (formerly Digital Equipment, now HP) in 2001. He writes, "We love it here except for winter. So our big news is that we've recently purchased a modest condo in Bonita Springs, on the west coast of Florida, about 20 miles South of Fort Meyers and adjacent to Naples. We predicted many years ago that we'd NEVER spend winters in Florida, so we've rationalized that the purchase is for our Welsh springer spaniel, Rufus, who can now accompany us in our new, dog-friendly community (his 13 years are equivalent to my 74!). Before long, we may even become Florida residents, while remaining snowbirds for the foreseeable future."
1963
Class Correspondents:
Chuck Cole
[email protected]
Mark Herman
[email protected]
Mark Herman writes, "Ronnie and I have a new granddaughter, who is about 11 months old as I write this. Charley, now 11, loves being an older sister. Our two grandsons in Massachusetts are almost adults. We like being near our son Dan, a veterinarian, and our two granddaughters, in Nashville. Our other son, Ry, a playwright-director-novelist, lives in Edinburgh, Scotland, where his wife is a research professor of astrophysics at the University of Edinburgh. Visiting the two of them is a good excuse for European trips. Nashville is a return to big-city living, after being in a small town in Michigan for 23 years. Nashville's nickname is Music City, not only because it is the country music center of the United States, but because everyone, including us, seems to be in the music business, and not necessarily the country music business. Our own music business is opera and choral translation, and we are still at it. By the time you read this, we will have had a performance of a choral work in England. Also, our book on Translating for Singing will be published in England at the end of this year or the beginning of next. I look forward to receiving news from you, about anything you deem interesting: your career, your retirement, your solution to the problems of the world. Everything will either be printed exactly as I receive it, or, if I change it in any way, will be submitted to you for your approval before I send it to the editor of this magazine. Please include your current e-mail address if you would like your fellow Columbians to contact you."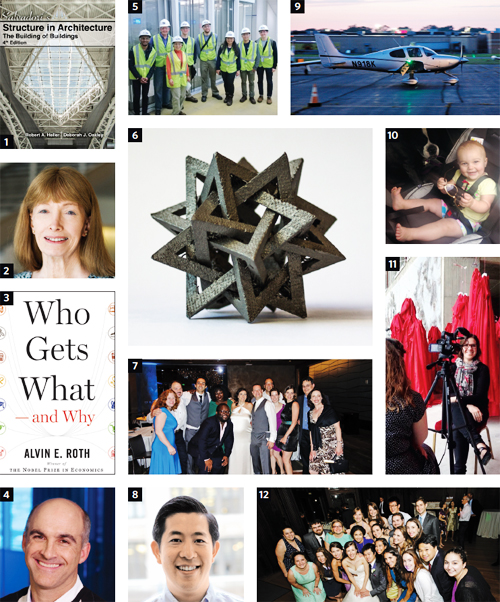 [1] Robert A. Heller BS'51, MS'53, PhD'58 completed the manuscript of the fourth edition of Salvadori's Structure in Architecture: The Building of Buildings. [2] Lynn Conway BS'62, MS'63. [3] Alvin Roth BS'71 has published a new book, Who Gets What—and Why: The New Economics of Matchmaking and Market Design. [4] Daniel Smith BS'84. [5] Alumni Host SEAS Students at WTC Transport Hub (see sidebar, top). [6] 3D printed star in stainless steel. Debra F. Laefer '89CC, BS'91 launched Ireland's first full-service, commercial-level 3D printing hub, U3D. [7] Jonathan Speier BS'97 wed last May in Florida with a number of Columbia graduates from the Class of '97 in attendance. Pictured from left to right: Allegra Blackburn-Dwyer '00BC, John O'Neill '97CC, Amir Arison '00CC, Felice Belle BS'97, Daniel Evans '97CC, Maya Arison Speier '01BUS, Jonathan Speier BS'97, Andre Avzaradel BS'97, Carter Turrell Celente '97CC, Cristina Rumbaitis del Rio '97CC, Kristian Concepcion BS'97, Anna Remet King '99CC. [8] Kevin W. Tung BS'01. [9] Nai Nan Ko BS'04 now has an aircraft rental company called JetKo. [10] Karen Ceberek BS'06 had her baby girl, Giovanna Marie, on June 9, 2014. [11] Catherine Fowles BS'11. [12] Michael Weng's BS'11 wedding: (back row, left to right) Ivy Fortmeyer '11CC, Samuel Beck '11CC, Louise Beck (née Stewart) '11CC, Kate Offerdahl '14CC, MIA '15, Brianna Morgan '12CC, Alex Lew '12CC, Nate Levick BS'12. (second to last row, left to right): Ayo Alston-Moore '11CC, Markrete Krikorian '11CC (hidden), Paul Lerner '11CC, Jenna Lauter '13BC. (next row down, left to right—starting in the center): Zoe Lubitz '11CC, Kelly Sinn '11BC, Eugene Yao BS'11, Molly Conley '10CC (front row, left to right): Aviva Hamavid '13BC, Katie Hamm '12CC, '16JD, Alyss Vavricka '12BC, Ali Hard '12CC, '16TC, Michael Weng BS'11, Nikki Lugo BS'12, Melissa Bermudez '12CC, Carolyn Bykowski BS'11 (née Popplewell).
1964
Class Correspondent:
Tom Magnani
[email protected]
Dan Lehrfeld writes, "I wanted to update you all on status and plans for our Engineering Class of 1964 Scholarship. As of this spring, its value is about $152,000 and growing. In late February my wife Lynn and I were pleased to be able to attend the annual SEAS Scholarship dinner . . . to have a chance to meet the first recipient of our Class's scholarship, and to thank Dean Boyce once again for her support for our Class's efforts.
At the dinner we met our first recipient, Sabrina Maliqi. Sabrina, her parents, and younger sister live in central Massachusetts. Her father is an ethnic Albanian refugee from Kosovo who emigrated with his wife to the USA. Sabrina told me that she is the first person in her family ever to attend college. As a survivor of the holocaust in Europe a couple of generations earlier, and refugee myself, I felt especially good about the fact that our scholarship in Sabrina's case is helping someone from similar circumstances in this generation get off to a good start as a young adult with a first-rate education. Hopefully, all of you who donated are feeling equally good to know your generosity is filling a real need. Since our scholarship continues in perpetuity, the stream of such "feel good" moments will continue too.
This year, Sabrina received $7500 from our scholarship. As the fund's endowed value grows through additional donations and income, the annual payout will increase. Several members of last year's 50th reunion committee, myself included, have already made additional donations to the fund because we would like to ensure that its endowed value and positive impact continue to grow year by year. When the fund was launched, 42 members of our class were the "initial" contributors. But for those of you who did not, or could not, contribute at that time, it is never too late! Your donations, whether small or large, all help. It would be great to see our donor list grow to include many more participants. So please include donating to the fund as part of your annual charitable giving activities.
You can donate at any time easily online. Here's how: When donating online, go to www.giving.columbia.edu. Under "School," select "Engineering and Applied Science." Under "Designation," select "Other" from the drop down list. Put in your gift value then click on the "NEXT" link on that page. On the second page, in the "Special Instructions" box, write "Allocation 32904, Engineering Class of 1964 Scholarship Fund."
I will keep you posted periodically on future expansion of our donor list and in our fund's asset value.
Best wishes to all."
1965
Harvey Rubin writes, "Our class celebrated its 50th reunion year this past May . . . It was great to see each other and to be together again, and our induction into the Golden Lions was a special treat. Quite a few of us came up to the podium that Friday evening to recall things we experienced more than 50 years ago . . . Several classmates also expressed an interest in a 55th reunion. Let us all be in shape to attend it. I can volunteer now to help organize it, but let's hear from others of you as the time approaches. We still have nearly five years to prepare . . . My wife, Connie, and I have moved from our home of 36 years in New Jersey to New York City, a plan that has been in motion for around five years . . . Now the boxes are being emptied and discarded, and we are adjusting to our new home, which happens to be in the Columbia neighborhood. Send an e-mail to [email protected] if you are coming to town."
1966
50th REUNION
To take an active role in your Class Reunion activities, please contact Jack Reilly at [email protected] columbia.edu or 212-851-0734.
Harry L. Tuller MS'66, EngScD'73 writes, "I am celebrating my 40th year as a faculty member in the Department of Materials Science and Engineering at the Massachusetts Institute of Technology. I still find the work highly stimulating, particularly given the chance to contribute to alternative energy and environmental technologies such as fuel cells, solar-assisted hydrogen production and emission, and health-monitoring sensors. I continue as editor-in-chief of the Journal of Electroceramics and take over as president of the International Society of Solid State Ionics. I look forward to our 50th reunion next year."
1968
Howard Landsman was one of 24 recipients of the 2015 Jazz Hero award from the Jazz Journalists Association (JAA), a nonprofit organization of media professionals. This award is presented annually by the JJA to recognize individuals and organizations that have made a noteworthy, positive impact on the jazz scene in their local communities.
1969
Class Correspondent:
Ron Mangione
[email protected]
1971
45th REUNION
To take an active role in your Class Reunion activities, please contact Jack Reilly at [email protected] columbia.edu or 212-851-0734.
Alvin Roth, Craig and Susan McCaw Professor of Economics at Stanford, has published a new book, Who Gets What—and Why: The New Economics of Matchmaking and Market Design (Houghton Mifflin Harcourt, 2015).
1976
40th REUNION
To take an active role in your Class Reunion activities, please contact Star Sawyer at [email protected] columbia.edu or 212-851-2402.
Bob McDonald has been promoted to professor of marketing at the Rawls College of Business, Texas Tech University.
1978
Class Correspondents:
Larry Chung
[email protected]
Peter Luccarelli
[email protected]
1979
Class Correspondent:
Stewart Levy
[email protected]
1981
35th REUNION
To take an active role in your Class Reunion activities, please contact Star Sawyer at [email protected] columbia.edu or 212-851-2402.
Class Correspondent:
James Reda
[email protected]
1982
Class Correspondent:
Dan Libby
[email protected]
1984
Daniel Smith is working as chief marketing officer at Outsell Corp and was recently accepted into the Eastern Association of Intercollegiate Football Officials.
1986
30th REUNION
To take an active role in your Class Reunion activities, please contact Star Sawyer at [email protected] columbia.edu or 212-851-2402.
1988
Class Correspondents:
Caryn Frick
[email protected]
David Shofi
[email protected]
1989
Class Correspondent:
Shreosee Roy
[email protected]
1990
Class Correspondent:
Laura Cordani Christopher
[email protected]
1991
25th REUNION
To take an active role in your Class Reunion activities, please contact Star Sawyer at [email protected] columbia.edu or 212-851-2402.
Class Correspondent:
Radhi Majmudar
[email protected]
Debra F. Laefer '89CC has brought 3D printing to Ireland by launching the country's first full-service, commercial-level 3D printing hub, U3D. Housed at the University College Dublin, where she teaches in the School of Civil Engineering, U3D offers scan-to-print services, 3D printing classes, and all major 3D printing technologies including metal printing. The endeavor is an outgrowth of her European Research Council (ERC)–funded research that developed mechanisms to auto-convert remote sensing technology such as laser scanning into water-tight models appropriate for computational modeling. The same solutions were found to be cross-applicable for 3D printed models. The hub is available for both academic collaboration and commercial work and currently boasts a staff of four full-time technicians.
1992
Class Correspondent:
Janneth Ignacio Marcelo
[email protected]
1993
Class Correspondent:
Herbert Kreyszig
[email protected]
1994
Aaron Wininger writes, "I'm coming up on a decade in Shanghai. I'm currently a partner and Shanghai representative for Perkins Coie's Shanghai office, where I practice patent law. I help U.S. and Chinese companies develop their international intellectual property strategies and build global patent portfolios. My daughter Carol just turned 10 and has an interest in the sciences and math. Maybe SEAS class of '26?"
1996
20th REUNION
To take an active role in your Class Reunion activities, please contact Star Sawyer atss[email protected] or 212-851-2402.
Class Correspondent:
Enrico Marini Fichera
[email protected]
1997
Jonathan Speier wed last May in Florida with a number of Columbia graduates from the Class of '97 in attendance.
2000
Class Correspondent:
Daisy Chow
[email protected]
2001
15th REUNION
To take an active role in your Class Reunion activities, please contact Beth Manchester at[email protected] or 212-854-4472.
Class Correspondent:
Catherine Marcinkevage
[email protected]
Kevin W. Tung writes, "I have joined Interplay Ventures as a venture partner in Q2 2015. I will be building and investing in IT companies at the firm."
2002
Class Correspondent:
John Morris
[email protected]
2003
Class Correspondent:
Amar Doshi
[email protected]
2004
Class Correspondent:
Eric Rhee
[email protected]
Eric Rhee writes, "It's been a great year for Columbia Engineering entrepreneurs in 2015. The one update I am excited to share is the story of one of the most interesting businesses I have seen by one of own, Nai Nan Ko. Over the past year, Nai has turned one of his passions into a business. As a licensed pilot, Nai has taken me for a spin on one of his Cirrus SR aircrafts. Now, he has an aircraft rental company called JetKo, based in Massachusetts, that allows pilots, both general and commercial, to experience "low and slow"—the romance of flying. Such a cool business! Best of luck on growing your business, Nai!"
2005
Class Correspondent:
Devang Doshi
[email protected]
2006
10th REUNION
To take an active role in your Class Reunion activities, please contact Jack Reilly at [email protected]or 212-851-0734.
Class Correspondent:
Nick Jennings
[email protected]
Karen Ceberek writes, "I spent nine years working for Schiavone Construction Co. LLC as a field engineer, superintendent, proposal writer, and claims administrator on major heavy civil infrastructure projects, such as NYCDEP City Water Tunnel No. 3, NYCDEP Croton Water Treatment Plant—Offsite Facilities, MTACC Northern Blvd. Crossing, and NYCDEP BT-1 Construction of Shafts 5B and 6B. At night, I completed my MS in civil engineering at the Newark College of Engineering from 2007 until 2012 at NJIT. Greg and I had our baby girl on June 9, 2014, and named her Giovanna Marie. I recently started work with Railroad Construction Company, Inc., as an estimator. I've attached a recent photo of my daughter."
2007
Class Correspondent:
Tamsin Davies
[email protected]
Ryan Weed, a USAF pilot and physicist, is working to develop the world's first antimatter rocket. In a former nuclear fallout shelter a few blocks away from Lawrence Livermore National Laboratory in California, Ryan's company Positron Dynamics is harnessing the incredible energy density of positrons (anti-electrons) to produce a propulsion unit that is 1,000 times more efficient than state-of-the-art ion thrusters; it is an engine that promises to allow spacecraft to travel faster and farther than ever before, making it possible for humans to become a truly interstellar species. Weed is a Wired 2015 Innovation Fellow.
2008
Class Correspondent:
Amy Lin
[email protected]
Mike Karp writes, "My startup spinning out of the first Cornell Tech MBA class recently presented at Columbia's Future of Innovation. We're building the world's first emotion tracking wearable for dogs, which allows pet parents to make decisions that fundamentally improve the life of their dogs. Find us at@dogstarlife or dogstar.life. We are launching a kickstarter."
2010
Class Correspondent:
Heather Lee
[email protected]
Mario Augustine Avila writes, "Even though I am no longer affiliated with the company, I am happy to write that my former company Hyliion won first place and $25K in the Columbia Venture Competition last April. Hyliion is working on creating a new type of auxiliary power unit for tractor-trailers. This win came on the heels of coming in third place in the Rice Business Plan Competition. In Houston, we won $82K in cash from organizations such as the Department of Energy, Shell Technology Ventures, and the Wells Fargo Cleantech Fund. I am transitioning away from my company but am exploring new opportunities in the California area."
2011
5th REUNION
To take an active role in your Class Reunion activities, please contact Beth Manchester at[email protected] or 212-854-4472.
Class Correspondent:
Justin Merced
[email protected]
Catherine Fowles is currently completing her MFA in creative producing at the Royal Central School of Speech and Drama in London after a successful career off-Broadway as a general manager, stage manager, and actress, which led her to theatrical producing. In London, she cofounded a company called Backstage Forward (www.backstageforward .co.uk), which focuses on the artistic integrity of backstage work and champions theatre stage managers, technicians, and designers. The company aims to produce its inaugural production in Fall 2015. She specializes in site-specific theatre, both in producing and stage managing with various companies, and is accompanying Royal Central to Prague Quadrennial 2015 as part of the educational component, SpaceLab. Hearkening back to her roots, Catherine will also be producing a new science production (currently in development) that focuses on the performative elements of the laws of physics for Science in the Spotlight, part of Edinburgh International Science Festival in 2016.
Matthew Hayto writes, "I'd love to share the progress that we've made with Taproot+ since its launch in October. Taproot+ is a matchmaking service for nonprofits and professionals in various industries who want to give their skills pro bono and is linked to the Taproot Foundation, which has been facilitating pro bono since 2001. We launched in October 2014 and have since received 800 nonprofit projects, have a pool of 4,000 professionals who want to volunteer, and have directly facilitated almost $1.5 million in pro bono service. I joined the Taproot Foundation in 2014 and am head of product for Taproot+. I encourage SEAS alumni to check out taprootplus.org to volunteer for a short project (or post one, if you're with a registered U.S. nonprofit)."
Michael Weng was wed this summer on July 4 to Alison Hard '12CC, '16TC in Groton, CT. He writes, "We got married on the day of the first hurricane of the East Coast season but are convinced it was good luck, as we were surrounded by wonderful friends and family. After honeymooning in France, we moved back to New York City and are now living on the Upper West Side. Ali started a master's program at Teachers College in Nutrition, Public Health, and Public Policy, and I continue to work for Adobe Systems. We're excited to reconnect with the Columbia community here in New York!"
2012
Class Correspondents:
Rebecca Frauzem
[email protected]
Hannah Cui
[email protected]
David C. Mills Jr. writes, "On June 9, I started a new job as a purchasing manager with Great Performances, a catering company that was rated by Zagat to be the number one in the city. Also, the one-year anniversary of my marriage was June 21. Quite a big month!"
2013
Class Correspondent:
Mary Byers
[email protected]
2014
Class Correspondent:
Victoria Nneji
[email protected]
2015
This summer, Anthony Gong is living in Massachusetts, applying to jobs, watching the Cavaliers-Warriors NBA series, and playing basketball.
Alumni Host SEAS Students at WTC Transport Hub
Civil engineering alumni and former classmates Lee-En Chung BS'88 of Ivy Ventures and Doug Taylor BS'88 of Otis Elevator Company hosted six civil engineering students for a jobsite tour of the World Trade Center Transportation Hub in April. The site, featuring an "Oculus" design with a distinctive wing-like appearance, is larger than Grand Central Terminal and will be a key portal for lower Manhattan when complete. The visit allowed the students to appreciate the importance and complexity of elevator/escalator design and construction as it relates to the project as a whole.
Both Chung and Taylor have been in the construction industry for more than 25 years. Chung, former president of Columbia Alumni in Sarasota (2008–2014), has been mentoring civil engineering students—four graduated in May—and wanted the students to witness a landmark construction site. Taylor, manager at UTC Building & Industrial Systems, parent company of Otis Elevator, agreed: "I fondly remember visiting a construction site during my senior year, and it was a great learning experience. I hope that other SEAS alumni make the time and effort to organize similar tours for our students."
Hao Pham BS'15, a civil engineering major, headed up the ASCE student chapter at Columbia and said, "The WTC Hub site visit was an amazing experience. Rarely do we get to see the construction of a multibillion-dollar project, so we were very excited and learned a lot from the visit. Big thanks to Ms. Lee-En Chung, Mr. Douglas Taylor, and Otis for making this visit possible."