A Culture of Real-World Research
Sep 07 2015 | By Jessica Driscoll
Last year, Jason Kang, a biomedical engineering junior, was thoroughly distracted from his studies—in a good way. He and two classmates undertook a research design challenge at the School to develop low-cost, technology-driven solutions for issues related to the Ebola crisis. While the pressure to balance his classes, homework, and tests with research was intense, Kang never doubted the benefit: he was in the midst of an important investigation to better protect health care workers at high risk of infection.
"The ability to apply theory to practice is an incredibly important learning tool," says Leora Brovman, associate dean for Undergraduate Student Affairs. "Columbia Engineering students have always had opportunities to work with faculty and graduate students on research—during the school year and over the summer—which prepares them to engage effectively in professional environments postgraduation."
Research opportunities for undergraduate engineering students are expected in academia. Lab experiences with faculty research mentors and project teams offer students a peek into the culture of research and a real-world look at engineering careers. They can also inspire a deeper connection to engineering as a way to solve problems that affect people.
Two years ago, the School made a commitment to support even more hands-on research opportunities for undergraduate and graduate students, providing matching funds to departments and principal investigators to hire students for the summer.
The School's new Summer@SEAS research program—a 10-week series of faculty research seminars, lab visits, scientific workshops, student exchanges, and cultural outings—provided students with opportunities to learn about others' rich and diverse research experiences.
"Summer opportunities are as extensive and diverse as our faculty's research," says Brovman. "There are projects in every department, in various institutes, and in cross-disciplinary areas."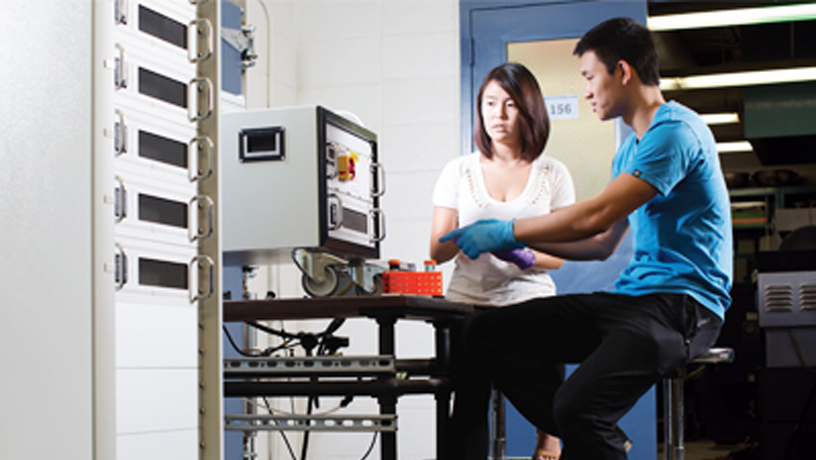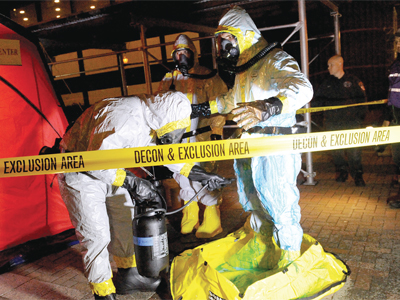 The Fire Department of the City of New York has incorporated Highlight into their decontamination protocol.
(Photo courtesy of FDNY)
Approximately 150 students were engaged in research at SEAS over the summer. "Doing research over a concentrated period of time, without interruption from other responsibilities, allows students to really have an immersive experience," notes Brovman.
Scientists with a Social Conscience
Kang, now a senior, stayed local this summer to continue the research he began during the School's Ebola Design Challenge last fall.
His team—which includes Katherine Jin '16CC and Kevin Tyan '16CC—developed an innovative solution to the problem of ineffective decontamination processes threatening health care workers' lives. The team strives to perfect Highlight, a colored powdered additive that, combined with bleach, allows workers to see that a surface has been fully decontaminated.
"We were vetted and supported by professors, infectious diseases experts, first responders, and field workers during the challenge," Kang explains. "We spent a lot of time testing different formulations to achieve our current formula. Now, we're conducting research to validate Highlight against a variety of environmental factors and field-testing to assess its ease-of-use and efficacy."
From the time he started at Columbia, Kang had a strong interest in developing technologies that could improve global health. He also serves as the vice president of engineering at Jibon Health Technologies, a Columbia Engineering graduate–founded company that makes a device to manage postpartum hemorrhage.
"Hands-on training is extremely important because it allows you to better understand the material you're working with, what you should be looking for, and what needs to be done next," says Kang. "Columbia has been immensely helpful in helping us promote our project and connecting us with partner organizations. It is one of the best places to pursue entrepreneurship with a social impact."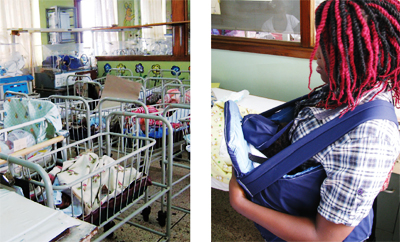 Far left: the Special Care Baby Unit at Mulago Hospital in Kampala, Uganda, where Aaron Kyle and his students have traveled to test their low-cost neonatal care devices. Left: a Ugandan mother using a student-designed neonatal transport unit.
(Photos courtesy of Aaron Kyle)
Aaron Kyle, senior lecturer in biomedical engineering and Kang's adviser for Highlight, knows firsthand the value of getting students involved in research. His two-semester biomedical senior design course emphasizes socially conscious research.
For the last few years, the class has worked with Mulago Hospital in Uganda and the Columbia Medical Center to develop low-cost neonatal care devices that satisfy the specific needs and constraints of the country. Through this partnership, Kyle's students have developed neonatal transport units that stabilize babies and help maintain their body temperature on the way to the hospital; portable, low-cost phototherapy units that can be placed over the crib or under the bodies of jaundiced infants to treat excess bilirubin before it progresses to dangerous hyperbilirubinemia; and vital-sign-monitoring mats that can measure babies' breathing, heart rate, and temperature without the need for expensive equipment.
Over the last year, Kyle and his students have begun working closely with the Uganda Industrial Research Institute (UIRI) to create innovative devices that align well with the Ugandan infrastructure—ensuring they can be manufactured and sold sustainably within the country. Neonatal care will continue to be the focus, and Kyle recently secured funding from VentureWell—a nonprofit education network—that will allow him and his students to travel to Uganda next June to see the country's needs and test their devices firsthand.
As of July, Kyle already had 50 students enrolled in his fall senior design course, and some already had jump-started their projects with calls and Skype sessions with Ugandan partners.
"If we help save or improve the life of even one baby, then we've made a huge impact," says Kyle. "I think our students have an altruistic spirit. They want to use their engineering skills to help people, and they're excited to do something impactful."