Qualcomm Innovation Fellowship
Columbia Engineering Boasts Trifecta of Qualcomm Fellowship Wins
Nov 29 2014 | By Amy Biemiller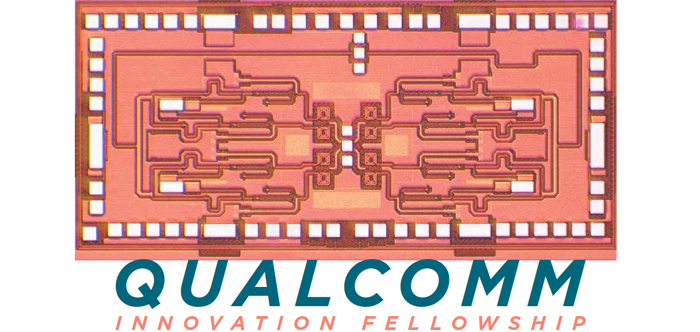 For three years in a row, Columbia University PhD researchers have beaten the odds to secure a coveted fellowship sponsored by a world leader in digital communication. It's a win for both the researchers and the company, which recognizes that finding better solutions that meet new requirements requires the sort of fresh thinking and creative approaches that aren't necessarily corporate grown.
Qualcomm Incorporated's Innovation Fellowship is open by invitation to students from a variety of top international schools. The competition annually awards a $100,000 prize to pairs of students for research proposals that most impress the fellowship committee judges.
"We want to establish strong relationships with top research institutions, such as Columbia University, so as to expose our own researchers to the cutting-edge research being done in academia," says Aaron Klein BS'04, MS'05, PhD'10, staff engineer at Qualcomm Corporate Research. "One way we do that is through our Innovation Fellowship for PhD students."
The competition for the fellowships is fierce. This year there were nine winning teams selected out of 137 submitted proposals.
"Qualcomm inventions helped launch the mobile revolution and can be found in billions of devices around the world, from smartphones and tablets to cameras and cars," explains Klein, who has been the fellowship point of contact for Columbia Engineering since 2012. "This fellowship program helps us continue to push the boundaries of possibilities and further research and development."
For Qualcomm, the program allows hardware, software, and systems engineers to get a deeper look into the research happening at leading universities and helps form collaborative relationships between Qualcomm and academia.
"I like to interact and have discussions around challenging topics with talented students and their professors," says Andrzej Partyka, a research and development engineer at Qualcomm and fellowship mentor. "I gain new insight and I also get to share my experience."
Being selected for a fellowship not only substantiates the winning students' research goals but adds prominence to the universities that are represented.
"The Qualcomm Innovation Fellowship identifies research proposals of a fundamental nature that have the potential to revolutionize technological areas that are of interest to Qualcomm," says Harish Krishnaswamy, assistant professor of electrical engineering at Columbia Engineering. "Consequently, it is simultaneously a validation of the innovative nature of the ideas pro-posed and of their usefulness to real-life applications."
Krishnaswamy has firsthand knowledge of the value of that partnership: He is the PhD adviser to Anandaroop Chakrabarti who, along with Mehdi Ashraphijuo, advised by Xiaodong Wang, professor of electrical engineering, won the 2014 fellowship for their Massive Millimeter-Wave MIMO for 100G Wireless project.
Millimeter-wave technology refers to the use of frequencies for wireless communication that are an order of magnitude higher than what is used today in cellular phones and WiFi. Going to higher frequencies enables higher bandwidths and data rates. MIMO or multiple-input, multiple-output technology refers to the use of multiple antennas to establish many parallel streams of communication, further increasing bandwidth.
"This project proposes novel hardware and signal processing methodologies that will enable citywide wireless links supporting enormous data rates. This could form the backbone of future wireless networks that provide more mobile device capacity for users," Krishnaswamy says.
That's tech research that appeals to Qualcomm, which has been an industry leader in improving WiFi performance and creating new ways for WiFi networks to operate.
"This Columbia research is just the type of project we look for to contribute to our success in emerging research areas," Klein says.
In the previous two years, Columbia electrical engineering PhD candidates Sunwoo Lee and Michael Lekas have won the fellowships for their proposals to use graphene devices to enable more versatile wireless circuitry and to make filters more flexible.
"These impressive showings three years in a row reflect Columbia Engineering's consistently excellent quality of research and focus on innovation," Klein says.
Pictured above: This prototype is a Power Amplifier operating at 45GHz with a record output power of 0.5Watt and was developed in Prof. Krishnaswamy's research group as part of the DARPA ELASTx program. (Image provided by Anandaroop Chakrabarti)