Program Notes: Graduate Alumni
Nov 14 2014
Civil Engineering and Engineering Mechanics
Eleni Chatzi PhD'10 writes, "Since my graduation in 2010, I have been an assistant professor, holding the chair of structural mechanics at the Department of Civil, Environmental and Geomatics Engineering at ETH Zurich. I am the principal investigator of a group of PhD students and postdoctoral researchers focusing on the development and implementation of methodologies for the monitoring and life-cycle assessment of structural systems. Our work deals with the observation of large-scale infrastructure components such as bridges and buildings, and the extraction of metrics that relate to their way of deforming and correspondingly to their condition, strength, and potential weaknesses or deterioration. I am very happy to be in a position that offers the benefit of daily interaction with young minds whom I aim to serve through innovative teaching and research."
Kira (Schiavello) Larson MS'09 and her husband Preston are incredibly excited to welcome their daughter Kaylen Marie to the world! Kaylen was born on July 3, 2014 (one day before their three-year anniversary) at 11:11 a.m., weighing 8 lbs., 2 oz. The family is currently living in Morristown, NJ, with their two dogs, Shelby and Ruger. Kira is a bridge engineer at HNTB, and Preston is a regional account director for the Lexus account at Team One. They look forward to bringing Kaylen to her first Columbia Homecoming game this fall, where she will be decked out in Lions gear to represent the Class of 2036!
On March 14, 2014, Michael Lubin-Novosielski MS'12 and Jaya Singh MS'12 were married in New York. Michael is a senior consultant with Oliver Wyman Financial Services, while Jaya is a product manager with Alcoa. Computer Science A team from the Center of Computational Learning Systems (CCLS), which includes Apoorv Agarwal MS'09 as the entrepreneurial lead and Manoj Pooleery as the PI, was recently awarded an NSF I-Corps grant. Apoorv writes, "The main purpose of I-Corps is to encourage researchers to step out of the building and talk to real customers to understand how the research being developed in labs may be commercialized to solve realworld challenges." The grant runs from July 2014 through December 2014.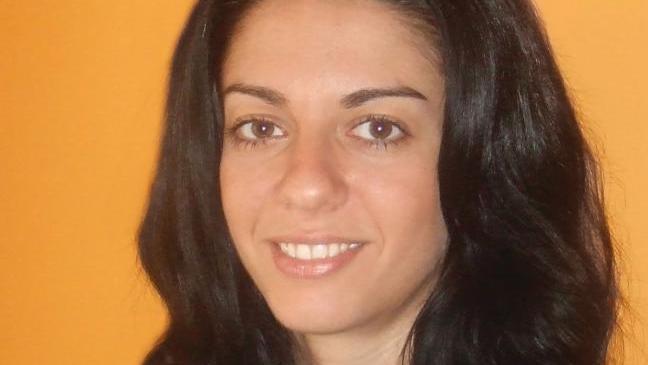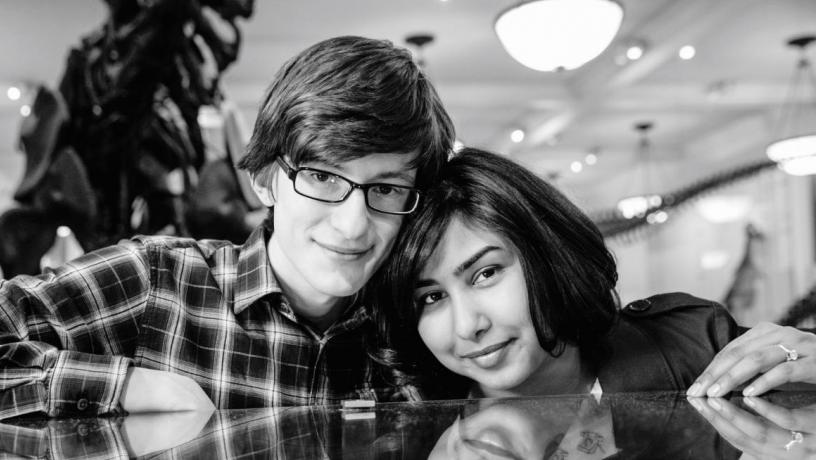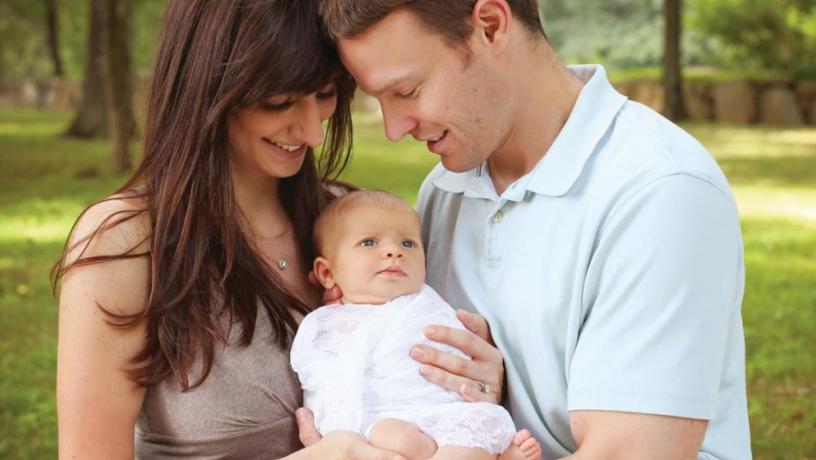 Computer Science
A team from the Center of Computational Learning Systems (CCLS), which includes Apoorv Agarwal MS'09 as the entrepreneurial lead and Manoj Pooleery as the PI, was recently awarded an NSF I-Corps grant. Apoorv writes, "The main purpose of I-Corps is to encourage researchers to step out of the building and talk to real customers to understand how the research being developed in labs may be commercialized to solve realworld challenges." The grant runs from July 2014 through December 2014.
After graduation, Maria del Pilar Molina Lopez MS'14, who goes by Pilar, joined Walt Disney Animation Studios as assistant technical director. She writes, "I moved from New York City to Los Angeles right after I graduated. It was an amazing opportunity to work for Disney. At Columbia, I was fortunate to work with Professor Eitan Grinspun in the Columbia Computer Graphics Group. I really enjoyed working there and I'm sure it gave me skills and knowledge to develop my work at Disney. I am currently working on technology for Disney's next animated feature films and loving every minute of it!"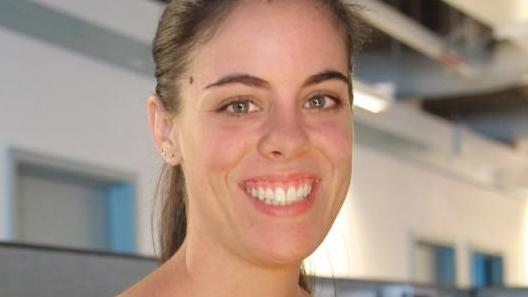 Earth and Environmental Engineering
As of July 1, Claudine Ellyin MS'12 has been R&D manager at Sustainable Waste Power Systems (SWPS). SWPS has the first high-performance on-site wet waste gasification system, patented as the Garbage In Power Out (GIPO) process. Its first commercial product is called the Modular Core (ModuCore). SWPS will have the GIPO ModuCore systems in commercial operation this fall 2014 at Tuthilltown Spirits in Gardner, New York. The ModuCore unit destroys the wet grain waste in a clean and effective manner leaving only clean water and fertilizer grade mineral ash. The process of waste destruction will provide nearly all of the heat required by the distilling process while eliminating energy and cost associated with waste dewatering and disposal. Claudine writes, "SWPS continues to partner with breweries, distilleries, and wineries to install the GIPO ModuCore systems to process distillation mash waste and provide heat to the processing facility. It is also currently targeting the agricultural waste industries since in the U.S. alone, animal farms generate more than a billion tons of waste each year. In addition, SWPS has donated the prototype of the system to the City College of New York, which will result in the creation of a center of excellence around wet gasification technology."
Industrial Engineering and Operations Research
Dimitri Mongeot MS'08 writes, "After trading USD interest rates swaps in New York with ING Financial Services for three years and Societe Generale for one year, I moved to London for a year and then to Hong Kong, where, since September 2013 I've traded USD/AUD and NZD interest rates swaps as well as U.S. Treasury notes."
Lawrence Spokony MS'83, MBA'86BUS is currently serving as corporate director of Mergers & Acquisitions for Huntington Ingalls Industries (HII).
Don Sutaria (ProfDeg'70) is founder and president of CareerQuest, located in New York and New Jersey. Also known as Career Doctor Don, he is a consultant to individuals and corporations offering executive coaching and career management services. He is the author of Career and Life Counseling from the Heart (Your Career Is a Pathway to Your Soul!) and has been quoted in numerous publications including the Wall Street Journal, New York Times, Working Smart, and Fortune.
Don is also a member of Columbia Career Coaches Network. His areas of expertise are career assessment, job search strategies, changing careers, résumés and cover letters, salary negotiation, executive coaching, reentering the workforce, work/life balance, self-employment, and age issues. His specialties also include counseling of international professionals, Generation X and Y, people over age 40, mid-career executives, career changers, freelancers, and consultants.
His portfolio of clients includes a broad spectrum of professionals in various age groups. Prior to starting CareerQuest in 2001, Don served for 35 years in various ascending positions in engineering and management in the pharmaceutical, fine chemical, food, beverage, and brewing industries, in companies such as Pfizer, Hoffman-La Roche, CPC International, and Schaefer Brewing. He also worked internationally in engineering, design, construction, and consulting firms.
Mechanical Engineering
Vito Agosta PhD'59, writes, "This year I received an award for the most innovative patent for energy and environment—Long Island Technology Hall of Fame, 2014 Most Innovative Patent Award for U.S. Patent No. 8,495,974 Fuel System and Method for Burning Liquid Ammonia in Engines and Boilers. I was pleased in that it contained 26 claims, all awarded. Presently I am working on the use of urea as a fuel in diesel engines. I am 91 and wonder how long I can continue this work which I enjoy."
Wilmouth Elmes MS'80 writes, "Last summer I had a wonderful and rewarding opportunity to sit on the SEAS committee that reviews senior Engineering students' design projects. As associate vice president of MEP Engineering & Technical Services here at Columbia University's Manhattanville group, there are always engineering analysis and studies that I am interested in pursuing or evaluating, but unfortunately do not have the time to undertake due to scheduling limitations. Professor Robert Farrauto of the Environmental Science Department asked if I had any studies that students could help with, so they could gain real-world experience and add to their CVs. I jumped at the opportunity. As a 68-yearold this past April with over 47 years of professional engineering expertise, and as a Columbia alum with an MS in mechanical engineering now pursuing a professional degree in mechanical engineering here at Columbia, the experience with the students is one that I will always cherish. I can honestly say without any reservation whatsoever that it was the highlight of my career (imagine that). These engineers (men and women) were some of the most talented individuals I have had the pleasure to collaborate with." Some of the projects the students worked on involved evaluating the feasibility, capital cost, greenhouse gas reductions, and annual energy savings for developing a large solar farm consisting of panels on Manhattanville buildings' roofs and south facades, and comparing the results to the current Manhattanville energy plant that uses hydrogen carbon-based fuels. Another project, for example, involved evaluating the feasibility, capital cost, and energy savings for developing a wastewater treatment plant that would treat local groundwater for use in site irrigation, plumbing in future Manhattanville housing projects, and building cooling towers."
Wilmouth adds, "Each of the student teams visited Manhattanville to closely collaborate, and each team formally presented final reports to me and the Engineering committee. Their work was so professionally done that no one would be able to guess that these were graduating seniors. Bottom line: what a great way to go when nearing the end of your professional career here at Columbia."
Yi Zheng PhD'14 writes, "I was a PhD candidate supervised by Professor Arvind Narayanaswamy in the Department of Mechanical Engineering and defended my doctoral dissertation in the summer of 2014. Currently, I am a tenure-track assistant professor in mechanical engineering at University of Rhode Island. My research falls into the area of thermal science. It seeks to discover the nature of enhanced thermal transport phenomena and to develop novel techniques to investigate energy and momentum transfer at micro/nanoscopic length scale."
Sibylle Delaporte MS'10 joined Arianespace right after graduation. She writes, "My work was essentially to manage the mechanical assembly of launch vehicles at the European Space Center located in Kourou and to launch them. Who could imagine a more interesting assembly line with such great fireworks at the end? I love the experience of seeing the rockets that I help assemble ascend through the atmosphere and into space, and the release of tension when the mission is successful. I also participated in the preparation of the Soyuz rocket at the Russian cosmodrome in Baikonur, Kasakhstan. Russians have a different working style, but cooperation between space partners always prevails over difficulties in order to achieve the common goal of access to space and space exploration for peaceful purposes."
In 2012, Sibylle moved to Kourou to be a combined operations manager, which makes her the liaison between the spacecraft manufacturer and the launch team for preparing and carrying out the combined launcher/payload operations. She also coordinates all the teams working on the assembly, integration, and testing of the upper part of the launch vehicle.
Sibylle writes, "Launching rockets to space is not routine. All launch campaigns have their share of technical challenges; success is based not only on extensive engineering and cuttingedge technology but also on the professionalism and dedication of many people. What I really enjoy is the chance to work in a multicultural environment with satellite teams coming from all continents. For me, launching satellites into space is above all a human experience."