The Next Generation
Nov 29 2017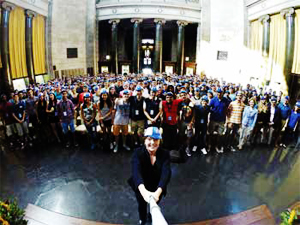 For many, garbage is just garbage; for Henri Dwyer, it is a chance to make a difference in the environment and the world.
Marking the official start to the academic year, the Class of 2018 posed for a group selfie with Dean Mary C. Boyce at the School's annual Academic Assembly. The program, held in Low Rotunda August 26, served as an official welcome to the new class of first-year students, and an introduction to their exciting year ahead.
To an audience of approximately 300 new students, Dean Boyce said, "As you each have come to realize, engineering is critical to our world's future. The impact that each of us can have by bringing engineering solutions to the many key global challenges facing the world today has never been more important."
As a tradition, members of the Class of 2018 received a commemorative beanie to mark their entry into the Columbia Engineering community. Once a mandatory accessory at Columbia, the beanie is now a souvenir for incoming first-year students. This year's is slightly more special as it displays the School's 150th logo in honor of its sesquicentennial.