Jonny Cohen
Sophomore Mechanical Engineering
Nov 29 2017 | By Dave Meyers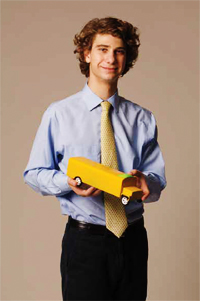 A student entrepreneur on the move, Jonny Cohen was a featured speaker at TEDxRedmond, which highlights the unique inspiration, activism, and drive of young people. He was named to the 2013 and 2012 Forbes 30 Under 30 Energy List for his work in green technology, and also serves as CTO at Ecoviate, a green tech start-up.
Although Jonny Cohen, a sophomore at Columbia Engineering and founder and CEO of GreenShields Project, is the father of an environmentally friendly transportation innovation, in many ways he is still stuck in grade school. That's because his invention identifies and solves a major problem with which all school districts are faced—the costly inefficiencies of operating school buses.
Cohen's creation, GreenShields, resembling a yellow shark fin affixed to the upper front portion of a school bus, is an aerodynamic device that has been tested and shown to improve the gas mileage of school buses by 10 percent. Those results are attributed to GreenShields' unique shape, which redirects air pressure at the top of buses to reduce fluid separation and lower the coefficient of drag. As a result, buses require less energy and fuel to move through space.
"GreenShields are painted yellow, but there's a reason why they're actually green: If every bus in America adopted this technology, atmospheric carbon emissions could be annually reduced by 1.8 million tons!" Cohen exclaims. "Furthermore, schools in the United States would collectively save nearly $300 million each year."
What makes Cohen's creation even more impressive is the fact that it was first imagined when he was just 12 years old. "I was walking home from school one day in seventh grade and I was thinking about a Saturday enrichment class I was taking on aerodynamics," he recalls. "I noticed a box-shaped school bus parked in front of my junior high and I thought its design could be improved." Since then, GreenShields has undergone several remodeling phases. Now in its fourth iteration, the fiberglass and epoxy resin device is nearly market ready.
"Regulatory restrictions have definitely delayed the production process, but I'm confident that GreenShields will be able to appropriately address regulations and persevere, as great progress has already been made," explains Cohen. "Although GreenShields are not yet commercially available, we expect the cost to be somewhere around $500 per unit. At that projection, for buyers, each unit would pay for itself in less than a year."
His innovation captured the attention of the Helen Diller Family Foundation, which awarded him $36,000 this year for tackling global issues and creating lasting change.
In addition to his responsibilities as a student and an entrepreneur, this year Cohen attended meetings as a Youth Advisor to the USA Science and Engineering Festival. He is also keeping himself busy by managing consumer demands. "Each day, my email fills up with requests for GreenShields, so I'm doing my best to get them on buses as soon as possible." With so many duties, Cohen admits that it can be difficult to balance the demands of school and business, but he humbly confirms that there is no place he would rather be to face those challenges.
"Columbia Engineering is the perfect climate for fostering the entrepreneurial aspirations of its students because it provides an incredible education, its professors are remarkably supportive and accommodating, and it's located in a major city, where, if you try hard enough, you can meet almost anyone," he says. "I am very lucky to be a part of such an amazing university."