Jennifer Mahan
Senior Civil Engineering and Engineering Mechanics
Nov 29 2017 | By Janet Haney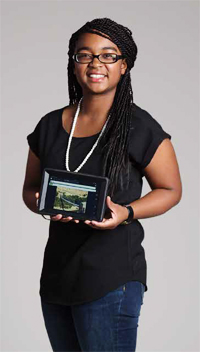 A team of Columbia EWB students, professional engineers, and local community members in Ait Bayoud, Morocco, collaborated to complete the 210-ft footbridge in June 2013.
Jennifer Mahan's visits to Morocco through the School's Engineers Without Borders (EWB) chapter and time as a Columbia Engineering student have brought her closer to a key goal: making a societal difference through her love of engineering.
"Before I got to Columbia I was really interested in finding a balance between engineering and community service," says Mahan, who has already traveled to Morocco three times as an active EWB volunteer. "Columbia encourages engineers to see the bigger picture, not just the equations and the problems, so that we also . . . understand the larger social, political, and topical issues that we'll be working on in that environment."
Mahan, a senior in Civil Engineering and Engineering Mechanics, studied Arabic in Morocco on a State Department scholarship the summer before arriving at Columbia. The St. Louis native has since been heavily involved with EWB's suspension bridge building project in Ait Bayoud, a rural community in Southern Morocco.
"It was Engineers Without Borders and working on the bridge project that helped me decide on civil engineering as a major . . . and it pushed me further into structural engineering specifically," Mahan says.
The 210-foot suspension footbridge was built using synthetic cables—donated by adjunct professor of civil engineering and engineering mechanics and acclaimed bridge engineer Theodore Zoli—as a sustainable alternative to steel cables. The bridge was completed in June 2013, and Mahan remains the project's co-lead and heads maintenance and operations from her Columbia base. For Mahan, witnessing firsthand the direct impact of her actions as a volunteer in the community is significant.
"About 2,400 people can now use the bridge to get from one side of the market and back, get to the health clinic, and get to the school," she says. Without the bridge, people had difficulty accessing much-needed resources during the region's three-month, flood-prone rainy season.
Mahan's attraction to engineering started in high school when she took an interest in physics and engineering. Recent internships have given Mahan real-world experience and have helped further solidify her desire to make a difference through engineering. In the summer of 2013, she was a cost-estimating intern with Metropolitan Transit Authority (MTA) Bridges and Tunnels, right on the heels of Hurricane Sandy.
"It was really interesting being at the center of these construction projects and seeing how they were going about addressing the issues," Mahan says, referring to post-hurricane activities.
Her most recent internship was the exact opposite from the MTA. She was an intern at Gannett Fleming, a global infrastructure firm, where she had a more technical role, getting involved with the firm's structural projects.
This rising star and recent American Council of Engineering Companies scholarship recipient still finds time for extracurricular activities such as Columbia Youth for Debate and Columbia Faith and Action.
With all her hands-on and classroom involvement, Mahan pointed out that EWB is one of her most rewarding Columbia experiences to date.
"Working with Engineers Without Borders has validated my hope and belief that engineering can have a direct and positive impact on the lives of people around the world," Mahan says. "I like that we do more than provide a technical understanding of the project—that we actively engage in a dialogue with community members to find the best solutions to the problems as a team."