In Full Swing—Entrepreneurship at SEAS
New co-working space for young alumni start-ups, the latest in a string of entrepreneurship activity at SEAS
Nov 30 2014 | By Melanie A. Farmer
Columbia Engineering's thriving community of alumni entrepreneurs has a new home in New York City's exciting tech start-up scene.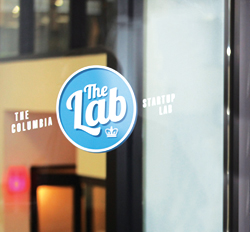 Located on the ground floor of the WeWork Soho West building on Varick Street, the new Columbia Startup Lab is home to 43 teams of Columbia entrepreneurs, including 24 seats devoted to Engineering alumni. The tenants represent a range of ventures, from sports and fashion to technology and health. In addition to discounted office space, the tenants receive practical business support, specialized training, and the opportunity to collaborate and network with fellow entrepreneurs. Each start-up team—representing not only the Engineering School but also Columbia Business School, Columbia College, and the School of International and Public Affairs—was selected through an application and interview process held in the spring. The qualified entrepreneurs have graduated from the University within the past five years.
The Columbia Startup Lab is just one of the many ways in which the School supports and promotes entrepreneurship. Offering a unique roadmap for its students, alumni, and faculty to pursue their innovative business ideas, the School hosts the Fast Pitch Competition, cohosts the Columbia Venture Competition, provides the Ignition Grants program, which funds ventures started by current Engineering students, and the Res. Inc. program, which is a residential community of engineering students interested in entrepreneurship. New this fall, the Columbia Makerspace, housed on the 12th floor of the Mudd Building, is giving students a dedicated place on campus to collaborate, learn, explore, experiment, and create prototypes.
Announced earlier this year, 13 early-stage start-ups, led by SEAS students, have collectively received nearly $135,000 in cFUND Ignition Grants out of a pool of some 70 applications. Grant recipients' start-up ideas ranged from new text-to-image software to innovative health care web applications and 3D sculpture reproductions brought directly to the user.
It is, indeed, an exciting time for budding CEOs at the Engineering School.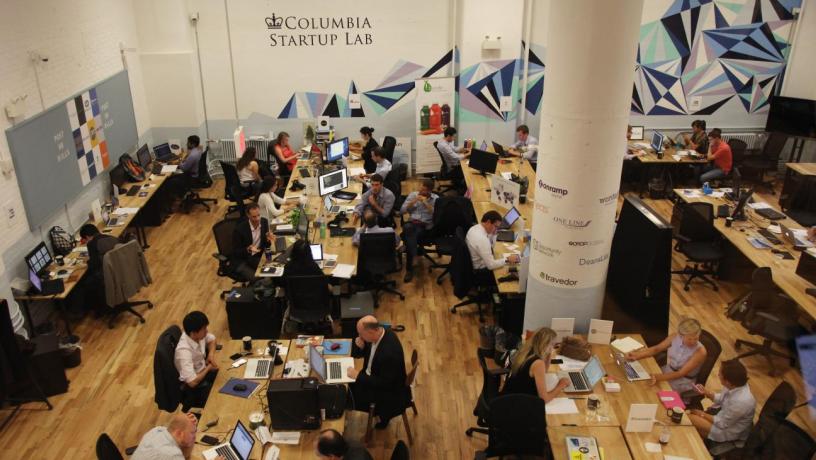 Ken Kruger MS'12 and cofounder Houtan Fanisalek say the unique opportunity to work in a shared space at the new Columbia Startup Lab has fueled their productivity. The duo's start-up, SideProjects, develops applications using a mobile framework for movement detection that utilizes sensors in wearable tech gear. Their dance app, TwerkMeter, popular among the 13- to 17-year-old female set, is a mobile dance game that directs users to perform specific dance moves as a song plays.
"Prior to working in the Columbia Startup Lab, I was working out of my bedroom," says Kruger, who earned his master's from the School in operations research. "The Columbia Startup Lab has provided two critical resources—a place to work and a sense of community. Since moving into the space, my productivity has skyrocketed. There's something about working around other hardworking people that makes a big difference."
The founders of NeuroScout, Jordan Muraskin BS'14 and Jason Sherwin, could not agree more. Even after just a few weeks in the Startup Lab, they were more energized about their company. Muraskin and Sherwin, under faculty adviser Professor Paul Sajda, have developed an applied brain-computer interface to track perpetual acuity while making rapid decisions.
"This is how innovation happens—it needs to be left alone in the right sandbox with access to the right toys. Columbia is doing that," Sherwin says.
"Working together with other start-ups is very motivating," adds Niran Shrestha, who cofounded OnTarget, the developer of cloud-based project management software for the construction industry. "During the early stage of bootstrapping and growth, it is essential to maintain a focus and learn from the successes and failures of your peers. The Startup Lab is the ideal place for such inspiration."
At the official July 15 ribbon-cutting ceremony for the startup lab, Dean Mary C. Boyce gave an overview of some of the Engineering alumni start-ups and underscored the School's dedication to innovation and entrepreneurship.
"In today's economy, inventors must also be entrepreneurs if their ideas are to become practical innovations in the marketplace," Boyce said. "So, in training tomorrow's leaders, at Columbia Engineering we firmly believe entrepreneurship education and support are essential." With the Startup Lab, "Columbia innovators now have a powerful home base for their businesses," she said. The School "is proud to be part of such a bold endeavor, and we look forward to seeing the products and services that will grow here in the years to come."
Teams from the Engineering School that have earned seats at the Startup Lab focus on innovations in mobile networking, social media development, restaurant management, and patient care, to name a few. They are co-working in the WeWork space with other like-minded entrepreneurs, and for one year, will have access to training and information sessions provided by Columbia faculty and alumni on topics including intellectual property and strategic planning. Networking opportunities and meetups with other Columbia entrepreneurs and alumni mentors will also be available to the start-up teams.
For many of these young entrepreneurs, joining the new facility marks a big step forward in achieving a lifetime goal.
"I always knew I wanted to run my own business," Kruger says. "I got into engineering because I like to build cool things. Building a business can be surprisingly similar to building a computer, but instead of arranging electrical components and wires, you have people and relationships. Combining engineering and business gives me a creative outlet, allowing me to express myself and share my work products on my own terms. And, really, it's just a lot of fun."