Haoqian Chen
PhD Candidate Biomedical Engineering
Nov 29 2014 | By Amy Biemiller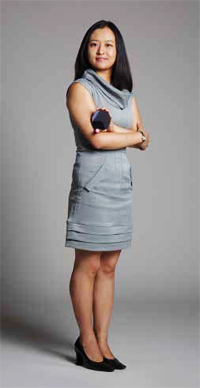 Haoqian Chen uses the circular silicon wafer, with micro-scale patterns, to control the spatial cues that T-cells experience. By understanding how Lck activity—and by extension, cellular activation—changes under different spatial conditions, she hopes to immunoengineer T-cells for specific applications.
Haoqian Chen MS'12 is on a mission to serve others. From volunteering to combat homelessness and AIDS in New York City, to getting hands-on in rural Nigeria to help set up a community-based ceramic water filter business, this PhD candidate is driven to participate in the community and give back. That personal engagement doesn't just fulfill the very large heart of a young researcher. It also serves to inspire her work in immuno-engineering.
"In giving back to my community I get inspired by my colleagues and collaborators, doctors and social entrepreneurs who live to serve the most disadvantaged," she states. "Their selfless dedication gives me the encouragement to push further in research."
That inspiration is helping to drive Chen's work in improving cellular therapy for cancer treatment. Chen is focusing her research on applying a patient's own immune cells, also called leukocytes, to fight cancer, which could reduce the need for traditional chemotherapy and radiotherapy treatments that can kill cancer cells but also harm healthy cells.
"Almost everyone knows someone affected by cancer," she says. "I'm drawn to cellular immunotherapy because it harnesses the patient's immune system to target the cancerous cells directly. It's an exciting and burgeoning area of study and represents an area with much potential to help society."
Chen is diving deep into this innovative science, studying the process in which the body's healthy leukocytes, specifically T lymphocytes or T cells, are triggered. T cells are the natural defense to infections, and Chen hopes to gain fuller understanding of how the body kick-starts their development. By doing so, she expects to learn how to make these cells even more effective in fighting cancer.
"I am studying how the Lck protein (lymphocyte-specific protein tyrosine kinase), which is involved in the signaling process of certain T cells, activates a cascade of biochemical signals that initiates T-cell activation and multiplication," she explains. "I am focusing on how external cues change the dynamics of Lck activity."
Her current goal is to develop a biosensor, a novel synthetic molecule that reports the activity of Lck in real time.
"By deepening our understanding of how Lck—and to an extent, cellular activation—responds to external cues, we hope to immuno-engineer and manipulate T cells for greater clinical efficacy," she says.
Chen's work in this innovative field caught the attention of the National Science Foundation (NSF), which awarded her its Integrative Graduate Education and Research Traineeship as well as its Graduate Research Fellowship.
"I feel really honored to receive this support from the NSF and am thankful to my advisers and mentors who cultivated my interest in research," she adds.
Chen's passion for translational research that can improve the human condition can be exhausting. "In lab work you have to maintain your optimism that someday your experiments will yield good results," she says. When she needs to pump up that optimism, Chen takes a break and volunteers with an organization that mobilizes New Yorkers to make a difference in their communities.
"I'm in the process of getting my puppy, a Shetland sheepdog named Leukocyte, trained and certified as a therapy dog," she reveals. "Once he's trained, we'll participate in sessions that encourage literacy by allowing children to practice their reading by reading aloud to their canine buddies."