Donor Spotlight
The Power of Community
Oct 15 2020 | By Nicole Yarnold | Photo Courtesy of CUAAHK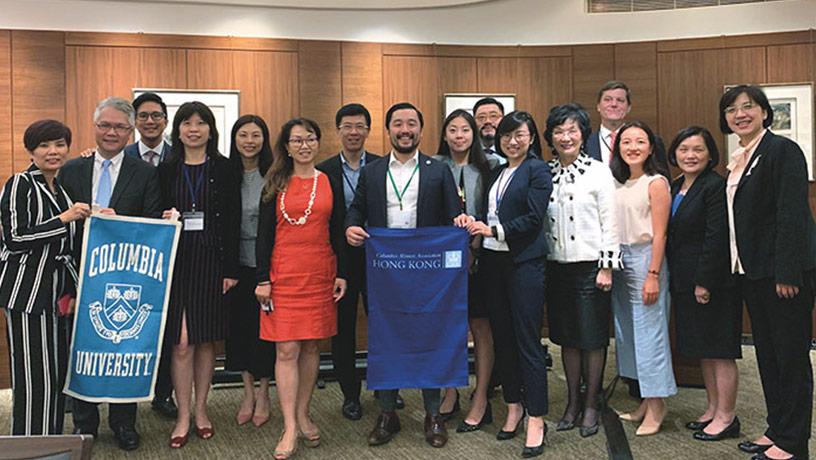 Community. Passion. Giving back. The Columbia University Alumni Association of Hong Kong (CUAAHK) has long been an example of the strength of the network of Columbia alumni clubs. CUAAHK provides community, social, intellectual, and professional events for alumni living in Hong Kong and is animated by "a heart for the university, and a passion for keeping alumni together," says Edith Shih '77TC '78TC, senior advisor emeritus.
Melissa Moy Tian '93BUS P'18CC, a long-standing board member, agrees. "When I first moved to Hong Kong, I reached out to the alumni club for networking opportunities and to meet the alumni community," she says. "It was a great way for me to expand my network and to meet new people. I have made lifelong friendships."
This passion for Columbia was on display when CUAAHK created an endowed scholarship in 1992. Over two came together to raise the necessary funds for Columbia College. The scholarship has made a lasting impact on the university, supporting 13 students since its inception. Vincent Ma '91BUS, senior advisor and chair of the CUAAHK Scholarship Committee, explains that for him, giving back through endowed financial aid support is about "an appreciation of the education that I received—giving back to the Columbia community."
It was that same desire to give back and to show their commitment to the university's undergraduate community that led the leaders of CUAAHK to begin discussing the possibility of raising a second endowed scholarship in autumn 2017. CUAAHK, which has long been proud of its inclusivity, decided to direct their next endowed scholarship toward the Fu Foundation School of Engineering and Applied Science to complement their existing scholarship at Columbia College.
"This is a university-wide alumni association. There is no such thing as 'we' or 'they'; we are all together," Shih says.
This spirit of inclusivity and community was exemplified when the three-member organizing committee, made up of university-wide alumni club leaders, asked all members to com- mit to supporting the scholarship. The response was overwhelmingly positive: 35 CUAAHK members contributed during the scholarship's initial round of funding and raised more than $350,000. Notably, many CUAAHK members gave in addition to their ongoing individual commitments to the schools they graduated from and to the university at large.
Due to their hard work, determination, and tremendous effort to fast-track the scholarship, by summer 2019—only six months after fundraising began in earnest—CUAAHK successfully met and surpassed their initial fundraising goal. This incredible achievement, which supports one of Columbia Engineering Dean Mary C. Boyce's highest priorities of raising funds for endowed undergraduate financial aid, ensured that the first Hong Kong Alumni Engineering Scholar was named in fall 2019.
The naming of the inaugural student "helps the donors feel we've made an impact, and that it's a life-changing experience for future students," says Tian.
As they look to guide and support the next generation of alumni leaders, CUAAHK is hopeful that the scholarship that they've created will continue to grow in partnership with the University community in Hong Kong and beyond.
Shih says, "Our job as alumni is to pass on the torch, which will hopefully be even more entrenched in the alumni community in the years to come."