Community Engagement
Students put their social entrepreneurship talents to work, designing solutions for community-based nonprofits that address social, cultural, and environmental concerns
Oct 21 2020 | By NANCY AVERETT | Photo Credit: Courtesy of CSEG
As an operations research major, Katherine Lin '22 is learning how to leverage data to make better business decisions. But last year, when she used her skills with the programming language Python to compare United States Census Bureau income data with New York City landlord heat violation data, it was far more than an academic exercise.
That analysis allowed her to compile a list of five target neighborhoods for the non-profit Heat Seek, which helps tenants fight landlords who violate heating laws. Heat Seek was looking for new clients with enough income to pay for the service it provides low-income residents for free, so Lin unearthed relevant demographics in neighborhoods where many heat complaint filings are generated.
"It was really cool for me to be able to use what I learned in class for an actual project," says Lin, who created the analysis as part of her involvement in the Columbia Social Entrepreneurship Group (CSEG). Lin's collaboration with Heat Seek is a prime example of how CSEG pairs undergraduate and graduate students with organizations solving community-based social, cultural, and environmental problems. Sometimes that fix requires specific technical acumen; in each case, students like Lin say they're putting into practice a range of skills taught in Columbia Engineering classrooms, such as critical thinking and deep dives into research.
I think [Engineering for Humanity] really requires us, as students, to seek out opportunities in the real world to understand where we can impart knowledge in very tangible ways.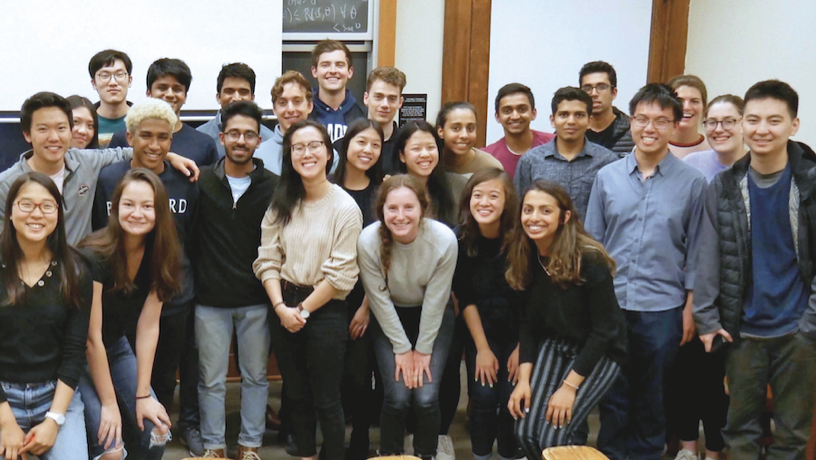 About half the club's leadership and roughly a quarter of its 70 members are from Columbia Engineering. Among them is Kruti Sutaria '21, an earth and environmental engineering major who currently serves as the club's co-president. For Sutaria, working with CSEG offers an opportunity to channel the inspiration she takes from watching her professors bring solutions to under-resourced areas.
"I think [Engineering for Humanity] really requires us, as students, to seek out opportunities in the real world to understand where we can impart knowledge in very tangible ways," she says.
For club members, that can also involve business consulting. CSEG client Virimodo is a non-profit that uses personalized energy analytics to help New York City residents find and use clean energy. Virimodo's founders asked CSEG for assistance with identifying how to take advantage of a new law that requires New York City building owners to offset a building's carbon footprint by 2024. Sophomore Pol Bernat i Belenguer '22, the project's leader, says he and his team are researching how the non-profit could partner with property tech companies that offer bundled services to residential building owners.
Whatever the challenge, students say employing an engineering mindset pays dividends.
"With coding, you separate problems into smaller aspects, and then you attack them each one by one," says Defne Sonmez '21. "And that, I think, resembles the approach you take with each company. They come to you with a problem, and then you look at it like: OK, this is a larger problem, but what is this comprised of? What will my process look like to resolve this issue? This is step one; this is step two; this is step three, and so on."
Students took such an approach to update Heat Seek's sensors, which track heating levels set by landlords. Not all low-income tenants can afford WiFi, so some sensors were designed to work with a 2G SIM card. However, Noelle Francois, executive director of Heat Seek, realized that 2G SIM cards were becoming obsolete. So she asked the club to figure out how to convert them to 4G without having to rewrite the entire sensor code or redesign its physical hardware.
Jake Lee '19, who is currently working toward his masters in computer science at Columbia, led the project. First, he and his team located a company that makes low-cost 4G circuit boards compatible with Heat Seek sensors. After embedding them in a Heat Seek sensor, the students rewrote relevant code so that the reconfigured sensor could send ambient temperature readings to Heat Seek servers on the 4G network.
"It was incredible what they were able to do," says Francois. "One of the things I really love about CSEG is they're very good at taking my business objectives, coming up with a project to figure out how to reach them, and then explaining it back to me in language that I understand."
With Lin's market analysis of the five target neighborhoods and Lee's work upgrading the sensors, Francois says Heat Seek will soon be ready to offer its services to landlords looking for a product like hers, now that New York has passed a new city law targeting landlords who accrue heat violation complaints.
For the students, helping non-profits like these improve the quality of life for New Yorkers is as rewarding as acing a test.
"It feels good to know that whatever we're working on, it's going to help people in the end," says Lee. "I think that's really motivating for a lot of the members of the club."