Charging Ahead
Revamped, Knickerbocker Motorsports reemerges as the Columbia Formula Racing club, with a new interdisciplinary focus and its first-ever electric race car
Nov 01 2019 | By Nancy Averett | Columbia Formula Racing Photo Credit: Sirin Samman | Matthias Preindl Photo Credit: John Abbott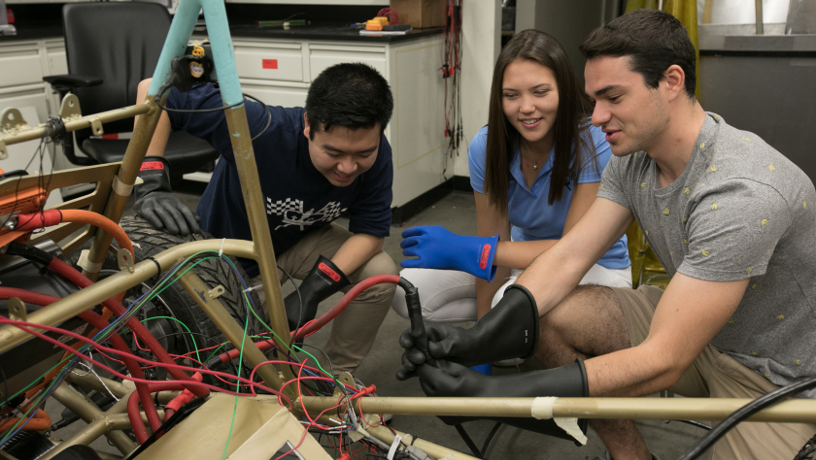 Building a race car from scratch is no simple task—building an electric (EV) race car adds a whole other level of complexity. Engineers have to suddenly hit high-performance targets without overheating a complex battery system as it shuttles a tremendous amount of power from the accelerator to the wheels— power that must remain constantly grounded to prevent the chassis from becoming electrified.
That delicate balancing act takes a village, says Bert Steyaert '20SEAS, chief electrical engineer for Columbia Formula Racing, formerly known as Columbia's Knickerbocker Motorsports club. "Some parts of the car, such as the battery itself, are specific to electrical engineering, but other things, such as rigging the cooling system pump [to keep the battery from getting too hot], are a mechanical engineering issue. It really forces us to depend on each other."
This synergy represents a new era for the club. Originally conceived of as a group solely for mechanical engineering majors, the organization worked exclusively on internal combustion race cars for years, competing in the annual Formula SAE (FSAE) competition at Michigan International Speedway, a major NASCAR venue. But just as EVs, whose US sales surpassed one million units last year, are generating ever more enthusiasm in the marketplace, so are they gaining popularity on campus.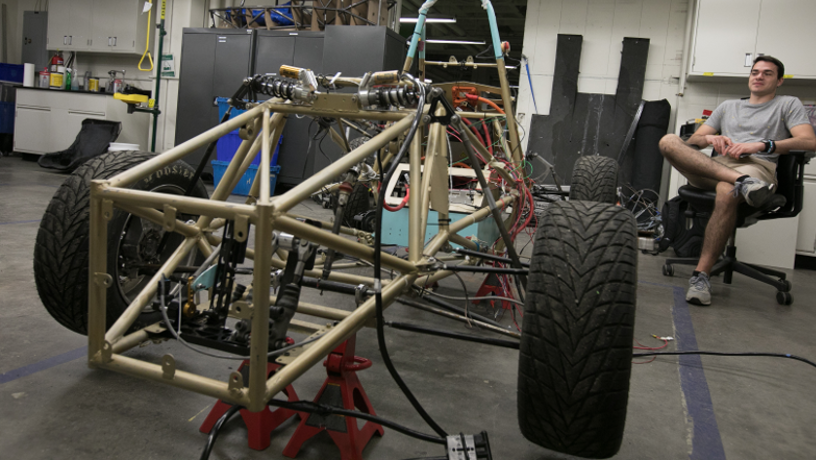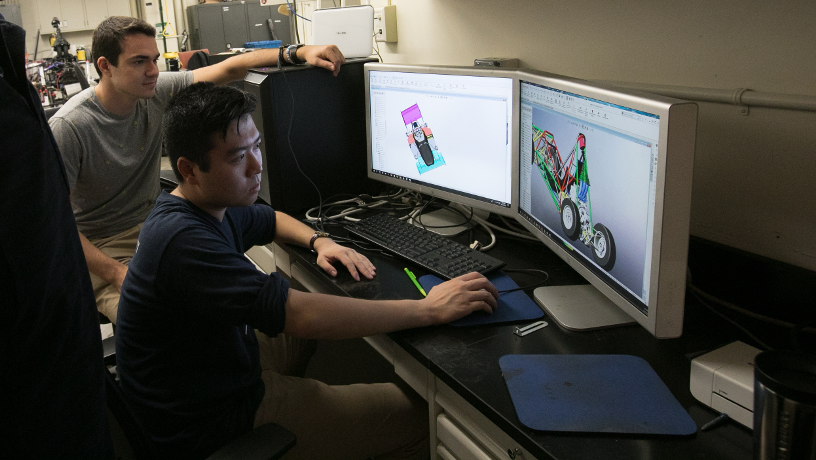 So last year, with the School's support, the electrical engineering department joined with the mechanical engineering department to try adding an EV program to the club's purview. That meant opening up this student-run organization to a variety of engineering majors—mechanical, electrical, computer science—a new approach that's generating much enthusiasm of its own. Last year about 150 students signed up to work on the EV racer.
Ara Lee-Yu Peterson '20SEAS, the club's president, was one of them. An operational research engineering major, Peterson brings her own particular set of skills. "Operations research is all about optimizing performance, analyzing workflow for greater efficiency, making better decisions, and things like that, so it's a pretty good fit, I think," she says. "We are really encouraging very strong communication and documentation. We are making sure that all our engineers have a more holistic approach to system design."
The technological complications inherent to an EV perfectly illustrate what a modern holistic approach to engineering looks like, says Josh Browne PhD'16, an adjunct professor of mechanical engineering, former NASCAR crew chief, and faculty adviser. "With an EV, we're going to get that component of students who aren't necessarily gear heads who grew up playing with cars," he says. "They might be controls engineers or electrical engineers or computer science engineers who are participating because there are important components of the EV that aren't part of the internal combustion engine FSAE program."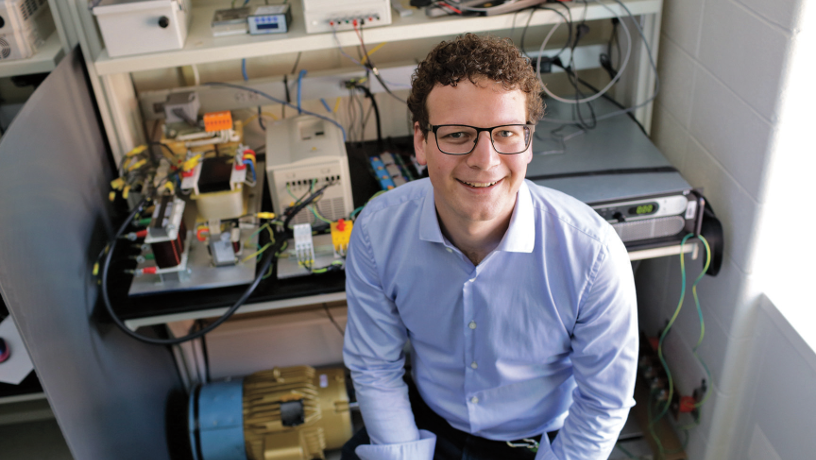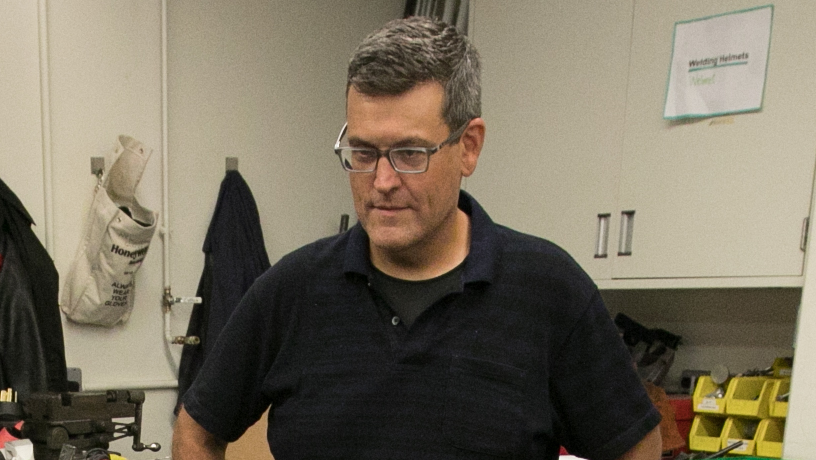 The competition the students attend each June—sponsored by SAE International (formerly the Society of Automotive Engineers, SAE)—serves as a major recruiting event for industry, and the interdisciplinary teamwork modeled by the club serves as excellent training for the real world of engineering, notes Matthias Preindl, assistant professor of electrical engineering and club adviser. "When students go out and start working in companies, they will need to work with other engineers and deal with project management," he says. "When the students do a project like this, they have to manage themselves, meet deadlines. The electrical engineering students have to discuss ideas with the mechanical engineering students, and they all have to agree on how to install things in the cars. The sooner they get this experience, the better it really is."
That experience includes practicing grace under pressure, says Albert Tai '20SEAS, chief mechanical engineer for the club, who began working on internal combustion race cars for the club as a firstyear. "The competition is both incredibly rewarding and incredibly stressful," he says. "You get to see the culmination of your entire year's work, and you finally get to see it compete against other cars on the track. But if anything goes wrong and you have to change something at the last minute, it definitely requires a lot of teamwork and coordination to fix that problem in a relatively short time frame."
It also forges enduring connections. Schools that have the most competitive vehicles often have strong alumni networks that return to help with their race cars. "Part of working on a project like this is—as soon as you design something you sort of become responsible for it," says Steyaert. "People will come to you and ask for advice because they need to know how the thing you built works. Once you're in the club, you can't walk away."
As successful as their first year as a dual-car club was, Peterson sees indications that membership is continuing to rise. After all, she says, they have a secret weapon to lure in their fellow engineers. "At the end of the day, we get to build a race car, and that is just so cool," she says. "It's incredible to see at the end of the year that you built not just a car, but a fully raceable car. That is just so fun. There's no other way to describe it."