Wired for Success
A dual degree program offered jointly by Columbia Engineering and the Journalism School teaches new skills for the new media landscape.
Oct 26 2018 | By Mindy Farabee | Photo Credit: Timothy Lee Photographers
It's not unusual for computer scientists to be fans of Wired, the long-running glossy magazine chronicling the intersection of technology and culture. But it's only a select group of engineers that ever writes for the publication.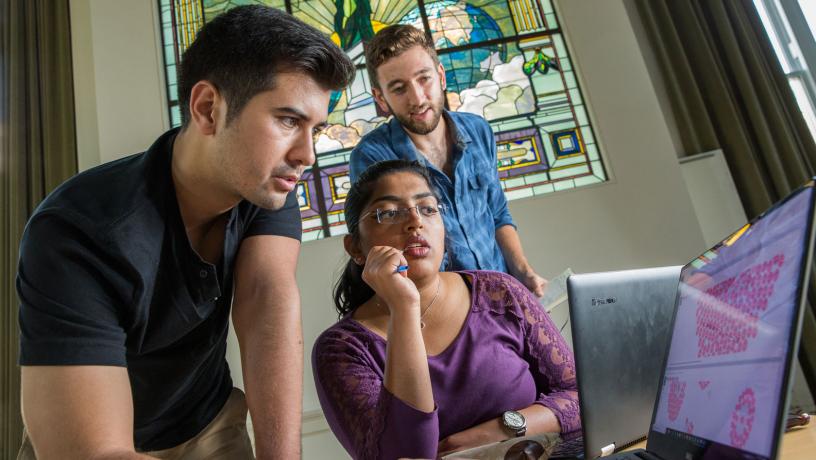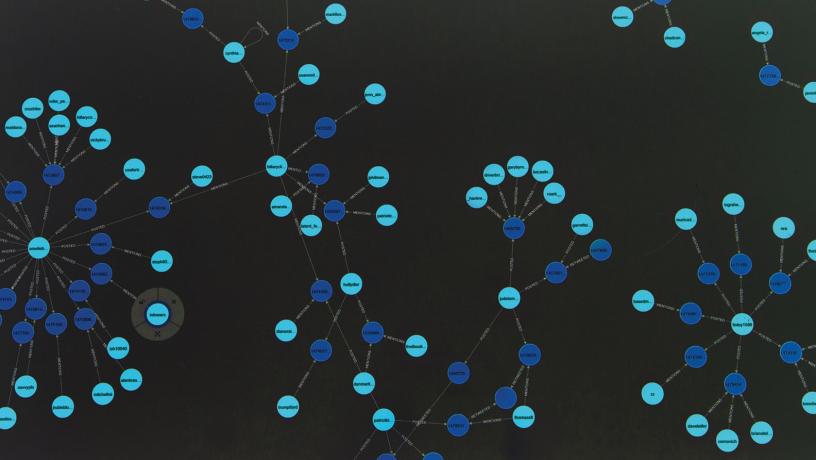 Students Erin Riglin, Alex Calderwood, and Shreya Vaidyanathan can now count themselves among that club. As part of their coursework in the Computer Science and Journalism dual degree program that Columbia Engineering offers in conjunction with the Journalism School, the three master's candidates spent five months researching, reporting, and editing a 1,900-word article that ultimately ran in Wired this past summer. For any student, publishing original research can be a major career boost. For students studying media and technology, it can mark the transition into professional life.
The project began as many homework assignments do— with a moment of panic the day before it was due.
Riglin was surfing online for pitch ideas to submit to his Investigative Techniques seminar when he came across an NBC story on Russian trolls in the 2016 election. The piece included posts from some 450 Twitter accounts affiliated with Russia's Internet Research Agency, which reporters had identified by cross-referencing sources including a House Intelligence Committee report. Quickly, an angle began to take shape
"At first, I just thought it would be a local story, about people who interacted with those accounts," Riglin says.
But once he and classmates Calderwood and Vaidyanathan began to mine the data themselves, a new picture started to emerge. As they went about building a database and writing scripts to parse the conversations, "we saw a lot of irregularities," Riglin says. "We saw a lot of conversations about homework, or pumpkin spice lattes."
In other words, the three reporters began to sense that some of these accounts might not be trolls after all. Digging deeper, the students were able to track down and interview three account holders, along with researchers who had amassed an archive of 3 million tweets supposedly sent from Russian disinformationists. Through their work, it became apparent that regular Americans had somehow gotten caught up in the bot dragnet, and their class project began evolving into a thoughtful feature about digital due process in the age of big data—precisely the sort of investigative journalism suited for a national publication.
To shift through their trove of tweets, the students made use of the same graph database technology employed by journalists who broke the Panama Papers story. That level of technical skill was integral to the reporting, they say.
"It helped us understand what was in the data," Vaidyanathan says. "And we had the advantage of knowing how social networks operate. That was really helpful in telling stories that affect people."
The four-semester program, which launched in 2011, is unique in the way it combines solid journalism training with a strong foundation in computer science. "It's pretty rare to have depth in both areas," says Eugene Wu, an assistant professor of computer science who serves as an adviser for the program. "This program stands out in that it allows students to get a master's in journalism and computer science as well. For example, learning how machine learning and databases work [as part of a journalism program] is quite novel."
Novel, but a natural fit, says Susan McGregor, assistant director for Columbia's Tow Center for Digital Journalism and a program supervisor. McGregor, who has a background in computational journalism and taught the course where the Wired story was conceived, sees in the methodical rigor of computer science a perfect example of the kind of attention to detail and process inherent to any good reporting. Likewise, the same driving curiosity underpins both disciplines. "Natural language processing and machine learning are about trying to make sense of the world," she says. "So is journalism."
Each of the students arrived with a strong background in computer science—Riglin actually worked at Microsoft for several years as a software developer and consultant—and at least some level of experience in journalism. But at the outset, none knew exactly how they could best make nontraditional use of their engineering skill set.
Both Riglin and Vaidyanathan now specifically want to focus on computational investigative journalism and write stories that explore algorithmic accountability, while Calderwood is specializing more deeply in natural language processing. What he's taking away from the program is invaluable, he says.
"We got to interview top Congressional aides and officials at Twitter," he says. "That puts you on another level. I wasn't sure going in that I wanted to be a journalist, and the program helped solidify for me that I do. It's about being able to tell totally new stories with a new focus in new ways."
Perhaps more than any other field, technology has radically reshaped journalism, not only in disrupting its business model but also in opening up new forms of storytelling and providing invaluable investigative tools.
"This program was the perfect combination of things I'm interested in," Vaidyanathan says. "It's technology with a tangible media component...The program shows you these are areas you can contribute to."
That opportunity to contribute to a larger goal is no accident. The program intentionally marries the ethical foundations of journalism with the creative potential of computer science, says Wu. "Journalists think deeply and morally about right and wrong," he says. "Computer science and technology allow you to do things at scale. But if it's even 0.1 percent wrong, that potentially adversely affects a huge number of people."
In fact, students say using engineering for good was a big part of what attracted them to the program. "What drew me in was the ability to use computer science abilities in a more socially beneficial way," Calderwood says. "It was almost like, I could give back my computer science skills to journalism."
It's hard to say what's typical for dual degree graduates, because so many doors are open to them.
In terms of how precisely to combine the two disciplines, students make those determinations themselves; in their master's thesis, they can prototype unique platforms that in some cases have opened up new career paths. As a result, they may ultimately head to Facebook or Google, work on graphic systems for Bloomberg, devise new recommendation systems for the New York Times, or even end up as CTO for the National Museum of Mathematics, as recent alumni have. The idea is to stay flexible in journalism's constantly evolving landscape. "We don't train people for specific jobs," Wu says.
"It's hard to say what's typical for graduates, because so many doors are open to them," McGregor notes.
At the moment, Riglin already has his next big media venture lined up. As part of a team that recently won a Magic Grant from the Columbia-Stanford Brown Institute for Media Innovation for the project BigLocal News, he's helping build a platform that expands on Columbia's data journalism Workbench tool for small newsrooms around the country. "Local newsrooms sometimes don't have the resources to work with this data," he says.
At the same time, the experience has left each of the students eagerly eying next steps.
"When I joined, I had no idea I could be doing this," Vaidyanathan says. "[The program is] all about what you make of it."