Designed to Grow
Oct 26 2018
As Columbia alumni know, New York City life means tight living quarters. So when Rob Elliott PhD'15 and Nate Littlewood '17BUS set out to try to get more urban dwellers interested in gardening, they had to think big—by thinking small. Elliott and Littlewood's startup, Urban Leaf, sells "the world's smallest garden," one so tiny it fits in the neck of a wine bottle.
"We call it a gateway garden," Elliott said. "It's a really low-risk way for someone to get started."
The system's cylindrical inserts are made of biodegradable plastic and contain just enough soil and nutrients to grow a basil plant, or some sprigs of dill—just add water, a glass bottle, and a sunny windowsill. The idea seems simple, but the company's success is actually the result of Elliott's careful engineering paired with Littlewood's strategic business acumen—and more than a little serendipity.
"I wanted to start a business at the intersection of food, environment, and technology," said Littlewood, who arrived at the Business School in 2015 with his sights set on creating a positive social impact.
With that in mind, in 2016, he headed over to an event at the University's Earth Institute to hear a talk by Elliott on next-generation green infrastructure.
A native of rural Massachusetts, Elliott grew up among wooded surroundings that sparked a love of science and nature that eventually propelled him all the way to Columbia Engineering. Much of his PhD research centered around green roofs, urban ecology, and vegetated infrastructure, and hearing Elliott's passionate take on green design struck a chord with Littlewood. He approached the civil engineer, and over a few months of coffee shop meetings, the two entrepreneurs came to realize they shared a deep concern about our modern relationship with food and farming.
"The food system now was designed to produce food that shipped well and looked good," Elliott said. "It was not necessarily optimized for food that tastes the best or needs to be picked the freshest or is the most nutritionally rich."
Together, they hit upon the realization that the best way to make people think more about the food they eat might just be to get them gardening.
"When you understand where your food comes from, you're much more likely to make a healthy and sustainable food choice," Littlewood said.
The two brainstormed from there, trying to come up with a way to bring sustainable agriculture into urban homes—even those too small to have an outdoor garden.
"I kind of had a better grasp of what was possible, and [Littlewood] had a much better grasp of what made a good product," Elliott said, adding he had ideas about computerized climate systems, and advanced technologies for growing plants but Littlewood cautioned him, saying successful businesses start with something easy and marketable. "By design, [the Urban Leaf insert] is literally the simplest product we could make," Elliott said.
Elliott and Littlewood's product turns hydroponic technology into a one-step process, and as predicted, that frictionless design appealed to potential customers. The business launched after a successful Kickstarter campaign in 2017, which had more than 900 backers. In its first year, Elliott said Urban Leaf sold more than 20,000 products. The online shop now offers herb garden kits with names like Culinary Classics and Edible Flowers. Elliott and Littlewood said in the future they may expand the product line to include lights, vessels, or other accessories.
But first, they had to work through seven prototype designs and five versions of their soil mix before arriving at the perfect first product. Patricia Culligan, Robert A. W. and Christine S. Carleton Professor of Civil Engineering, served as Elliott's thesis adviser. In the Urban Leaf inserts she sees the kind of ingenuity Elliott always brought to engineering.
"It's not a simple concept," Culligan said. "It includes all of the nutrients and other ingredients that are needed for the plant to grow. So that's a very engineered little capsule."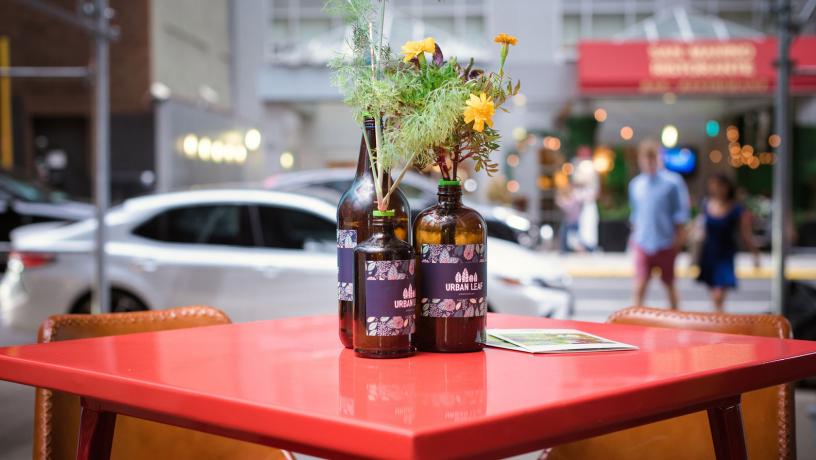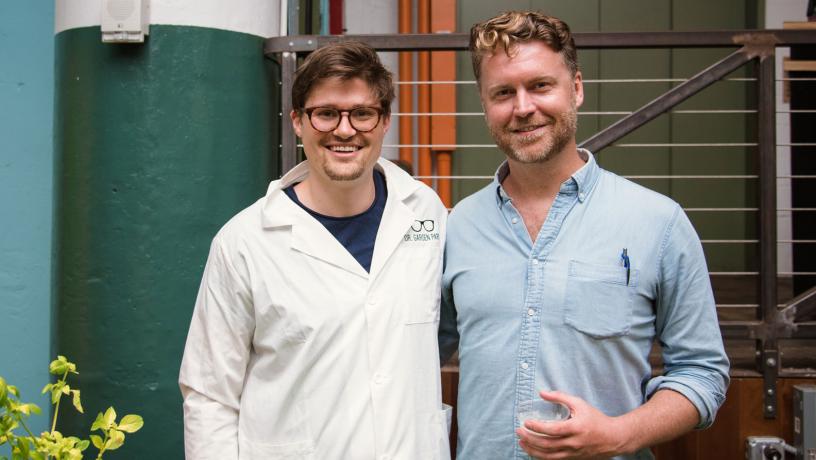 Elliott credits Culligan with introducing him to engineering concepts that put people first, rather than technology. Columbia, he says, encouraged him to think collaboratively, working across disciplines to get the most out of his research. Littlewood, meanwhile, found getting feedback on early business plans and product designs as business school assignments to be invaluable.
"Columbia was a really useful training ground with launching a product." Littlewood said, "To be able to experiment with things in a pretty safe environment knowing that it was OK to take risks and do things that are a bit unusual."
Seeing a new business through its first year was a "roller coaster," Littlewood said. For Elliott, too, taking the leap from academia to the startup world was a scary choice.
But Elliott said it's worth it to think of the 20,000 or so miniature gardens now in the hands of customers. "That's a lot of people to touch, a lot of people to get to start growing."