Letter from Dean Mary C. Boyce
Oct 18 2018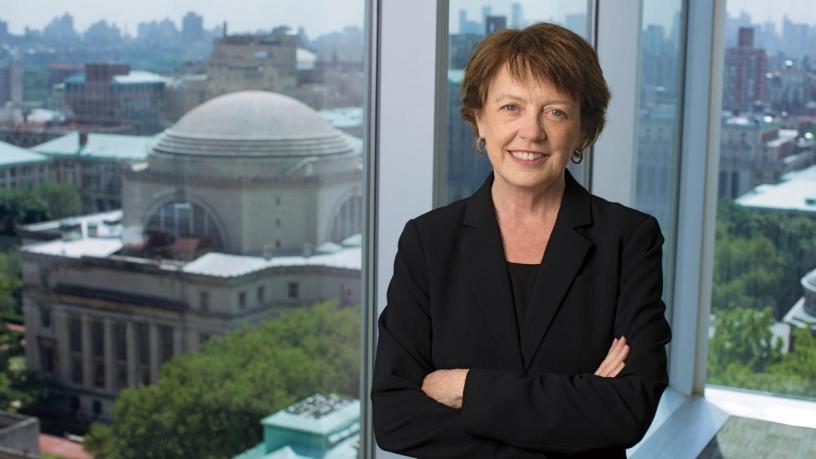 Welcome to another academic year! We appreciate your interest in our trajectory at Columbia Engineering as we expand, attracting and supporting great student and faculty talent and their research and education innovations.
In the most recent U.S. News & World Report ranking of engineering graduate programs, Columbia Engineering moved up to number 12—seventh among private universities and the top engineering school in the Ivy League. While our research and education mission is not focused on rankings, it is still wonderful to have the excellence of our School recognized by others, and it encourages us to keep enhancing our resources, programs, and facilities to propel the outstanding talent that is the heart of Columbia Engineering. We appreciate the great support from so many alums and friends!
This past summer, I connected with alumni during a host of events in Beijing, Shanghai, Shenzhen, and Hong Kong. Faculty and business leaders joined me for a series of panels on the future of AI, financial technology, and precision medicine. It's exciting to see the rapid pace of technological innovation across Asia as we explore mutual research and collaborations that will have a collective impact.
On campus, there is much to report. Here are just a few highlights from this issue:
Sustainable Humanity: The new Columbia Electrochemical Energy Center, led by Chemical Engineering Professor Alan West, brings together faculty across multiple departments focused on energy storage, from atomic-level understanding to materials design to system architecture and performance. As a hub for research, it will enable discoveries at a time when innovation is critical and could bring transformative gains for communities without access to electricity grids.

Connected Humanity: A longtime leader in telecommunications, Columbia will now become part of a national living lab for wireless technology with the launch of the NSF-sponsored COSMOS: Cloud Enhanced Open Software-Defined Mobile Wireless Testbed for City-Scale Deployment. The testbed spans one square mile of West Harlem and will serve as a proving ground to push the limits of fourth-, and even fifth-, generation wireless technologies and beyond.

Secure Humanity: In July, we announced the Columbia-IBM Center for Blockchain and Data Transparency. The partnership will develop technological solutions to share and harness the power of data in a safe, secure, private, and transparent way and establishes our leadership role in advanced technologies, innovative business models, ethics, and related policy issues.
We spotlight several professors who embody our Columbia Engineering for Humanity vision and also interview the Donovan Family Professor of Computer Science Christos Papadimitriou, a renowned expert in computational theory who uses algorithms to study the brain. A true renaissance man, he has also written three novels.
Our commitment to education has been recognized in the form of two new sets of student fellowships. Five Blavatnik Doctoral Fellows focused on solutions for a healthier humanity will join five doctoral fellows in IEOR and computer science sponsored by the Cheung Kong Graduate School of Business. You can read about their plans of study, as well as news about our undergraduate students and alumni.
This fall, we welcomed eight new faculty members (with six more joining between January and July 2019). Amazingly, this now constitutes the hiring of 88 faculty members over the past five years, putting our number of full-time faculty over 220. Our junior faculty have been recognized with numerous early career honors, including 17 National Science Foundation CAREER Awards in the last four years, and our senior faculty have earned the highest recognition in their respective fields. Our undergraduate student body, among the most selective in engineering, now numbers over 1,600 while our MS program numbers over 2,000 students and our PhD student body is over 730! We are all so proud of this talent.
Please follow us on social media to keep up with the latest Columbia Engineering news.

Mary Cunningham Boyce
Dean of Engineering
Morris A. and Alma Schapiro Professor