Class Notes: Undergraduate Alumni
Oct 30 2018
Save the Date!
Reunion: May 30– June 1, 2019
1945
John Durso writes: "I am still alive, still married, and have 5 married children, 11 grandchildren, and 7 great grandchildren. I have been retired for 38 years now."
1946
Robert Schaffer (Mech E) writes: "I received my BS in mechanical engineering a mere 72 years ago, July 1946. Since I was not among the sharpest potential engineers in my class, I decided to go back to school—Teachers College, Columbia. I studied organization effectiveness and got a doctorate in the subject. I founded a management consulting firm in 1960—which immodestly has my name (Schaffer Consulting). We have been a pioneer in certain approaches to productivity and organization effectiveness and have published 8 books and over 200 articles on the subject. We have worked with a wide variety of corporations and government agencies—and the World Bank has used our methodology in accelerating various kinds of economic and health development in a number of countries in Africa and elsewhere. Although I did not practice engineering, per se, in my career, the engineering disciplines and work methods that I internalized during my engineering school days became so much a part of my approach to problem solving that they provided a life-long pattern."
Harry Levey (Mech E) writes: "In April 2016, I left Phoenix to be nearer to family and am now residing in Florence, KY, at an independent living facility. My days are largely filled by several of the many activities here and are augmented most afternoons by a friendly bridge game to keep my brain alert. My son retired from his position about two years ago; his three children have married and added five great-grandchildren to our family, whom I spoil at every opportunity. I continue to be addicted to Chicago's professional sports teams, mainly the Cubs, and find this to be a subject of interest to other similarly-addicted fans native to other cities. Would be pleased to hear from graduates of the June 1946 SEAS V-12 class."
1948
David N. Reps (Elec E) writes: "I had the audacity to institute and organize a chapter of the fraternity I pledged in at Brooklyn College in 1940 in my famous "EE CLASS of '48.""
1951
Class correspondent Ted Borri (Civil E) sends this recap: "Our Class Notes have been quiet for some time, but a few weeks ago Herman Bieber and I attended the funeral service for a classmate, Fred Kant. In the few weeks since his passing I have thought a lot about him. Fred was a person who liked to help and be involved. Columbia, and our class reunions were always of special interest to him. He would volunteer his time, offer his help, 'encourage' when it was needed, and always have a smile and a warm thing to say. He was a good human being and a pleasure to know. We will miss him.
Here is some more catch-up. Last summer, I had the pleasure of attending Ralph White's 90th birthday party. It was a wonderful event attended by his family and many longtime friends and neighbors. His motto and license plate are 'SKI 2 90.' And he made it happen! He remains an avid Red Sox fan and is still active with the Alzheimer's Association by participating in their conferences in Washington, D.C.
In May of 2017, a few of our remaining classmates met for lunch. Elna Loscher is as pretty as ever. She and her husband remain active in community activities. Herman Bieber continues to travel the world and when he is not travelling he continues to dance each week at a local Arthur Murray Dance Studio. Fred Kant was also with us at that lunch, and he was his usual delightful self.
As for me, this past December I sold my home and moved to a nice full-service senior retirement community, and I like it very much. Herman Bieber has also moved to another similar community and is quite happy.
We have had five Scholars since we established of our Class of '51 Scholarship. Our new Scholar (as of last fall) is Natalia Dorogi '21, a very bright young lady from Marlborough, MA. She is a sophomore at SEAS. She is planning on majoring in operations research with a concentration in financial engineering. She is a very impressive young lady and I am confident will be a credit to our class.
I thought you might be interested that at a recent meeting Dean Mary Boyce informed us that the most recent freshman class had 320 students of which 49% were women. A big change from our days!
I hope all is well. Please drop me a line and I'll pass the word around.
Let's hear from you
1953
Henry Parsont (Chem E) writes: "I will be leaving New Jersey for my annual winter in Hong Kong commencing September 20. I first visited there while working for Esso Eastern Chemicals in 1969, and subsequently moved there along with George Hunter in 1971 for six years with the HQ office, married a Hong Kong girl and have been back every year since for from one to six months. Saw Don Ross at a reunion and found out that he was in Hong Kong to build the Bank of China building while I was there and our paths never crossed. Spend my winters as an unofficial greeter for many acquaintances, who pass through, and enjoying the culture and food which has new manifestations every year. Get in touch if you are coming and need an almost native guide."
1956
Gordon Silverman (Elec E) recaps for the Class of 1956: "At the Breuer Museum I learned that Ralph Kaslick has given a number of talks for the Lyceum Society of the New York Academy of Sciences and is a vice chair of the society. Your reporter and wife just returned from ten weeks in Europe with stopovers in the Netherlands and Italy and sought out the works of Vermeer, Rembrandt, and Caravaggio, our favorite artists of the 17th century. I am currently preparing a course entitled 'Superintelligence' that I plan to offer to graduate students at Manhattan College in the spring of 2019. Bob Siroty, our stalwart and hardworking class chair, has been organizing class lunches at Faculty House, as well as in Westchester and Florida. You can find more in the CCT Journal. These are joint 'freewheeling' get-togethers for '56SEAS, '56CC, as well as '55/'56CC/SEAS alums. I have heard from James Wiseman, industrial and management engineering, now retired and living close to San Francisco near his five children and seven (!) grandchildren. This Golden Lion, like most of us, has enjoyed a successful professional life including CEO of Jetairlines (Australia), and as a director of materials in Silicon Valley. As Jim notes: "I owe Columbia for the practical training that made my career so possible and rewarding." Also checking in was Les Wilder (Mech E), management and one of the early practitioners of forensic engineering. Try to attend the upcoming meeting with the 2023 (Wow!) SEAS class. You might find a few of the applicants that you met when they applied to Columbia. You can meet applicants (for both CC and SEAS) by participating in the Alumni Representative Committee (ARC) program. Participants in the program meet with applicants to give them their 'take' on the Columbia experience. I was absolutely amazed and humbled by the accomplishments and intelligence of these young achievers hoping to add to the successes of Columbia Lions (e.g. Pres. Obama as one example). Listen ragazzi (guys!), keep me up to date on any/all of your comings and goings. I know that we thoroughly enjoy hearing from you. Stay well, watch your diets, and exercise–my many physicians tell me it's the best path forward."
1957
Arthur J. Fischer (Elec E) writes: "I am retired in my home in Melbourne, FL. I worked many years at Kennedy Space Center and after retiring from there I ran a restaurant and lounge until 1987. I spent a few years teaching computers and working for an Apple computer store. After retirement spent a lot of time traveling abroad to Europe and particularly to Brazil where I made 15 trips and loved it. I'm currently a little bit disabled as far as walking but I managed to keep myself busy with friends and social events. I'm comfortable and content in my home and love it here."
Taylor Thompson (Elec E) writes: "I received my BSEE degree from the engineering school in 1957. Then I fulfilled my tour of duty with the Air Force for 3 years. I joined a small scientific engineering company and designed and sold freeze dryers and other products for 11 years. I always wanted my own company, so I started FTS Systems Inc in my barn in 1971 to design and manufacture special research equipment. Over the next 25 years we designed about forty product lines for the "life science" market. One product line that had the most affect in helping the world progress was our EMBRYO FREEZER, the 'BIO-COOL.'"
1958
Robert Drucker (Chem E) writes: "Pleased to report that son, Dr. Michael Drucker '88, received FDA approval for a unique electrical procedure to treat Sleep Apnea via Lung Activation. My own family plans encompass cruising the Mediterranean area this summer to refresh recollections of historical art and culture at various sites."
1959
Lou Shrier (Chem E) writes: "Upon passing my 80th birthday, I awarded myself an indefinite sabbatical from adjunct teaching at Columbia. In the future I will be offering courses only at schools in the DC area. My main professional interest continues to be the worldwide transition to low-carbon energy. Otherwise, Diane and I plan to expand our travel—our next target is Easter Island, offshore Chile, to see the monumental stone carved heads."
Gerald Waldbaum (Elec E) writes: "I look forward to our 60th reunion next year. I missed my 60th Columbia College reunion this year because it was discovered in April that I had pancreatic cancer. I am being treated at Georgetown University Hospital in DC by some wonderful doctors. Currently, I am having chemo. The objective is to shrink the mass that surrounds major blood vessels so the tumor can be removed surgically. I also look forward to seeing at least one Columbia football game. Columbia has a great football team. They came in second last year. Hopefully, this year, they'll win the Ivy. Currently, I am renting an apartment in Maryland and would love to hear from some classmates. My cell phone is 240-463-6881."
Joel H. Levitt (Elec E) writes: "At Pratt Institute wrote a textbook Small Signal Analysis-By Computer, By Inspection—one of the first texts to fully integrate computer work and feedback with basic EE instruction. Of interest to marketing students: still available new, Haywood Press, or used, Amazon. Not a hot seller but my students loved bypassing tedious approximations. Wrote a nodal analysis program in BASIC without native complex variables! For many years I served as chair of the Engineering in Medicine & Biology Society, NY chapter, part of the IEEE. I still give health advice to two groups (those who want it and those who don't). I founded the Anxiety & Hypoglycemia Relief Institute (www.tranquil.info) and I am currently the organizer for 3 Meetups:
1) Health & Wellness Professionals Meetup https://www.meetup.com/healthpros-55/
2) Brooklyn Holistic Practitioners https://www.meetup.com/healthpros-62/
3) A non-engineering music group with well over 4000 members: https://www.meetup.com/The-New-York-Singer-Songwriters/"
1960
Matthew Sobel (IEOR) writes: "After a career primarily in academia which was at Case Western Reserve University in Cleveland for the past twenty years, I converted to emeritus status four years ago. I remain intensely devoted to research, but new results now emerge slowly. Recent papers are on operations research, economics, and operations management. My wife and I are in reasonably good health and we are avid road bicyclists and cross-country skiers. Late last summer we enjoyed a trip to Northern Italy which included bicycling from the Dolomites to Verona. However, age takes its toll, and I decided a few months ago that I will no longer ski narrow twisting trails. Another mark of a life stage is that the first of my grandchildren enters college this fall."
1963
Stephen L. Richter (Elec E) '64 MS, '67 PhD) writes: After 47 years at Raytheon Company as a Systems Engineer, I retired on July 12. My wife of 56 years, Diane S. Richter (Class of 1964), and I live in Harvard, Massachusetts (since 1981); let us know if you visit the area. Prior to working at Raytheon, I was assistant professor of electrical engineering, first at Columbia and then at CCNY.
1964
Neil Marmor (Elec E) writes: "I used to skim the obituaries. Nearly all the people were 'old.' Now some are older than I; some are younger. I used to think dread diseases happened to my parents' generation. Now it's my generation. Yikes. I am glad to report that my health is good. I enjoy exercise, cultural performances, and contrasting the Wall Street Journal with the NY Times. Talk about alternate universes. I have paid my own way and have money left over to do things I never dreamt I might do. I can still find my car after I've parked it, usually, and balance my checkbook. Mostly I am the recipient of the genes my courageous grandparents brought with them before the Russian Revolution. I read to little kids in hopes they will grow up loving to read and have the chutzpah to engage fully in life. I am one lucky fellow."
Daniel Lehrfeld (Mech E) writes: "Our Centennial Class, in the school's sesquicentennial year, assisted by a generous incentive grant from Dean Boyce, succeeded in creating the Class of 1964 Scholarship Fund… only the second in the school's history. Here's an update. The endowed value has grown from $152K to a current value of $185K while paying out 5 percent annually in aid. Our first recipient, Sabrina Maliqi '18, graduated this May, the first college graduate in her family. In June she started her first job, within a rapidly growing, modern, private investor backed software services firm in NYC. Here's what she wrote to me recently to share with you: "What the SEAS Class of 1964 created has helped me—and 'thank you' could never be enough in showing how much it truly meant to have that support throughout my four years at Columbia." What our donations created has been making a difference at a human level. With our 55th reunion year approaching, let's launch a new campaign to enlarge the size of our fund."
1965
Barbara Sanderson has been the corporate director intelligence programs at the Northrop Grumman Corporation since 2008. Sanderson is a retired member of the Defense Intelligence Senior Executive Service with more than 33 years in the intelligence community. She is a retired Lieutenant Colonel in the United States Air Force Reserve.
Prior to her government career Sanderson worked for the Columbia University Electronics Research Laboratory from 1965 to 1967. Sanderson has a Bachelor of Science degree from Columbia Engineering (1965) and has performed graduate work in electrical engineering there and in National Security Policy at the Harvard University Kennedy School of Government. She has been awarded the Presidential Rank of Meritorious Executive, the DCI Intelligence Medal of Achievement, four DCI National Unit Citations, two DIA Defense Intelligence Director's Awards, and the NRO Director's Team Award. She has been chairman of the Advanced Technical Intelligence Association (ATIA) for five years and a member of the AFCEA Intelligence Committee.
1966
John P. Anselmo (Civil E) writes: "Although I still practice civil engineering, with an emphasis on the design of waterfront structure, my avocation over the past ten years has been creative writing. My second novel, Moonlight Over Tuscany was launched at the Shakespeare and Co. bookstore in Manhattan on July 24th. The book, which is set in Lucca at a cooking school, combines romance with an intriguing murder mystery. My previous novel, The Newsstand, is also available at Shakespeare and Co. That book, which is semi-autobiographical, is about a Columbia Engineering student in the '60s who learns who to 'fit in' on the tough streets of New York's Little Italy while pursuing an Ivy League education at Columbia."
1967
Reg Maton (IEOR) writes: "I am grateful for a Columbia education that has led to an eclectic career where I had an opportunity to serve a number of companies in high profile positions. My career started with AT&T in a high risk/high reward advanced technology program. I then served CBS, Inc. for twelve years in a number of capacities: director, strategic planning; director business development, director personnel, CBS Records International, and director, IT planning & development, CBS, Inc. From there, I joined Tiffany & Company as VP & CIO, where for 10 years I was a member of the senior management team. For the next 12 years, I served as VP & CIO of Olympus America, Standard Microsystems, and Symbol Technologies. I finished my career as Senior VP & CIO of Scholastic, Inc. in New York. In 2008 I started an IT research, advisory, and consulting business. In 2013, I also founded a charter school, Florida Futures Academy, in Palm Beach County, FL. I live in Palm Beach Gardens, FL with my wife Cynthia. We have six children and thirteen grandchildren."
Leif Steinert (Mech E) writes: "One of the religious customs of the people of the 'Six Nations' or Iroquois who lived here before us is, 'And you must always listen to the instruction of old folks; thereby you will be wise.'
With a degree from Columbia Engineering, you will always be able to get a good job, which allowed me to be a good father. Engineering is what you do, not necessarily who you are. The most important thing to me is being a good father. A few weeks ago, my daughter Nicoline now thirty, sent me a great progress report. So far, so good!"
1968
Jeff Franklin (Chem E) reports on the 50th Anniversary reunion: "The Class of 1968 did not disappoint! Our reunion brought 29 classmates and 16 guests—quite a few from the west coast and mid-west—back to campus to reunite, reminisce, and simply enjoy this milestone event. There were lectures, tours, and celebratory dinners every night. Our class was initiated into the Golden Lions by Dean Boyce, and given hats especially designed to celebrate this occasion. (The few leftovers will be available to classmates who attend this year's Homecoming on Oct. 20th). In addition to this stellar attendance, our classmates marked the occasion by becoming only the fifth SEAS class ever to endow (at $250,000+) an undergraduate scholarship as their class gift. Moreover, our generous classmates set a 50th reunion gifting record by donating and pledging to SEAS a total of over $1 million during this reunion year. It was a wonderful weekend and we wish that more of you could have attended, but hey, there's always the 55th in 2023!"
Stephen Landsman (Civil E) writes: "Alive and well. Living in Fairfield, CT. Married. Recently celebrated 50th wedding anniversary. Enjoying my time with our 2 married children, living close by, along with 4 grandchildren. Sorry that I was unable to attend the recent 50th Reunion at the school."
Steve Nahmias (IEOR) writes: "I am living with my wife in Menlo Park CA and continue to teach in the business school at Santa Clara University. I entered into a phased retirement program last year which terminates in 2022. My textbook, Production and Operations Analysis is currently in 7th edition. The book has been used at Columbia among many other universities worldwide. While at Columbia, I played lead trumpet in the jazz band, and performed with orchestra. I now play in five bands in the Bay Area."

1969
Joseph Simhon (IEOR) writes: "Anxiously awaiting the 50th anniversary of my class' graduation, Class of 1969, next May. Recently celebrated the marriage of my son Henri J. as well as the birth of my 11th grandchild, a precious baby girl. All of my four sons and one daughter are now married so the family is growing. Recently returned with my wife from a wonderful trip to Florence, Capri and Paris. As for my business and professional endeavors, I recently acquired a Leeds Certified, Class A Office Building in downtown Cincinnati tenanted by one of the top architectural, engineering and design firms in the city; a Kroger anchored shopping center in Hamilton, OH; added to my approximately one million square feet of industrial/flex office space in Dayton, Miamisburg and Cincinnati, OH and acquired a portfolio of luxury residential condominiums in West Palm Beach, FL. Looking forward to touching base with some of my former classmates in May 2019."
1970
Andrew Lovinger MS'71, EngScD'77 (Chem E) just celebrated his 70th birthday. He continues full-time his longstanding public service in charge of the Polymers Program at the National Science Foundation. This follows more than 20 years in polymer research and management at Bell Laboratories. Lovinger is very touched and proud to have been honored with the Egleston Medal from the Columbia Engineering Alumni Association in 2010. He has been inducted in the National Academy of Engineering and has received the top prizes for polymer research from both the American Chemical Society and the American Physical Society. He and his spouse Eleanor are the proud parents of two grown sons, Daniel and Michael. Lovinger is looking forward with great anticipation to the 50th Columbia reunion in less than two years and is hoping that all our classmates will come for this very special celebration.
William J. Thomashower '73LAW (Mech. E) has become counsel in the IP group at the midtown New York law firm of Pryor Cashman LLP. He combines his engineering education and experience with over 40 years of legal practice, concentrating in intellectual property cases involving patents, trademarks, and copyrights, as well as general corporate litigation, antitrust, constitutional issues, legal ethics, and cases involving regulation and rights of physicians. He litigates cases in the US federal courts and New York state courts and is admitted to the patent bar of the United States Patent and Trademark Office.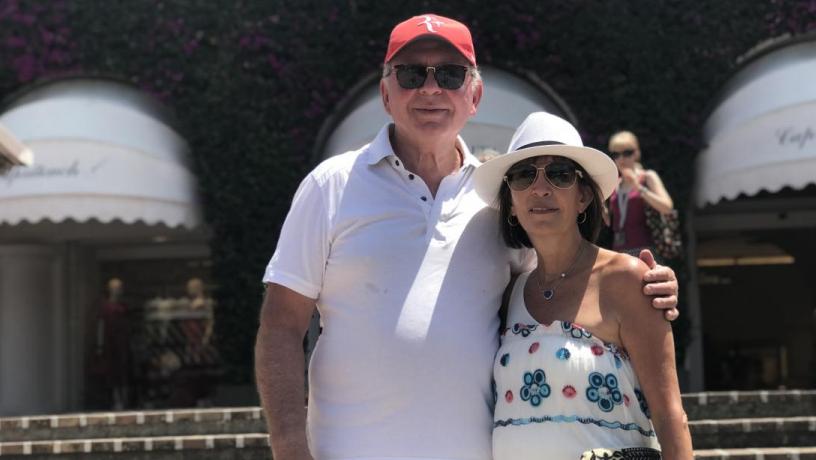 1973
Larry Lagin (APAM) retired four years ago as deputy program manager in charge of the engineering team for the National Ignition Facility (NIF) at Lawrence Livermore National Laboratory (LLNL). Since graduating Columbia, Larry spent over a 40-year career as a scientist and engineer, more than 32 years of which devoted towards fusion energy research at Princeton University and Livermore. While an undergraduate applied physics major at Columbia, he also took many courses liberal arts courses including painting and sculpting. Since retiring, Larry continued his art studies at UC Berkeley Extension, and has recently completed a graduate certificate program in visual arts specializing in painting there. He now is a resident artist and has a small art studio at the Bothwell Arts Center in Livermore, and has begun selling his art at local art fairs.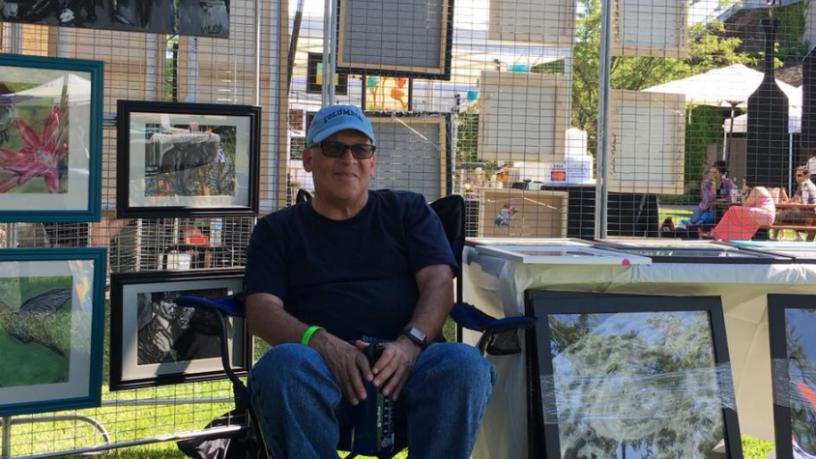 1976
Joseph Babendreier (Chem E) has survived three operations for cancer in 2014 and chemo in 2015, then took up astrophotography with a new lease on life. Here's his take on the Lagoon Nebula. Just published his 15th book: Spiritual Combat for Beginners.
Bob McDonald (Civil E) was just named the chair-elect of the executive council of the Texas Tech University Teaching Academy.
1978
Ann Candy Stein (Née Ann Pamela Candy) (Bio Med) writes: "It's hard for me to believe college was so long ago. SEAS was coed back then and Columbia College wasn't, but I managed to get my BA & BS through the 4:1 program. Since then I have enjoyed the journey through med school, ortho residency & hand surgery fellowship. I married during residency and have a son who opted to follow his Dad by attending MIT. I have been practicing near the base of Killington in Vermont for 29 years and will be retiring in the fall. Hopefully now I'll have more time to travel, work on my golf game, and come to homecoming & reunion events."
Albert McGovern (Mech E) writes: "Mary Jo and I have now entered the next phase of life, namely that of being grandparents, courtesy of our daughter Erin and her husband, Cory Baker. They delivered a healthy boy, Nolan Albert Baker, on April 13, 2018, in Parker, CO."
Peter Luccarelli Jr. (Mech E) writes: "Dear fellow Class of '78 graduates: As one of your class correspondents, I was looking forward to attend our fortieth celebration. Arrival of our first grandchild, John Luccarelli, led to a last-minute "no show." John lives in Boston with his Tiger '13 mom, Margaret and his Bulldog '10 dad, James. Grandfather, along with uncles Pete III (College '07) and Chris (College '16) will be encouraging "Jack" to join the Lions Class of '40 and to pledge Phi Gamma Delta. "
1979
Joseph Schachner (Elec E) Completed his first year as manager of a software group at Teledyne LeCroy, where he has worked (first for LeCroy Corp then for Teledyne LeCroy) since 1985 in various groups. More meetings, but good people working with him. Nonetheless, he sees himself working for another 5 years or so, and then retiring and traveling more.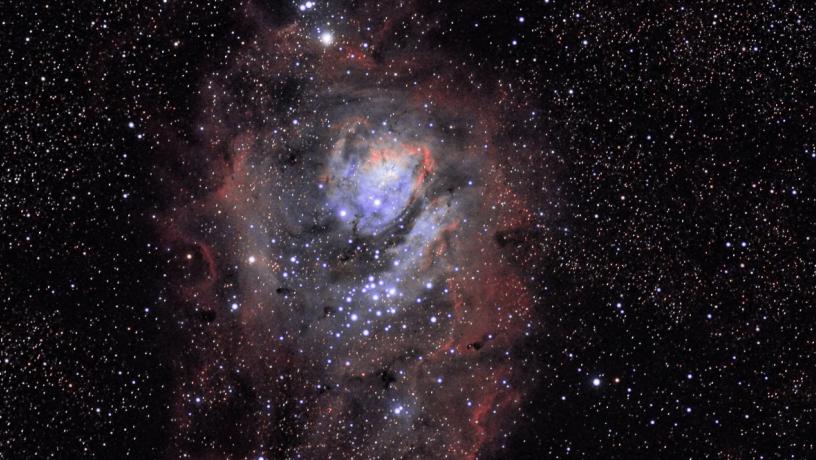 1981
Paxton J. Louis (Elec E) writes: "I have gone back to school to get my doctorate in computing science, attending Pace University. Two adult sons and a great (and patient) wife. I am supposed to be winding down my career but I love the telecom business too much. Probably heading back into private equity again. Best regards to Class of 1981."
Tom McManus (IEOR) writes: "My family—Kaori SEAS '94, Erika '17 and Reilly (age 17)—and I had the opportunity to visit Myanmar, formerly known as Burma, last winter. Standing at the base of the Shwedagon Pagoda, we were struck by both its exquisite construction and the turbulent history it has endured. Many have wandered barefoot through the sacred place, including Barack Obama CC '83, the first US president to visit Myanmar. But lurking beneath this beauty was real danger. To repair and restore the pagoda, workers with bare heads and feet scaled bamboo scaffolding secured with twine. As an engineer, I wondered at the human cost the pagoda must have demanded. On our last day in Yangon, we drove outside the city to the Thilawa Special Economic Zone. A few factories equipped for light industry had begun to crop up in proximity to the port. Juxtaposed with our view into the past, we caught a peek into a future facilitated by a global community of engineers."
1983
Marie Wieck (Comp Sci) has spent her career in IBM in various technology leadership positions in hardware, software, services and cloud since graduation. She is now the general manager for IBM's worldwide blockchain business. She is excited to be on the steering committee for the newly created cross-disciplinary Columbia - IBM Center for Blockchain and Data Transparency which is focused on how blockchain can enable new business models for data sharing with trust and transparency. In 2018, Marie was elected to join the Supervisory Board of Daimler AG. She is married to Columbia alum Seamus Carroll and has two daughters.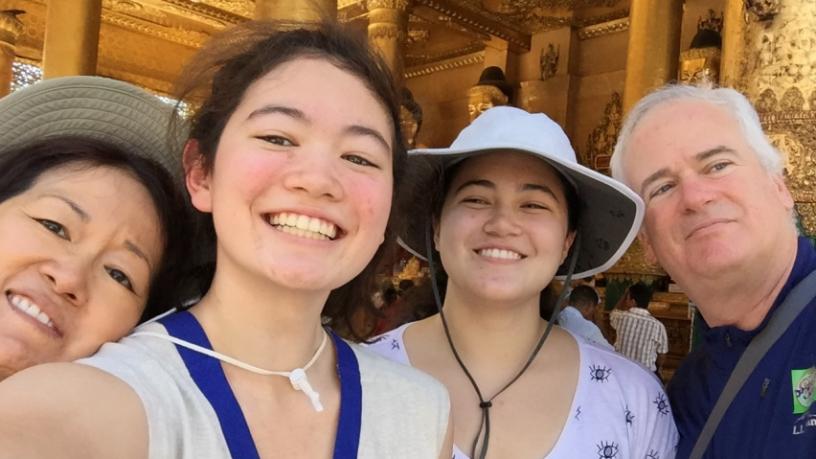 1984
Andrew Akers (IEOR) and Jennifer Wilkov were married June 24, 2018. B'shert! It was meant to be. That's how this couple feels about their mid-life meeting and falling in love. In their own version of JDATE, "we met at our synagogue's Chavurah Torah Study Group."
Akers, 56, is a senior advisor with Urban Investment Partners, a real estate development and investment firm based in Washington, DC where he works on capital and investor-related activities. He is the son of Sheldon and Decy Akers, originally of Great Neck, NY and now living in Florida. Wilkov, 49, is an award-winning author and the founder of Your Book Is Your Hook, a consulting business focused on helping writers bring their book or screenplay project to fruition. Her business also works with thought-leaders on creating their platforms. She is the third generation of women in her family to graduate Syracuse University. She is the daughter of Dr. Howard Wilkov of Aventura, FL and Majorie Hillsberg Wilkov.
Omer Ghani (IEOR) has made good use of his BS in Industrial Engineering, realizing success in the automotive, media, and financial services industries. Throughout his career, Ghani has been conscious of the ever-growing need for more reliable, flexible, and efficient solutions to the world's complex energy problems. In 2015 this conviction led Ghani to establish Kilowatt Labs with Pakistani inventor Waseem Qureshi and with fellow Columbia alumni Larry "Chip" Seibert ('84CC) and Paul Burke ('84CC). A technology company that has developed the first supercap-based power electronics system, Kilowatt's products are accelerating the transition from fossil fuels and chemical batteries to renewable power in storage, microgrids, transportation, and consumer products. With offices in New York and R&D and manufacturing facilities in Dubai, the company is developing solutions in Europe, Africa, South Asia, S.E. Asia, and Australia with plans to launch in the U.S. by the end of the year.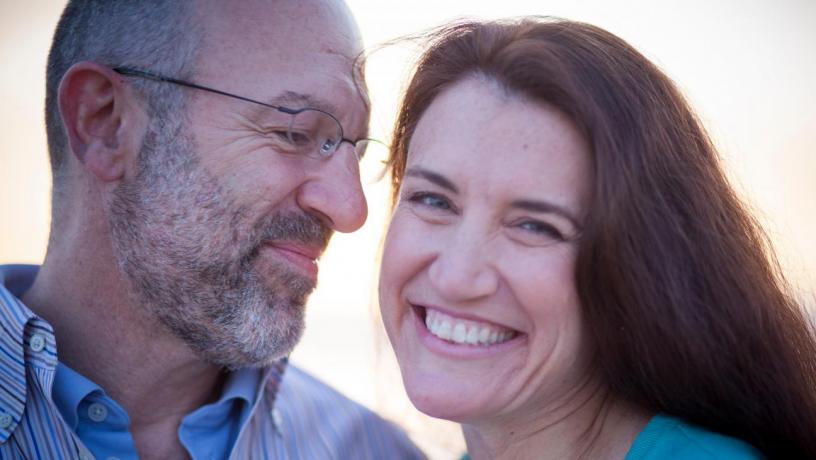 1986
Christopher H. Dorn (Comp Sci) writes: "I reached the 15-year mark in my career in the U.S. Foreign Service. Malisa and I are stationed in Stockholm, Sweden where I am a First Secretary for Political Affairs at the U.S. Embassy. Our toddler is learning Swedish as a first language at the local preschool, which makes for interesting conversations at home. We speak English, he responds in Swedish."
Professor Gerard A. Ateshian (Mech E) writes: "I transferred to Columbia from the American University of Beirut in my junior year, in Fall 1984. These class notes are from the course offered by Prof. Herbert Deresiewicz, MECE E3414 Mechanics of Solids, during my first semester at Columbia. Prof. Deresiewicz encouraged me to complete a PhD degree. I followed his advice and pursued a career in academia, which I have enjoyed tremendously. I am still at Columbia, in the same department where I majored, teaching and doing research, and loving it."
1987
Nadeem Babar (Civil E) writes: "After BS and BA (CC '87), I did my MS at Stanford and then returned to NYC and worked as an investment banker for 7 years, with last stop at CSFB before moving to Houston to join a client in an executive position. I was a senior executive at several energy companies in Houston until 2003, when I left my position as senior managing director and head of El Paso International looking after its global electricity business, to set up my own electricity company in Pakistan. Having successfully established that business, I am now in the process of returning back to Houston, and will be looking after business part time. I founded, and remain involved in, a non-profit educational trust in Pakistan by the name of Progressive Education Network (www.pen.org.pk), which currently runs 226 schools with about 47,000+ students."
Rick Penza (Comp Sci) has taken a position as senior software engineer at Owl Cyber Defense Solutions.
1988
David Shofi (Elec E) took on a new position as chief legal officer for Univercells SA, a biotech platform startup in Belgium. David works from his office in Ridgefield, CT and spends regular time in Brussels and the company's other two locations. In addition to developing and managing the intellectual property strategy for the company, he manages all of its legal support and acts as general secretary to the company's board of directors.
Peter Altman (Mech E) writes: "Living in Menlo Park, California, married with two daughters, and CEO of publicly traded BioCardia, which is advancing stem cell therapy for the treatment of heart disease."
1989
Semyon Dukach (Comp Sci) Semyon Dukach co-founded One Way Ventures, an early-stage venture capital firm that invests in exceptional founders who have been shaped by the immigration experience. Based in Boston, One Way Ventures is raising its debut fund.
1990
Brian Rosenbloom (Elec E) writes: "For the last twenty years I've been helping inventors navigate the patenting process. Upon graduation, I worked at General Electric Information Services (GEIS) in Rockville, MD. I was hired into GE's 'Edison Engineering' program, which gave me the opportunity to work with a variety of different engineering groups within GEIS. One of my most memorable rotations was with the data networking group, which was working on how best to connect GE's global proprietary network with the Internet. This rotation gave me the opportunity to gain a deep knowledge of the internet protocols, knowledge that I still use to this day in helping a large wireless networking company protect its intellectual property. After working at GE for several years, I decided to change my career direction and I entered law school at Georgetown. I've been practicing patent law in Washington, DC since 1997. I live in Falls Church, VA with my wife and two daughters."
1991
Chi Hai Alvin Ng (Elec E) writes: "This summer I travelled with two Wave5 Foundation volunteers to Zhongshan, Guangdong, China to teach stay behind (or left behind) children for a week in a shoe factory. Stay behind children are children whose parents have left their hometown to work in the city. The children are being looked after by their grandparents. The children are usually quite miserable in their hometown, which is usually the countryside.
I have taught this summer camp since 2011. I am glad to see the enrollment is dropping from 300 in the beginning to less than 80 this year, which means there are fewer stay behind children than before. I cannot deny that there are other reasons such as the wages of workers are raising and the factories are moving southwards, e.g., to Vietnam. Yet, there was news of workers returning to work in their hometown because the wages became comparable back there. The main theme of the summer camp this year is "All About Love." A week is too compact for a slow person like me. Nevertheless, it was a touching experience."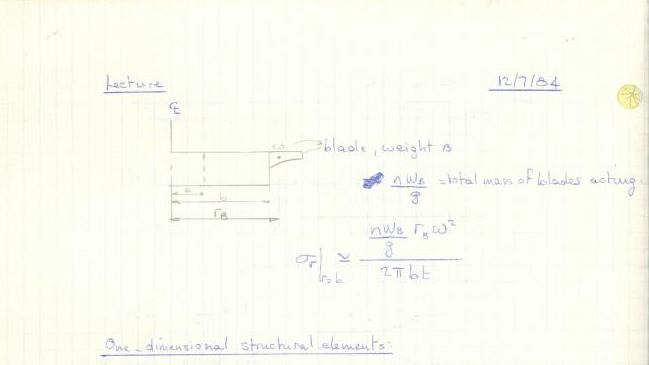 1993
Steven M. Greenberg (Elec E) writes: "Having engaged in a brief (and largely unimpressive) career as a EE in industry, I attended law school at the University of Florida subsequent to which I embarked upon a now 20 year career in global patent law. Today, I am the managing partner of CRGO Law based in Boca Raton, FL representing both large and emerging companies in patent portfolio development domestically and throughout Europe and Asia. I am also a father of two young boys and the rescuer of several retired racing Greyhounds. Recently, in the course of a representation, I had the distinct privilege of re-uniting with Joe Del Toro (CC'93) in respect to a cross-border Intellectual Property project (Pic Attached). We enjoyed a great two days traveling Europe and reminiscing of old times in Morningside Heights."
1994
Randi (Sasnowitz) Sommer (Mineral Resource Engineering) was named head of Math and STEM for the IDEA School, a project-based learning Jewish high school in Tenafly, NJ which is welcoming the first class in September 2018.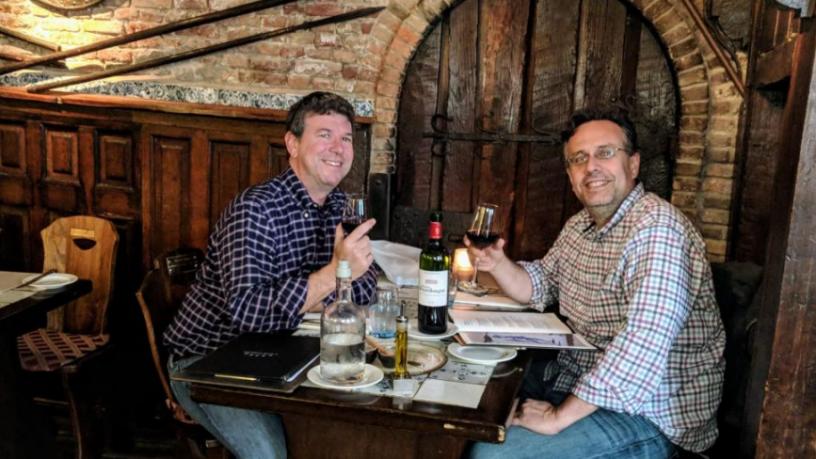 2000
Lev Givon (Elec E) recently joined DuPont's Information and Data Sciences team in Wilmington, Delaware to find new ways to use deep learning/machine learning to enable exciting new business opportunities and projects for its recently reorganized Specialty Division.
Steve Specht (Elec E) and Agata Jakubczak '18LAW married on May 18th at St. James Church in Red Bank, NJ at a small ceremony with family and friends. Some fellow Columbians joined the festivities including (from R to L): my brother Alex Specht '03CC, Alek Remash '00, Pam Remash '00CC, Yong Rim '00CC, me, Agata Jakubczak, John Mullervy '00, Josephine Tatel '00, and my Uncle Clyde "Skip" Rankin '75LAW.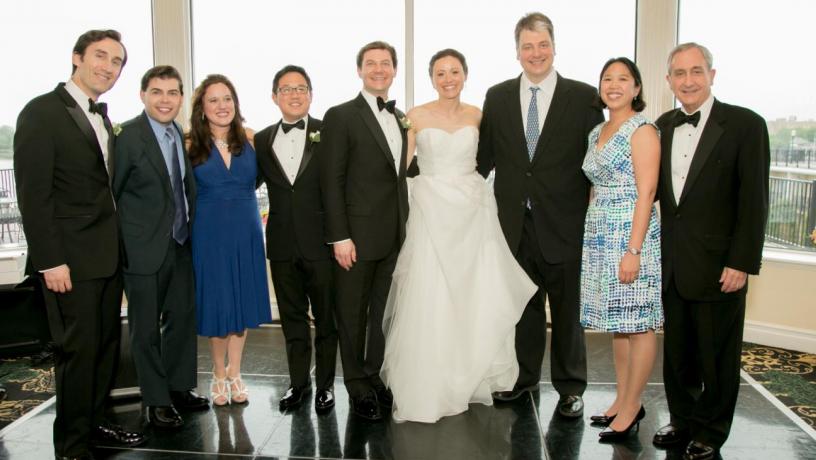 2001
Maya Kumits (Comp Sci) writes: "In Dec 2016, I quit my job in tech as the CTO of a startup because I felt I wasn't doing the work I was meant to be doing. Today, I'm a Vedic meditation teacher and co-founder of The Spring Meditation in SoHo, NYC. Vedic meditation had a profound impact on my life and I'm thrilled to share it with others. My passion is to empower people to live a life they love by showing them how to release their stress and reconnect with their essence. I live in NYC with my two daughters, ages 11 and 13. I'd love to hear from you! Email me at maya@thespringmeditation.com and let me know what you've been up to."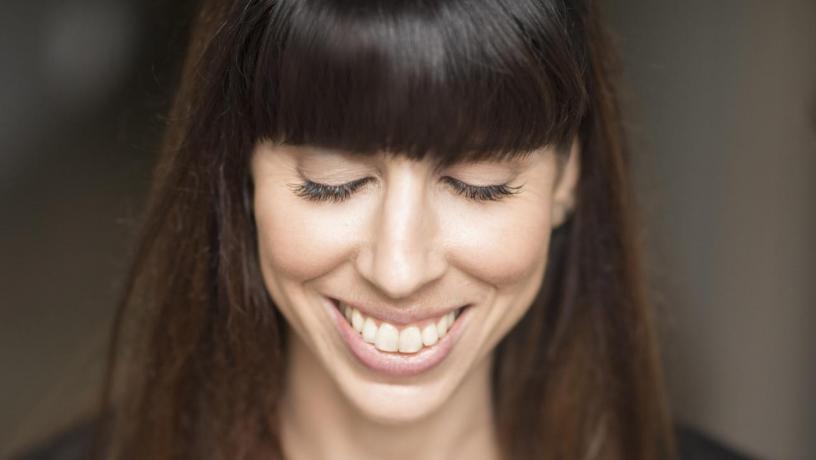 2002
Jo Lamb (Civil E) writes: "I am in my 4th year as the director of planning and interior design at Emory University in Atlanta. I manage an amazing group of architects and designers who lead the planning of new buildings and renovations for Emory. Emory recently did a spotlight on my work in the Emory Magazine July issue: http://www.emory.edu/EMORY_MAGAZINE/issues/2018/July/of_note/space.html"
2004
Liz Oswald (BioMed) writes: "After receiving my BS in biomedical engineering in 2004, I stayed at Columbia for a PhD in the same field, graduating in 2010. Since then I have lived on three continents and shifted my career as many times! I spent a year in Taiwan on a Whitaker Postdoctoral Fellowship focused on science policy, then moved to Washington, D.C. to take a position as a management consultant at Booz Allen Hamilton where I primarily worked in the military health market. I met my now-husband in D.C., and when a job opportunity opened for him in Barcelona, Spain, we decided to take the leap. I am now working as an internal consultant for IT transformation at Zurich Insurance Company, splitting time between Barcelona and Switzerland. I am always happy to catch up with Columbia friends when I visit New York, and would love to connect with alums based in Europe (email: lizoswald@gmail.com)."
Robert Harmon (IEOR) Robert Harmon has returned to Amazon where he is the senior lawyer in charge of energy, incentives and physical retail. In his role he is the lead lawyer responsible for the Amazon HQ2 project.
2006
Stephenie Lee (Biomed) Big sister Natalie welcomed a baby brother EJ in February. Both babies enjoy playing with each other. EJ likes to watch his sister play tennis, basketball and Legos. Natalie likes to read him books as he rolls away. Future Columbians?
Foster Chen (Chem E) writes: "Just graduated from residency in orthopedic surgery from Montefiore Medical Center. It's been 5 more great years in the city, but now I'm heading out to Stanford for Joint Replacement fellowship. See ya later, NY!"
Suzanna Silverstein (Civil E) writes: "I took the PE exam this past April and passed! I will be receiving my license from the state within the next few weeks. I also recently departed my former position at Bohler Engineering and have started an exciting new position as a senior civil engineer at VHB in Hauppauge, NY. To celebrate these recent successes, my husband and I decided to adopt a little piglet! Her name is Blanket."
Jonathan Lung (IEOR) is excited to announce that he and Cecilia Tow were married on June 9th, 2018 in NYC.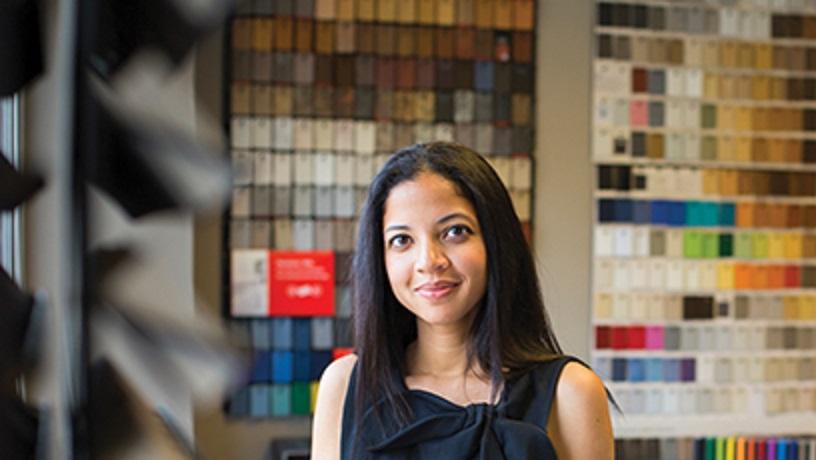 2008
Matthew DeSantis (IEOR) has been living in Bhutan since 2013 and operating MyBhutan (www.mybhutan.com)—a travel operation, technology and foreign advisory service—with His Royal Highness Prince Jigyel Ugyen Wangchuck to sustain the philanthropic activities of its nonprofit partner, Tarayana Foundation. As Bhutan's longest residing foreigner, DeSantis has also been appointed the US Warden to Bhutan by the US State Department.
In June, DeSantis and his fellow Explorers Club Hong Kong Chapter colleagues—including CU alumnus Michael Barth '00TC/GSAS and Kenneth Ting '05BUS—spent three weeks in Mongolia's Gobi Desert in support of Mongolia's Institute of Paleontology and Geology. Their expedition introduced a pioneering approach to paleontological methodology through advanced mapping technology that is currently being tested by NASA for use on Mars. Discoveries from the expedition were historic, including 250 new likely fossil locations, three new potential species and hundreds of fossilized bones excavated.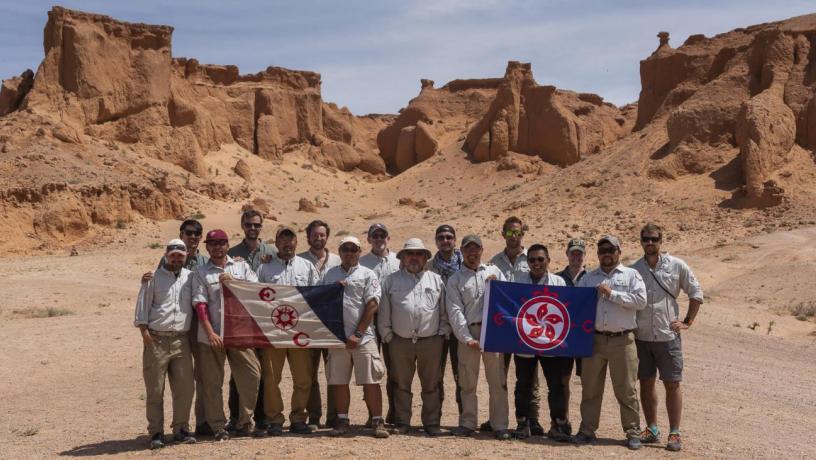 2010
Gunnar Aasen (Chem E) writes: "I'm thrilled to announce Courtney Chin '10CC '15LAW and I tied the knot in a small ceremony in Ravello, Italy on June 5th."
Brando McCune (IEOR) is an LA general manager for a luxury private rental company, which has given him a lot of flexibility with remote work so he's been able to travel a lot more (10 countries in the last year). Have a lot more places to visit in the next year!
Ian McKinley (Mech E) has spent the last 4.5 years working in the cryogenic systems engineering group at NASA's Jet Propulsion Laboratory. He really enjoys it.

2012
Derek Neal (IEOR) just completed the 2-year program at Kellogg and received his MBA. Next, he and his girlfriend are moving back to New York City. He'll be working in consulting at A.T. Kearney and is looking forward to reconnecting with old friends in the city.
Michael Garcia Pichardo (Mech E) would like to congratulate his son Joshua Levi Garcia for his first birthday on March 28, 2018.
Julio Herrera Estrada (APAM) writes: "I graduated from Princeton University with a PhD in civil and environmental engineering. My thesis was about how droughts develop in North America, how they may be affected by climate change, and how they impact the electricity sector (e.g. through hydropower). I am now a Postdoctoral Scholar at Stanford University in the Department of Earth System Science, continuing my work on the impact of weather and climate extremes on the electricity sector. I am looking forward to connecting with other alumni in the Bay Area!"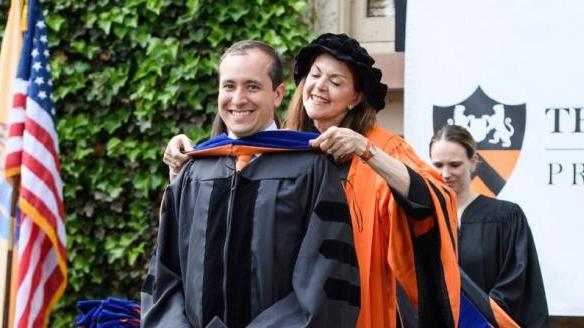 2014
Kyle Sullivan (Civil E) writes: "After graduating from Columbia in civil engineering in 2014, I completed an MS in civil-structural and wood science engineering at Oregon State University. There, I completed (and recently published) my thesis on screw connections in cross-laminated timber. In the summer of 2015, I was awarded a scholarship to travel to Europe for three weeks while submitting daily blog posts about historic architecture in each city. Subsequently, I interned at Merk/Zueblin Timber, a German timber design and manufacturing company. My experiences at OSU and abroad were instrumental in landing a job in 2016 at StructureCraft Builders, a timber design-build firm in Vancouver, BC as a structural engineer. My most recent completed project was a set of three curved glulam roofs totaling 100,000 sq ft in Haikou, China. I am currently working on our next Chinese project: three glulam gridshell botanical garden domes in Taiyuan, China, the largest being 250 ft in diameter and 80 ft high. I am working towards my PEng in BC and have recently passed the US national PE exam in Oregon.